FUT United: play and win coins and tickets.
What is the FUT United ?
FUT United is an event that EA organizes to stimulate the FIFA 13 Ultimate Team players.
Here are the strong points of this event:
FUT United Tournament

Win the FUT United tournament and get an attractive prize of 6k FIFA 13 Ultimate Team coins (online mode).
Special Happy Hour

Special Gold Players Prem 25K packs will be available all weekend. This offer is limited to 5 packs for each player and it is announced as "no 2x chance".
Exclusive Prizes

For every FIFA 13 Ultimate Team match that you win during the campaign period, you get automatically eligible to win one of ten prizes of one million coins or 4 VIP tickets to the derby Manchester United vs Manchester City that will take place on April 8th, at Old Trafford, for the Barclays Premier League. The Manchester Derby ticket package will include VIP tickets, paid travel, dinner and accommodations. Winners of FUT United prizes will be randomly chosen next week from the eligible entries.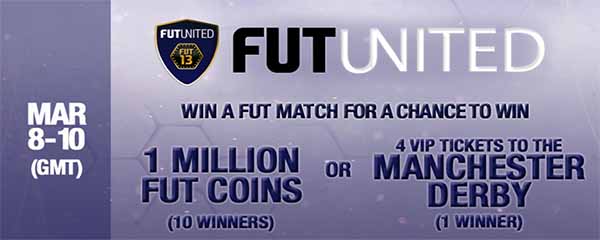 To get a chance to win these prizes you just need to win FUT 13 matches
FUT United has started at 00 hours (GTM) of March 8th 2013, and will last for 72 hours.
Read here the terms and conditions of the contest.