FUT Watch is a website that, among other functionalities, is mainly known for its pack opening simulator. If you wish to know all about FUT Watch, be sure to read our independent review, the only one you'll find.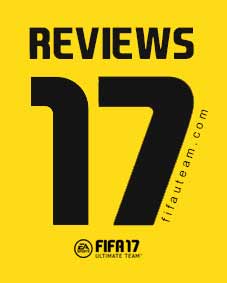 ✍ More Reviews
FIFA 17 Millionaire
FIFA Rosters
FIFA Gamers Pub
FIFA Websites
FUT Facts
FUT Watch


FIFA 17 Reviews is a space that we're proud to present in our website.

Although we do already undoubtedly provide the best FIFA Ultimate Team content around the internet, the truth is that part of the community will only reach out to the best gaming experience once they use some other tools as a complement to our website. Our main objective here is exactly to serve you, the community, and for that reason we're starting these monthly reviews which will show you the newest products and services alongside unknown potential of the ones you already know.

Our team has been working daily for almost five years with subjects that are in some way related to this game. With the exception of databases, we're the website players come across the most when they want to know something about FIFA. It's about time we transmitted some of this accumulated knowledge to the community, analysing books, apps, websites and multiple services. All of that in order for your FIFA 17 game experience not to end here and be even more gratifying. We'll here publish completely independent reviews, advising or admonishing determined products and services according to their profile. We don't limit ourselves to just giving our opinion. We analyse everything and for everyone.





FUT Watch Review

What is FUT Watch
The FUT Watch project was born in 2015, as no more than a simple diversion at the time. It was so well received that, as time passed, new functionalities were added. Available in English, but prepared for instant translations, this website today is one of the most popular ones among the FIFA community.
The Website's Content
The phenomenon that involves pack openings is extremely interesting. Aside from the fact that you naturally want to get good cards for your club, there's something else that makes us want to pursue the unknown. This behaviour is brilliantly described in this article we published a few years back. EA know this well, and so does FUT Watch since they were able to take advantage of this situation. This is how it all started: a very simple FUT pack opening simulator. Two years passed, this continues to be the genesis of the project.
It's important to mention that FUT Watch is a recreational website. It doesn't pursue profit, it has no connection to EA. There are three big game sections in it: the pack openers; the Draft simulators; and the squad building challenges. For each one of these sections, there are several variants. You can also find in FUT Watch a very basic FUT database, a card generator, leaderboards and an useful help/FAQ section.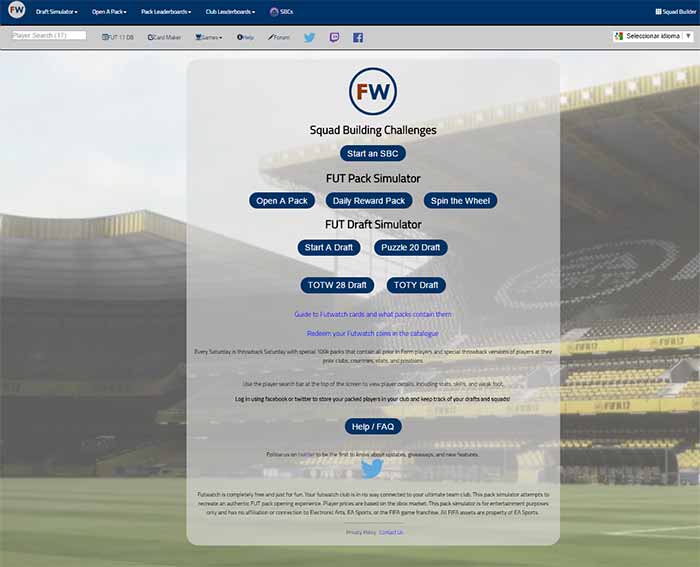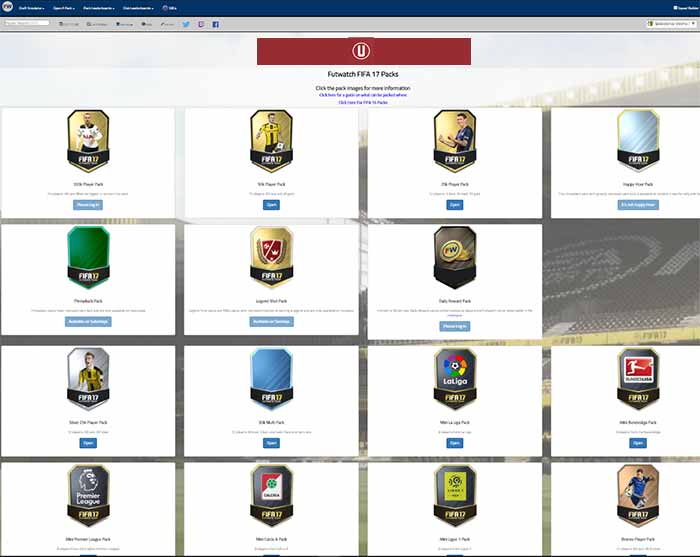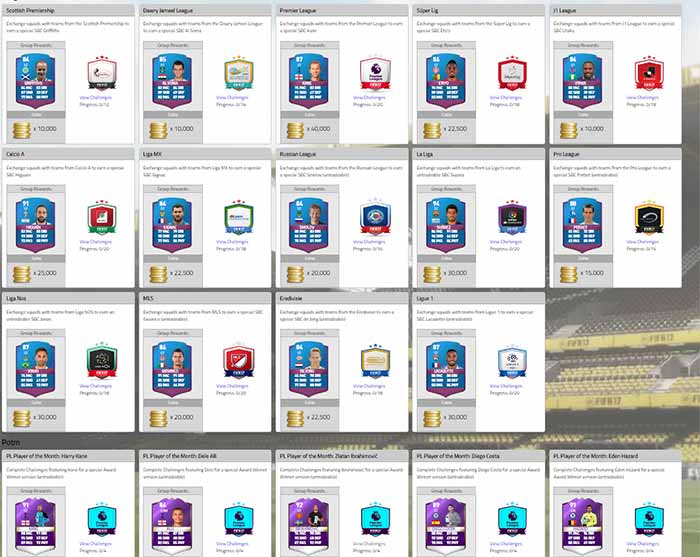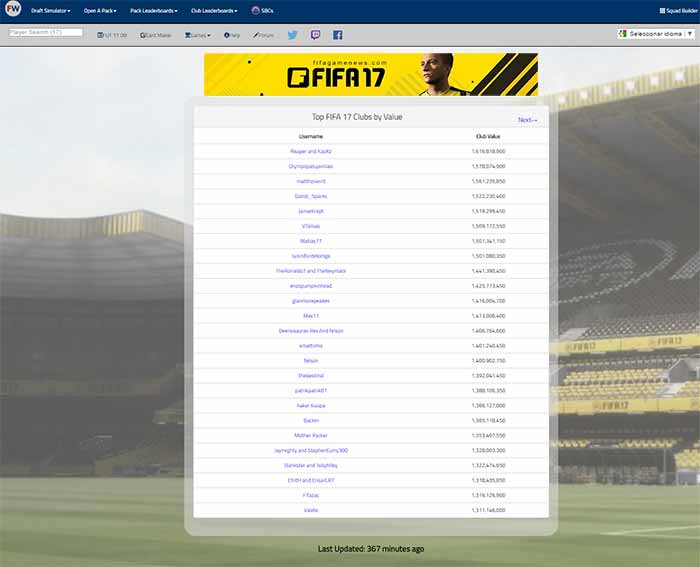 FUT Watch – Strong Points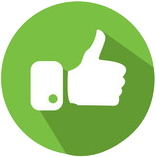 VARIETY OF GAMES
As we've already said, FUT Watch is one of the most popular FIFA websites and that has a justification. The authors make sure the website keeps a dynamic appearance, introducing a lot of new content related to whatever is going on in the real world Ultimate Team. It's like you're playing a game that's similar to FUT, but your own squad isn't related to the original in any way. In FUT Watch you can find exclusive packs (such as Throwback, Birthday, Daily Reward Club Player, Goal of the Week, Goal of the Month, Ballon d'Or, Wooden Promo or Steel Promo), Happy Hours, coin catalogues and whatever can make the experience as real as possible. The website is also oriented for the different types of users and the squad building challenges are proof of that. If you're the casual type, you may try to complete a determined SBC using the database of the game. Otherwise, you may use only the players you have in your FUT Watch fictional club.
LEADERBOARDS
Opening packs can, after some time, can become monotonous. FUT Watch manages to counter that well by presenting to its visitors several attractive initiatives. The most important one is the leaderboards section for each game. As we explained in the article mentioned above, there is inside all of us a desire to be better or more popular than others and to be integrated in a group, and these leaderboards are the answer to this pretension. They're the main responsible aspect that makes us return to FUT Watch to play one more time. Being recognised as an active member in the website, through login, is also an important functionality.
INSTRUCTIONS
A website of this kind could be complicated for the user at first, so that could end up making them quit early. Fortunately, FUT Watch offers clear and precise instructions that will enlighten even the less experienced FUT players. Besides that, it's quite present on social media, mostly on Twitter, Twitch and it has its own forums, where you can also clarify some doubts.
FUT Watch – Weak Points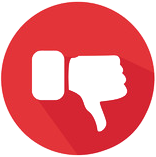 LAYOUT
Let's go straight to the point: in our opinion, FUT Watch is an ugly website. Its navigation is acceptable but its graphics levels fall short. There's little caution with the details, the home page isn't clean enough and the background image, besides being overused, gives the website a heavy aspect. Obviously there's a fair amount of subjectivity going on when evaluating tastes, but if you open the database you'll certainly agree that there's still a lot to do for the website's aspect to suit the amount of visits it gets every day.
AUTHENTICITY
Part of the value attributed to the games offered by FUT Watch comes from the similarities they have with the real FIFA Ultimate Team. In fact adding new cards, new packs and new squad building challenges increases the fun. However, when FUT Watch tries to replicate the original game throughout its several components, they might as well do so absolutely rigorously. In our opinion that doesn't happen. For example: there are few packs that replicate EA's, but those that do so (at least its name makes the user think they're opening an actual EA pack) don't hold the correct card weights. Which means that not even the player categories correspond exactly to those you are supposed to get, nor the probability of getting a certain player corresponds to the original game. Even though the creator seems to have worked hard to 'find out' what the game's card weights are, the differences are notable, which decisively contributes to a less authentic experience.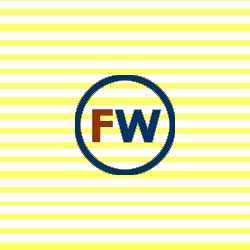 TECHNICAL INFORMATION
Name
FUT Watch
Official Website
futwatch.com
Price
You can register if you want but the website is completely free
Release Date
January 2015
Included Tools
Draft Simulator
Pack Opening Simulator
SBCs Simulator

Final Analysis
FUT Watch offers long lasting fun to its users, especially dues to the pack openings, squad building challenges and FUT Draft mode. All this in a parallel world where you own a squad and can keep your progress. We confess that we have some difficulty in realising why is it that so many people like receiving fictional cards that you can't use at all, but it's not up to us to judge what is and isn't fun to people.
If you don't have a problem with a less good-looking page and a less authentic website, you can finally open the packs you feel like opening and that will cost you absolutely nothing. Still, and even with these defects, in relation to the concurrence – yes, because big websites like FUTHead, FUTWiz and FUTBin also offer similar apps – FUT Watch is the one that manages to be the most addicting one.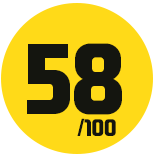 –