Welcome to Tête-à-Tête with Silvio Teixeira: a very special opinionated area that we are proud to include on our website.
Follow the wise, intelligent, humorous and insightful comments from Silvio. At the end of the article you may know him a bit better too.
In this new episode, "The Market's Open!", the author teaches you how to get your first coins in the game and shows you what to do next.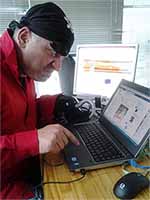 The Market's Open!
And there's the kick-off for another year of trading. The start will be harsh as always, and you'll have to be much more careful in order not to fall for the traps the new version brings with itself. I remember when Thiago Silva used to cost 40K on FIFA 13. Eventually this made people pay that same price for him on FIFA 14, but then he was actually worth around 15K, so this ended up resulting in several bad investments. So, the first tip for trades right now is that you FORGET about FIFA 14. Be suspicious of everything and believe only that a deal is indispensable when you see the card's price is below its quick sell price. Anything beyond that might turn out to be a deadly trap for your coins.
In these first days we'll surely witness some crazy stuff on the market, lots of players have spent over 500 dollars on FIFA Points. At least a few hundred for sure. So, yeah, maybe you wonder how some people already have 89 overall squads and 1KK coins in their wallets… There's the answer.
What's left for us, mere poor mortals, is buying just a few FIFA Points and then taking what we can to start off our trades. At the moment I'm writing this I still haven't bought any, but I sure have started business. All of the players I got from the web app packs (nothing special) went to the transfer list. Including the silver and bronze ones. Usually people tell you to quick sell them all, but since the market is still quite a bit unstable I decided to list them all on auctions. The bronze players starting with 150 and no buy now price, because maybe there's someone out there that wants it so bad that they're willing to pay more, who knows; and the silver ones starting with 300, maybe a little more for ones that have some nice attributes, but yeah, I know they're nothing special anyway. If you don't know how much the players are worth, then feel free to set the minimum price for them but DON'T SET a buy now price, just leave it blank and start the auction preferably when the market has high demand. It usually happens around 8pm and this way the market will give you higher bids. Let's suppose you got Bolly, a bronze player you'd normally have no idea that is worth a lot just for his pace (97, the highest in game). You could've set 200 of buy now and ended up losing a great deal, but by setting 150 of start price and no buy know you might have just gotten the fair amount of 4K from the market. Maybe it's not much but every single coin is welcome when you find yourself in the beginning of a season!

After a few relists all I managed to sell some of my players, so the deal turned out to be much better than quick selling all. The ones I couldn't sell like this were quickly sold later, after all those were really simple players and right now what I need is any amount of coins that will help me warm up.
Just out of what I got from packs I managed to gather 15K, right then I started analyzing the market for players. It's important that we notice what players used to be gold rare and now are no longer, don't go immediately for them. Not many non-rare gold players will give a return, and at this moment it's best not to invest on them without being certain that they'll gain value later.
I chose to go for the players costing around 1000 coins. In order to do that I set the filter for minimum and maximum buy now price to 1200, so that I'd only see players with this exact buy now. I didn't even care for the non-rare gold players, and some of the rare ones that showed up came in big amounts. These don't interest me, if they come in big amounts it means they're easy to get, I'd rather go after players that are not frequent on their prices. Players such as Aleix (91 of pace) and Honda (old acquaintance of ours but now in the Serie A) caught my attention.
The next step was to try and see what was the lowest buy now I could find on Aleix, who plays in the BBVA. The cheapest was this single one I found for 1000 coins. When that happens it's usually a good sign, it wouldn't have interested me if there were many of him. I can buy him now for 1000 coins and easily sell him for 1300 on the weekend. Searching for Honda I found two for 900 coins, good price, I bought both. It's best not to exaggerate in the beginning, after all I'm still not sure of who is valuable and who is not. Getting 300 to 500 coins of return per player right now is still a very good deal, it's not that easy but profit is certain and there's almost no risk.
The excellent CB Kaboul, frequently used by me on FIFA 14, can be easily found on the market for 500 coins, but I'm a bit concerned because he's no longer rare and maybe that's just the price he'll end up getting, so I'll just leave him be. Fernando Llorente and Montoya (88 pace RB) are also both from the BBVA and got into my list of players bought for 900 coins, I'm hoping they give me 400 or 500 of profit on the weekend. My favourite league, the BPL, is playing hard to get on the market, I haven't found any interesting opportunities so I'll just leave them behind for now. From the German league my hopes are Traoré and the Brazilian Roberto Firmino, bought for 900 coins. Goalkeeper Mandanda and Toulalan were chosen in the French league, both bought for 800 coins.
Although we're not having the brazilian league, brazilians who play outside of Brazil will be very requested so I filtered for the CB Alex, Bernard, the keeper Julio Cesar, midfielder Marlos (86 of pace) and Taison, these are my first trustworthy players for trades. I also bought Ronaldinho but paid 1100 for him, I'm hoping to sell him for at leat 1500-1700. The lack of Brazilian players on FUT may overrate the remaining, and I've got the impression that Ronaldinho's price will soon rise to 3K, but anyway I only bought one to see what happens. By the way, we can still build a great Brazilian squad even without the league. It's a shame we don't have it but, competitively, only a few players will be missed since almost all the excellent players play outside of the country.
For who remembers the "Chuva de Coins" of last year, players with chemistry styles other than basic still rarely show up, and when they do they're usually very expensive. I managed to buy a north american CDM, Jones, with the maestro chemistry style for 1000 coins, and in an hour I sold him for 1500. The result was good but it's still too soon for us to jump into this technique since supply is too short.

I really liked the new web app, but I've noticed that a few old problems won't go away. Sometimes the system will tell you that it hasn't found any players on the next page, then you go back and forward again to see there actually were players on that page. I've also noticed that, for now, the autobuyers should be still working because the 59th minute method apparently has no effect. When a ridiculous buy now price shows up in the 59th minute page you clearly realise the buyer is not human. I just hope EA does as promised and still bans these "pirates" from the market.
One way or another you can achieve good gains, but first we have to adapt ourselves to the new characteristics of the market. Next week I'll give you guys the results of the tests I've started, who's selling more, who's a good deal, who you should stay away from. Just you wait and count on it.
See yooou later!