Gamescom is the world's largest games event where were announced a lot of big news for FIFA 14.
All the Gamescom 2013 Big News For FIFA 14
We bring to you here all the big news for FIFA 14.
FIFA 14 Demo Release Date
The first big news was the announcement of the FIFA 14 Demo Release Date. Players will be able to test FIFA 14 for the XBox 360 and PC beginning September 10th. Playstation 3 gamers in North America will have the chance to play the FIFA 14 Demo on the same day but in Europe it will be possible only one day later.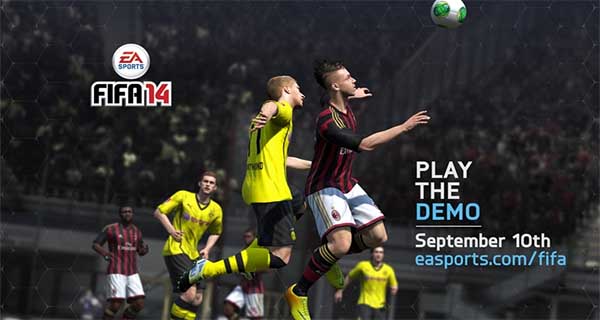 Leagues, Clubs and Players Full Licensed
FIFA 14 will be more authentic than ever. The game will include 33 licensed leagues (including the additions of Chilean and Argentinean League), 600 authentic clubs (including some new Italian clubs from Serie B, 18 Brazilian Clubs from first division and Shaktar Donetsk) and more than 16,000 real world players. The Brazilian National Team is also licensed in FIFA 14.
EA Sports has developed Seasons into Co-op Seasons, a mode where anyone can play with a friend against others in 2v2 ranked on line play. Start from the bottom and make your way to the top of Division One, win a League Title and reach greatness together.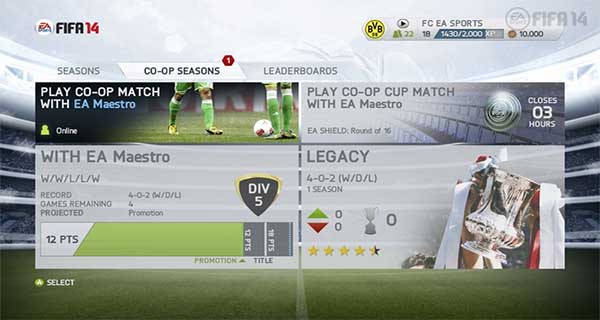 Match Day has expanded into Seasons and Co-Op Seasons, connecting gamers to the real-world seasons of the top football leagues like never before. The actual form of real-world players will influence the experience in Co-op Seasons throughout the year. For example, if Gareth Bale is in good form, his Match Day attributes will be reflected in Online Modes of FIFA 14.
FIFA 14 Carryover Details
It will be easy for fans to bring their FIFA 14 experiences to the new generation of consoles: between Xbox 360® and Xbox One, and between PlayStation3 and PlayStation4. Fans will be able to bring their FIFA 14 Ultimate Team full roster, progress, in-game items and in-game currency (coins) to the new consoles so they can access and compete with their squads on either console throughout the season. EA SPORTS Football Club level, XP and select catalogue items such as celebrations and historical kits will also travel to the new consoles along with Seasons progress, including trophy case and leaderboards, Virtual Pro and accomplishments, and selected Career Mode rewards.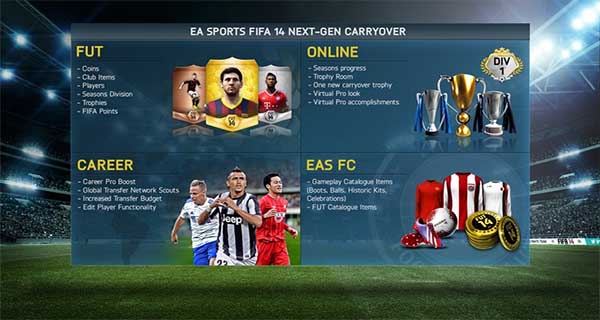 Football legends are coming to FIFA 14 Ultimate Team, only on Xbox. You will be able to combine legends of the past with the superstars of today. A number of legendary players will be available, allowing players to create some of the most incredible lineups imaginable, like Pelé with Messi. Learn more about it HERE.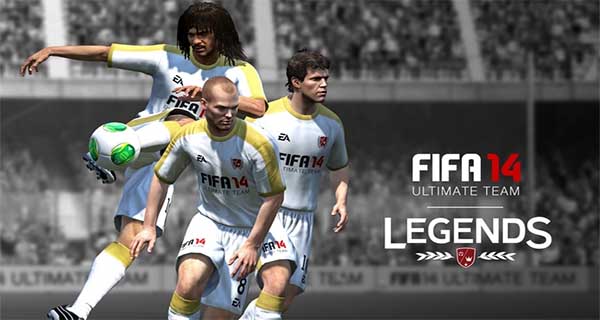 When playing FIFA 14 on Xbox One and PS4, fans will feel the electricity of a living stadium, and experience the majesty of the world's greatest sports theatres. From dramatic broadcast-inspired stadium flyovers to emotional pre-match ceremonies, fans will see and feel the match like never before. A new feature called Match Flow will revolutionize the FIFA experience, delivering dynamic and continuous game play. Players will interact with side-line characters such as ball boys so they can get the ball back into play as the clock winds down and the pressure mounts, and fans will witness the build-up and player positioning prior to corners or free kicks. The all-new in-game Director will keep fans connected to the action. With 121 different broadcast cameras outside the stadium and positioned around the pitch, each following star players and headline makers, FIFA 14 will deliver stunning new replay angles, compelling story lines, and all the emotion that unfolds within a match…so FIFA 14 will look and feel alive.
Check the video here:
FIFA 14 will be a launch title for XBox One and for Playstation 4 (November 15th in North America and November 29th in Europe).
Another good news is that FIFA 14 on mobile devices will be free to play, as it will happen with FIFA World that is being tested in Brazil and Russia.
You can watch all these details in the Gamescom 2013 FIFA 14 Conference:
If you have missed the FIFA Trailer for current-gen consoles, click HERE.
Keep with us to know more news for FIFA 14.