IMPORTANT
Tête-à-Tête with Silvio Teixeira is a recent addition to our website.
These weekly chronicles have been published in FIFAUTeam for a full year on our Portuguese website, gathering many thousands of fans in the process.
We are sure that, after one or two more chronicles, you will join the large group of people who believe that 'Tête-à-Tête with Silvio Teixeira' is one of the best spots about FIFA.
It has everything: it talks about up to date subjects, it helps people with smart tips and suggestions. It is written by someone with a huge knowledge and experience about the game. Its a great read with a few funny moments along the way.
Welcome to Tête-à-Tête with Silvio Teixeira: a very special opinionated area that we are proud to include on our website.
Follow the wise, intelligent, humorous and insightful comments from Silvio. At the end of the article you may know him a bit better too.
In this new insertion, "For A Good Kick-off !", the author shares with you good tips to have a great start on FUT 15.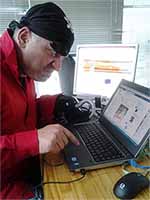 For A Good Kick-off !
FIFA 14 is well on its way to end and everyone just wants to talk about FIFA 15 now, so here's more about the new game and since we still don't have access to the list of cards, we'll be taking FIFA 14 as basis.
Naturally, a bunch of players will start putting up some money right at the beginning for FIFA Points so they can buy a good number of packs. However, a big part of the players isn't related to King Midas, so they can't really afford to spend more money than they did to buy the game in the first place, maybe for one pack or another, nothing too fancy. Since we'll be starting the new FIFA butt naked, bald and toothless (you don't bring players, coins, nothing), it gets a lot more complicated. Older players may already know that, but for people who have just started it's important to get their spirits ready for this new start, where there won't be enough coins to buy players or even contracts. Knowing how to milk a stone is going to be very important in the beginning.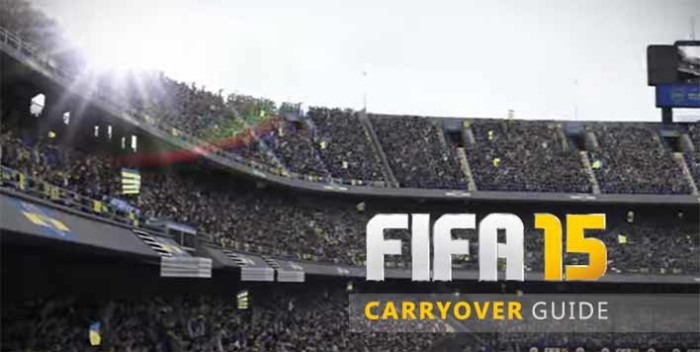 The almost forgotten and underrated EAS FC coins will be an important ally. Now they'll be able to get you players on loans. It's still not very clear how it's gonna work, but even if doesn't happen, try and make plans with your mates for you to exchange gifts because this way you can save 50% of your FCC. In the beginning some of those 99 contracts will be very important, try applying them on players you think are going to last. It's not worth it to use them on mediocre players you won't be using for long, think long-term.
You'll get free poor players with several contracts that you won't be able to sell. Use them without caring about chemistry on offline tournaments, the simplest ones are so easy that you can win using only the goalkeeper, and they can give you pretty good amounts of coins as a reward (considering you have absolutely nothing, of course). You'll also get players you'll be able to sell, sell them all without mercy. Only keep any of them if they fit well in the team you're building, the rest should be converted into coins.
The league doesn't really matter in the beginning, after all you'll only be able to buy cheap players, can't expect too much. It's true that some leagues have players that are good and cheap, and, personally, I like to build a Brazilian squad or one with BPL players, because both these options have lots of cheap players with reasonable quality.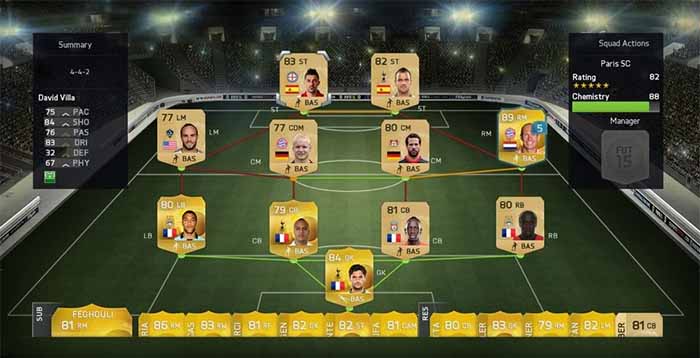 Bear with me, if even when you have the best players you still keep conceding all kinds of goals every time, then you can't really complain because your defender has 55 pace. Remember that most opponents will be in the same situation, facing the same problems.
Building your first team is easy, what's difficult is playing 7 matches and having to buy contracts. In order to avoid that, here's what you have to do: make sure your squad has maximum chemistry, this way the players won't need loyalty and manager chemistry (then you don't even have to spend with managers). Now go and play with your main team. When they get tired (for me, fitness lower than 90 doesn't go on the starting 11), use a secondary team on an offline tournament, leaving the others to rest. When any of the main players reach 1 contract, don't use him, put him on the market and buy another of him for the same price.
Example: Lima (ST), I bought him for 700 coins, came with 10 contracts. I used him on 9 matches then put him on the market setting a start price of 700, no buy now price (I don't know, maybe someone decides to pay more). At the same time I bought another Lima, but first I searched all Limas up to 800 coins, looking for the one with the most contracts. Found one with 23 contracts. This way I've got one more player ready to play and won't need to spend coins on contracts.
The only problem about this is that you won't get loyalty points (which should stay 15) but since you have maximum chemistry, you won't need these points for anything. I had to do this procedure now because I just started Xbox One, coming from PS3, therefore it was another start from the bottom, by the way. My advantage is that now I have lots of "Limas" and other players with several contracts to sell. When FUT 15 starts, it will be more complicated because there won't be so many players with contracts on the market, and if there are, they will be more expensive, but if you search really carefully you'll certainly find a few with more than the initial 7 contracts. In the "worst" scenario, even if you have only 7 contracts, you still have 6 matches ahead and no contracts needed.
For less of an impact, my suggestion is that you forget FIFA 14, go and build right on (still on FIFA 14) a team with really simple players and practice playing with them. Adapt yourself once again with a weak team, know how to get the best from them, they won't have the same abilities as the players you're used to, then use your own ability, develop your strategies.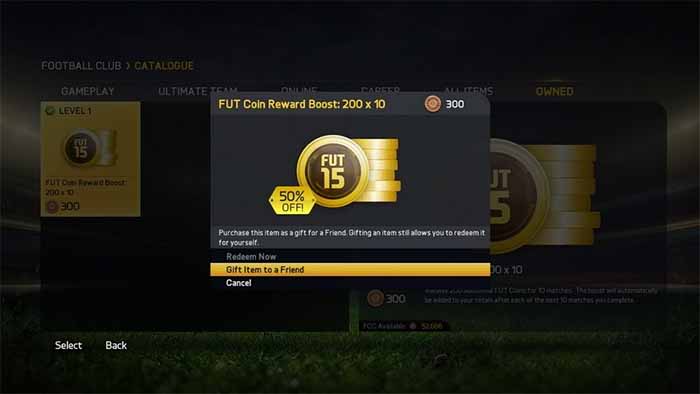 Little by little you'll start to be able to put the first players on the market and try one trade or another, but about trades we'll do another tête-à-tête, since lots of things should change in this area for the new FIFA.
Lastly, just make sure you play a lot, don't worry about losing, the first hundred matches will be more about getting coins and getting used to the new gameplay than actually winning tournaments, and who knows, if you're really prepared you can even surprise yourself and quickly get a few promotions. It's possible.
What about you, do you have any special tactics in order to do well on the first days of gaming without even having enough coins to buy your favourite club's badge? Share it!
See you later!