Green iMOTM cards will be introduced in FIFA 14 Ultimate Team with the World Cup.

UPDATES
June 15th 2014
You can check all the iMOTM cards here.
FIFA 14 Ultimate Team green iMOTM cards
Q: What iMOTM means ?
A: It means 'International Man of the Match'.
Q: What are iMOTM cards ?
A: They are like MOTM cards but to international matches.
Q: iMOTM cards are In Form cards ?
A: Yes. Like it happens to the TOTW, TOTY, TOTS and MOTM cards, iMOTM cards are IF cards.
Q: How can I get an iMOTM card ?
A: Like any other card: in packs from the store or from rewards, and in the transfer market.
Q: In which pack can I get one of these cards ?
A: You can get an iMOTM card in any pack with rare players cards.
Q: How the iMOTM cards looks like ?
A: They are green. Check the following image to see how the iMOTM cards look like.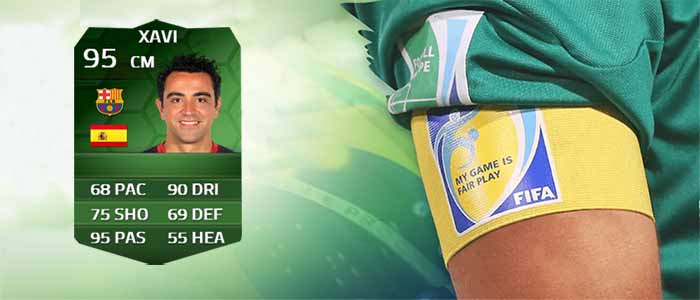 In FIFA 14 Ultimate Team, iMOTM are green
Q: When the first green card was released ?
A: In World Cup first day, at June 12th.
Q: How often these cards will be released ?
A: These cards will be released during the World Cup. It is not official, but probably one per match.
Q: How long iMOTM cards will be available in packs ?
A: 24 hours, like it happens with orange MOTM cards.
Q: How these cards will be chosen ?
A: The Man of the Match will be rewarded with a green card.
Q: Are these cards better than TOTS and TOTY cards ?
A: No. The ratings of the iMOTM cards are better than the ones of the TOTW cards, but worse than the ratings of the TOTY / TOTS cards.
Q: Are these cards expensive ?
A: Yes, because they are available in packs only for 24 hours which makes them very rare.
Q: What is the discard price of these cards ?
A: The same of the others In Form cards.
Q: It is the first time that a green card is released in FIFA Ultimate Team ?
A: Yes. But iMOTM cards already were released during Euro 2012. There were purple at that time. You can check them here.
Q: What happens to the FUT 14 market with the release of the iMOTM cards ?
A: Probably there will be more people buying packs to get one of these cards. Prices should have a slightly decrease.
Q: The iMOTM cards will be released in FUT World Cup ?
A: No. It will be better than that. Every time a player gets an international man of the match card in FUT 14, the ratings and attributes of that player are automatically upgraded in FUT World Cup. Even for those who already own a card of that player.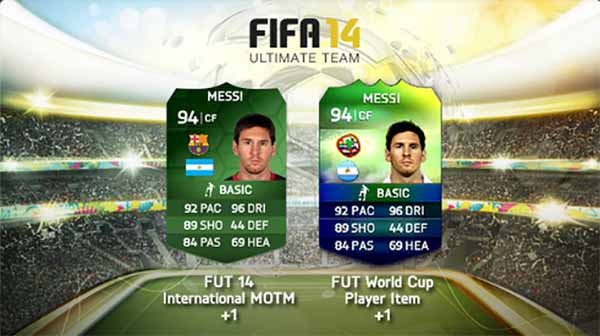 The iMOTM cards are back to FIFA Ultimate Team
Q: And what about other colours ?
A: Check them here.
Q: I have another question about iMOTM cards. Can you help me ?
A: If you have a question about something else, feel free to use the comments to ask us.