Have you already grabbed a paper and a pencil and started writing the names of the players you want to buy? If you think that you just need players and knowing how to make coins to create a strong club, then you're very wrong.
Creating a club in FIFA 13 Ultimate Team is a path where each step must be taken with consistance.
In this article we explain how you should start FIFA 13 Ultimate Team in order to achieve your goals without having to spend hours on the trade market.
How to Start FIFA 13 Ultimate Team
FIFA 13 Ultimate Team is a great game. And not just because of its game engine. If it were just because of that, it's certain that millions of players would choose another game mode. FUT 13's strength is knowing how to put the manager/fantasy and the game itself in right doses.
But people who think this is a simple game are fooling themselves. If you're playing FUT for the first time, we advise you to read some articles with the rules of the game first. If you're familiar with the game, then get to know how to prepare yourself to achieve success.
A lot of people already know what to do in FUT 13 but sometimes forget that the order of the actions is extremely important.
Here's the list of the tasks we think that are essencial for a good start with your club in FIFA 13 Ultimate Team:
Defining Objectives;
Starting as soon as possible
Selling the cards from the first packs;
Starting trading;
Investing in Contracts;
Hiring Managers;
Acquiring a Stadium with maximum morale;
Defining your Tactic;
Starting your squad;
Playing your first matches in single player mode.
Defining Objectives
It may look unecessary and even too theoreticle but we all should stop for some minutes to idealize what we want from our club. Do we want lots of squads or just one? Is our objective having the best players or experiencing the unknown ones? Will we get to stay with regular players or are we gonna improve them with the IF versions? Will we play with bronze, silver, gold or all kinds of squads? How long will we play? Will we buy packs? How many coins will we need?
The more answers to these questions we can give, the better will be our approach to the game and the better performance we'll have on the tasks we listed above.
Starting as soon as possible
Starting some days earlier than most players can make a lot of difference. For that you can choose to get the Season Ticket or, if you're playing FUT 12, start playing on the FUT 13 Web App as soon as possible. The first alternative may be too expensive if you just want to get it so you can start sooner than others. About the Web App, this is kind of mandatory. If you're coming back from FIFA 12, other than the welcome pack, you'll receive daily gifts and some packs according to your EST date. It's too much advantage not to enjoy.
Starting sooner is the first big step toward success. Firstly, the market will still be in search for its balance and you'll be able to find good deals more easily. Secondly, you have more alternatives to form a squad that is superior to the others' and with this winning more games, which means getting more coins. Thirdly, you will have time to study the market and enjoy the tassels of rookies in FIFA 13 Ultimate Team. At the end, starting sooner will always be a step ahead from most opponents.
If money is not a problem for you, you always have the alternative to invest in packs or even buying FUT 13 coins with cash. If in your case you couldn't start playing early, don't worry because you keep having alternatives to build a good club. They're not very big, but you still have them.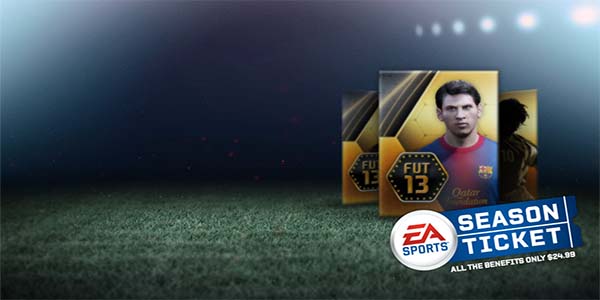 Acquiring the Season Ticket is one of the methods for having early access to FUT 13.
Selling the cards from the first packs
In FIFA 13 Ultimate Team, like in previous versions, we start with zero coins. This is an obstacle for many players. They receive their welcome pack, start to play and after seven matches they can't advance because the prizes of the game are not enough to buy contracts.
What one must do to start well is not playing matches too early. Firstly, we sell most of the cards we receive in the beggining. And then, after getting our first coins and performing the other tasks of the list, we can start playing matches.
Start Trading
As soon as our first coins get in our wallet, we should try multiplying them. For a good start, some investiments are needed. But attention, we should never spend everything we got because coins are needed to make more coins. Trading is part of the game and that's why we should do it since the first until the last day.
The method you use to monetize your wallet is your choice. You'll be able to get to know them here. The important thing is that the investiment of the first sold cards is very safe. Don't worry about starting slowly. There's a whole season ahead. As you start to get rich, reinvest again a big sum of what you've earned and put aside some coins for your first cards. If you work things well, after one or two days you'll be rewarded enough for a good start on FIFA Ultimate Team.

Investing in Contracts
If a player got injured, you don't need to apply an injury consumable. Put him on the reserves until they heal. If a player is tired, a fitness card is not the only solution. Give him a rest. If he's got a low morale, you don't have to apply him a consumable. You can buy a good stadium, try winning matches or put him on the field often. If a player runs out of contracts, then you have to buy them if you want to keep counting on him. There's no other solution. That's why contracts have a big strategic position in FUT 13.
As the player cards are originally placed to circulate with 7 contracts, it won't take long for you to have to buy and apply contracts. If you do it in the beggining, you'll have more chances to get good deals since their prices will raise as soon as the other clubs run out of inicial contracts. Buy them as soon as possible but only apply them after the next task.

Buying Managers
Managers are the most important staff in FIFA 13 Ultimate Team. It is simple to realize why. They can be the solution in a category that you should manage very carefully: the contracts.
Because of their strategic position in the game, contracts tend to be extremely expensive. So expensive that many paople can't save enough coins so they can buy them. But more important than getting cheap contracts is guaranteeing that their effect is potentiated to the maximum. And this can be achieved thanks to the managers.
All rare managers contribute with an increment percentage on the application of contracts: the gold ones with 3%, the silver ones with 2% and the bronze ones with 1%. You can hire managers so that the somatory of these percentages is up to 50%. This means that, when applying a contract card on a player, the number of contracts added is 50% higher. In a long run, this mehod will be extremely beneficial, and in a short run, it allows you to ensure that the prizes of the game will always be superior to the contracts spent. Your squad's sustainability will be guaranteed.
A problem comes up: the managers are also expensive in the beginning of the game and you don't have many coins to spend. What you should do is to choose the cheapest rare manager cards to reach the 50%. Unless a good oportunity arises, don't buy a Mancini, a Wenger, a Fergunson or a Low. Choose well those you're going to buy and verify, for example, if there aren't three bronze managers cheaper than a gold one.
This is almost a must do investiment, even because the manager that sits on the bench is the one that spends contracts and only him must have a specific nationality and tactic to benefit the chemistry of the squad.
Acquiring a Stadium with maximum morale
One of the news in FIFA 13 Ultimate Team is how the morale works. It's harder to maintain the players motivated and this can cost us victories and coins.
A good way to help manage this situation is buying a stadium with a morale boost of +8. It may not solve the whole problem but, for some hundreds of coins, it will give a significative contribution. And even being a low investiment, you can always pick the cheapest stadium among the existing 17 with maximum boost. If we except the affective and graphic parts, the effect of the stadiums on our game is only on the morale.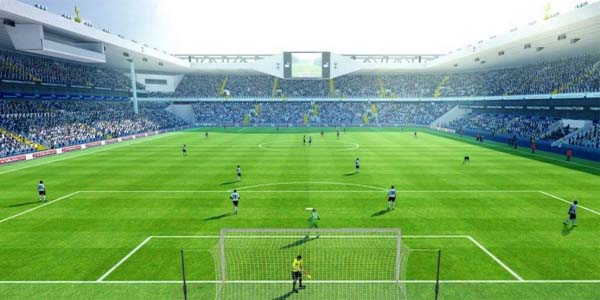 Defining your Tactic
Before starting to hire players, you should define the tactic you're going to use. That way you can try buying player cards with the tactic you've chosen to use, which will strongly benefit the chemistry of your squad and avoid future expenses in the acquisition of tactic changing cards.
If you still don't have the experience of previous versions of FUT and don't know what tactic to choose, try playing some experimental matches and see what's your game style (like playing by the lateral, prefers a defense with more players, uses line defending, etc). Only after you've made up your mind about one of the 16 tactics of FIFA 13 Ultimate Team, you'll be able to equip your squad with players whose tactics are the one you've chosen..
Starting your Squad
According to the objectives you've defined on the first task, surely you already have an idea for the squad you wish to have. Probably even elected some players you want to play with. Although, in the beginning you'll have to be very prudent. After all, this task is the one that will absorb the biggest slice of your budget.
Firstly, it is given that a good chemistry is essencial to reach success, you'll have to think how you're gonna link your players. Will they be be all from the same league? Will you try to make a mixed squad? Will the majority have the same nationality?
Restricting the group of players, you can start the search according to the tactic you've chosen and the attributes you appreciate more on a player. Having a squad with a good rating is worth nothing if you don't know how to take advantage of your players and if they don't fit on your playing mode. According to his price, always give preference to those that have the same tactic as your squad's and that play on the position you intend to put them in.
If you want to have a good squad in a short time, you'll have to buy intelligently. And that means knowing the market. For example: if the game is at its beginning, then the big stars will tend to have their prices raised in a short-term, while the players with ratings between 83 and 87 are normally overvalued. If you make the wrong decision, you may mess up you future.
Try to start filling all the places of the squad with medium players that may serve as alternates in the future. Everytime your budget allows you to, buy a player that constitutes an absolute starter. One by one, go building your squad. This way, you'll have time to analyze the behavior of the following signings on the market and get to buy good players at a lower price.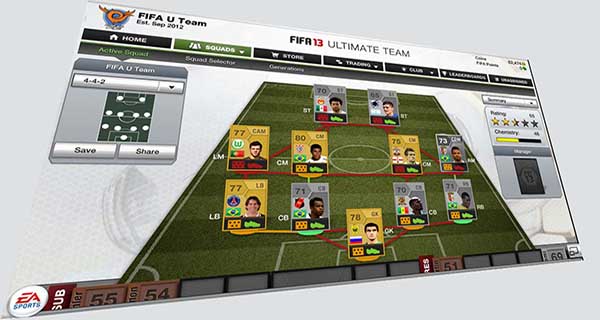 After hiring players, don't forget to see the influence they have on the chemistry of your squad
Playing your first matches in single player mode
And finally it's time to get your club on the pitch. If you already followed all the tips we explained, you can relax because your club has everything to go far. Therefore, you should test your squad before facing strong opponents. For that, the best you can do is playing matches on single player mode. You'll have the alternative to test the players and their chemistry with the tactic, but more importantly adapting yourself with a new FIFA. But don't play too many matches. The reason for that is because the match prizes in online mode are superior and in the beginning all coins count.
Another important recommendation is to never give up the matches, even if you are being massacred. If you do, your %DNF will reduce from the initial 1.00 and you will receive less money at the end of each match.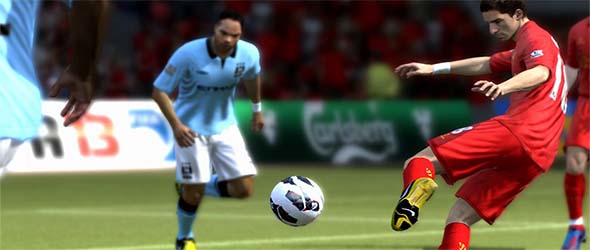 Now that you already know how you should start, get your hands on work. If you have questions about these tips, then keep up with MyFUT13 and you'll realize that it's not that hard to become rich and successfull in FIFA 13 Ultimate Team.
Thanks to Pedro Henriques Coelho for the translation.