CENTRAL POINT is the fortnightly column of FIFA U Team website, written by Hugo Versiani.
You will find here the most hot Ultimate Team topics but also old stuff, described in a very objective and special way.
In this fourth episode, "FIFA 15 IF and UP Cards: EA's False Advertisement", the author shows that IF and UP FIFA 15 cards are not good value for money.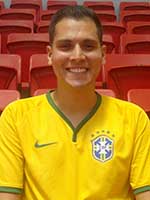 IF and UP FIFA 15 Cards: EA's False Advertisement
It seems like it's going beyond the 90th minute, extra time and penalties. FUT players are tired of the Price Ranges discussion. If you play Ultimate Team for a long time, subjects such as price updates and attribute upgrades might be simple for you, but for other people it can be more complex and productive. Did you hear about the TOTS coming out next month? I can't start talking about TOTS if people still don't know how they should buy the other types of cards, or mainly the rare gold ones.
With the latest price updates made recently, now is the best moment to discuss this. Also because of some your comments and doubts I decided to write a little bit more about the best way there is to buy on the FUT market nowadays. I want to remind you that the analysis that follows is based on the PC (Origin) platform, therefore other consoles may experience variations.
The player chemistry style cards are consumables and most people use the special ones (shadow, catalyst and hunter) which are normally sold at higher prices, mainly for their contribution on each player's attributes over the others. Normally defenders are applied the Shadow chemistry style, having their pace and defending attributes elevated by 3 points; midfielders usually use Catalyst, which favours pace and passing in the same way; at last there's Hunter, which adds 3 points on pace and shooting and is most commonly used on attackers. Notice how their use corresponds to each player's main attributes for the position.
With the recent changes (Price Ranges), cards with special chemistry styles are being sold on their minimum price allowed, so they end up cheaper or costing the same as those with no chemistry style or a non-special one. Also, look at the number of contracts the player you want for you team has, many can be found with 99 contracts. Pay attention because in the last few days, the players cards that you buy are coming all with only 7 contracts.
Another care you should take is concerning players that received upgrades. Let me explain this by using the Brazilian captain as example, Neymar. For better comprehension, I'll compare his 86 rated card with his 87 rated one using Futwiz as price database (no advertisement intended) and we'll also look at his main attributes for the position (pace, dribbling and passing).
The first card, rated 86, has minimum price set to 70.000 coins, maximum 110.000 coins and the following attributes highlighted: pace (90), dribbling (92) and passing (72). The second card, rated 87, has minimum price set to 130.000 coins, maximum 200.000 coins and the following attributes: pace (90), dribbling (93) and passing (73). Taking a look at the numbers on those cards, here's what's up: pace wasn't improved and the other two attributes gained 1 point each, the difference is pretty insignificant. Considering each card's minimum price, is it worth paying 60.000 more coins for such an insignificant upgrade? This upgrade in disguise has three objectives: lower the old card's (86) value, insert coins on the market and fool uninformed players (which I hope are way less after this article). In case you want an alternative to compensate these two shooting points, I advise you to use Hunter chemistry style instead of buying the 87 rated Neymar.
We've talked about rare gold cards, now let's say you have millions in your club. Neymar's first IF card (rated 88) came out on TOTW 1 and its minimum price is 700.000 coins, 1.000.000 coins maximum and these are its attributes: pace (92), dribbling (94) and passing (75). His second IF (rated 89) came out on TOTW 20 and its minimum price is 950.000 coins, 1.400.000 coins maximum and its attributes are the following: pace (93), dribbling (95) and passing (78). Now between these two we have some significant changes. Now the prices, prepared? Looking at minimum prices, we've got a 250.000 coins difference. For this situation, tips will be the same as before. Then you ask: – Which one should I buy for my squad? Central Point answers: – Calm down, we've still got MOTM to approach!
This last card suits people who have so many coins in their club they don't even know how to spend. 90 rated Neymar is the top card, now the only option for comparison we've got here is the best player in the position at his regular rare gold card, CR7. Real Madrid's winger has got 93 of pace, 91 of dribbling and 81 of passing, minimum price 1.700.000 coins and maximum price 2.600.000 coins. While Njr11 has got 94 of pace, 96 of dribbling and 80 of passing, minimum price 1.400.000 coins and maximum price 2.100.000. What's 300.000 coins for someone who's willing to pay over 1 million coins for one player? Both have got excellent attributes, but the Portuguese player stands out for his balance that's way beyond average, besides few clubs are able to afford the best player of the world.
You can't come out with only one conclusion, since we have three types of cards (rare gold, TOTW and MOTM) for the same player. Therefore, in short, the best choice regarding the cost benefit will be the 86 rated card (in case you'd like, apply chemistry style hunter or catalyst). If you're willing to actually spend a lot, the best quality choice for your LM/LW position is Cristiano Ronaldo (92).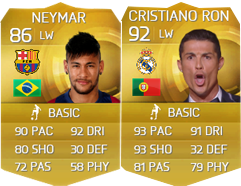 If the same simulation is made for a squad's starting eleven containing players of the three main leagues (BPL, Bundesliga and Liga BBVA), using only rare gold cards and performing a few position adaptations, let's see what price difference we'll get. In the first example, building this team requires from 81.050 coins (minimum) to 186.000 coins (maximum) spent. Now we have the same team, except that all player cards are upgraded, for our second example. Notice that the squad cost goes from 81.050-186.000 coins to 206.200-385.000 coins. Remember: these two examples follow the same line of thought as Neymar's upgrade's which was discussed previously. Well then, don't waste your coins!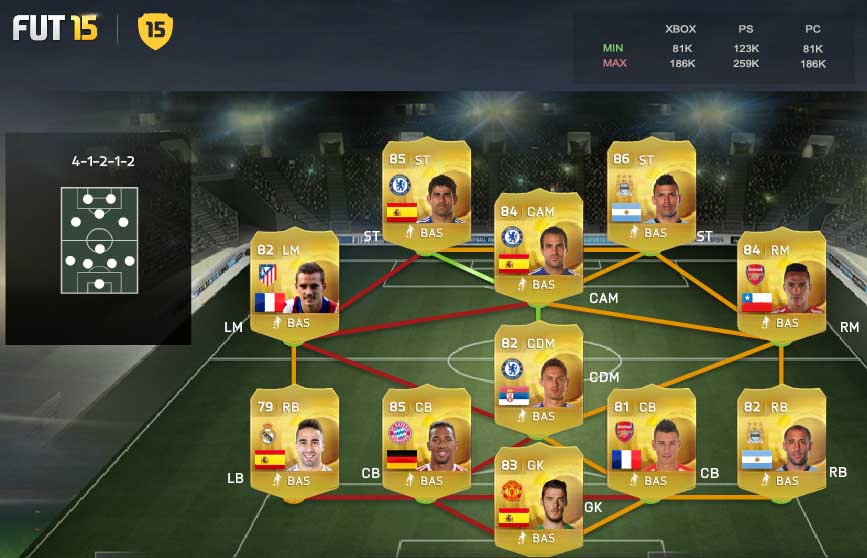 Squad 1: no upgrade
Squad 2: with upgrade
And just one more tip for those who've just started playing Ultimate Team, don't get ahead of yourself with players being sold with training card attribute bonuses. For a moment you might think you've hit the jackpot, when actually you've just wasted loads of coins. A quick general rule for buying players on FUT15? Minimum price (in case you don't know the player's minimum and maximum price, take a look at this FUT15 price updates article), special chemistry style (shadow, catalyst and hunter) and maximum amount of contracts. Don't forget. Cheaper IF's with the best attributes? That I'll leave for next time!