FIFA 13 EASFC Catalogue is one of the FIFA 13 news features and that will also bring benefits to FUT 13 players. We show you what it is.
Introduction to FIFA 13 EASFC Catalogue
EASFC means Electronic Arts Sports Football Club. It is a social fan hub. It connects you to your friends, to your favourite club and even to the real football world.
With FIFA 13, also arrives the EASFC Catalogue. It is a store where you can trade the credits that you earned or the 10,000 credits that you received when you bought the game with us by hundreds of items, including kits, boots and boost's.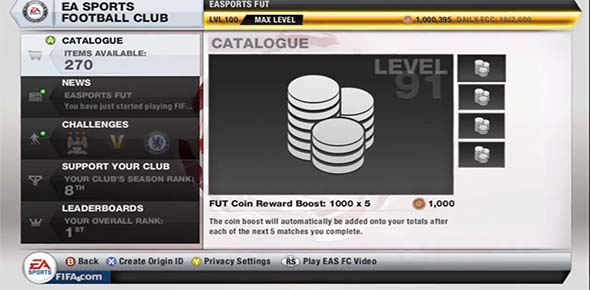 In the previous years, your progression could be tracked by your level XP. But you were not rewarded in any way. With FIFA 13, your progress is reflected in the EASFC Catalogue. The higher your progress, more items you have at your disposal.
FIFA 13 EASFC Catalogue Video Introduction
You can watch a introduction to EASFC Catalogue on the following video: