Miroslav Klose has became the player with most goals scored in world cup history. To celebrate it, EA Sports has released the first special FUT 14 card.
What is a Special FUT 14 Card ?
If you are familiar with Ultimate Team, you already know which means the colours of the cards: orange to MOTM, green to iMOTM, black to TOTW, blue to TOTS and TOTY, etc… However, unless you have read our cards guide, you probably don't know what is a special card and how it looks like.
Time to time, EA needs to create a special card that does not fit in any of the other categories. These cards are usually released for celebration or charity reasons. These players are upgraded with a Special card which becomes available in packs for a very limited time.
As you can see from the picture below, the special cards are blue with a red background.
Miroslav Klose got a Special FUT 14 Card
Miroslav Klose got a Special FUT 14 Card after becoming the player with most goals scored in world cup history. In this new card, all his base stats were upgraded in 16 (!) points compared to his regular card. If he scores in the World Cup final, this special card will be automatically upgraded. One goal means more one points to all base stats. Two goals mean more two points to all base stats. Three goals… ok, he is a good player but he will not score more than two.
This first special FUT 14 card is only available in packs for 24 hours from 2am UK of July 9th. EA Sports have released a 100k packs Happy Hour. However, if he scores in the final there is a good chance to be release again.
The special cards are extremely rare and that's why it is probably the first time you see one. In fact, this is the third time EA Sports have released one. The first one was Messi 99, in FUT 12, to get donations to his foundation. Then, it was released another Messi special card, to celebrate the record of goals in a single season. Finally, Klose scored his goal number 16 in his world cup career and he was rewarded with this amazing card.
If you got one of these cards in a pack, you are a very lucky guy. If you plan to buy it, you will need to save several millions of coins. Just look at the picture below to see the difference between his regular card and the special one. If you have him in World Cup mode, you will get an automatic upgrade. Don't have to do nothing.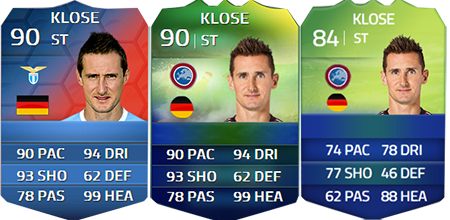 Who is Miroslav Klose ?
Miroslav Josef Klose is currently Germany's all-time top scorer with 71 goals. He won the Golden Boot at the 2006 World Cup in Germany by scoring five goals as he already have done in 2002. After that, he also scored four times in 2010 and twice in 2014 World Cup. He is also one of only three players that scored in four different World Cup tournaments. The 36-year-old forward is playing in Serie A, for Lazio. The German national team has never lost a game in which Klose has scored.
Miroslav Klose is officially in a class of his own when it comes to the best goalscorers in World Cup history.
After the striker tied the record with a goal against Ghana, he came through with a score in the semi-final against Brazil, giving him 16 goals in his World Cup career. This puts him past Brazil legend Ronaldo as the top scorer in the history of the finals.