Loan players are limited use items that can boost the overall performance of your team. In this Loan Players Guide for FIFA 18 Ultimate Team, we will explain how you can add them to your team and how these cards work.
The Loan Players Guide for FIFA 19 can be found clicking here
Loan Players for FIFA 18 Ultimate Team
What you should know about loan players for FUT 18

Loan players for Ultimate Team were introduced in FIFA 15. They can inject that extra bit of quality into your squad for a few games and prove vital in key fixtures. Because of that, more and more people are using them. However, most of them will not fit in your squad. You can save them to use at less important matches but it is important to check how important they will be in your team before you 'buy' them.
Loan players cards are identified by a blue rectangle in the top right corner, as you can see in the following image. The number within the rectangle, show us how many matches he can play until his contracts expire and his card becomes obsolete.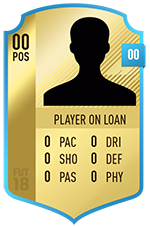 You may be asking what's the point to have these cards when you can have the final one. Well, first they are usually free and you will not be spending the contracts of your cards. Besides that, it gives you the chance to try new cards before buying them. Ever wonder what it's like to have Ronaldo on your team? With the Loan Players feature, you'll be able to try out some of FIFA Ultimate Team™'s most sought-after players for a limited amount of matches. See how a player fits onto your squad before purchasing them on the Transfer Market. That's the most important role of these cards.
How to Get Loan Players
What you should do to add loan players to your FUT 18 squad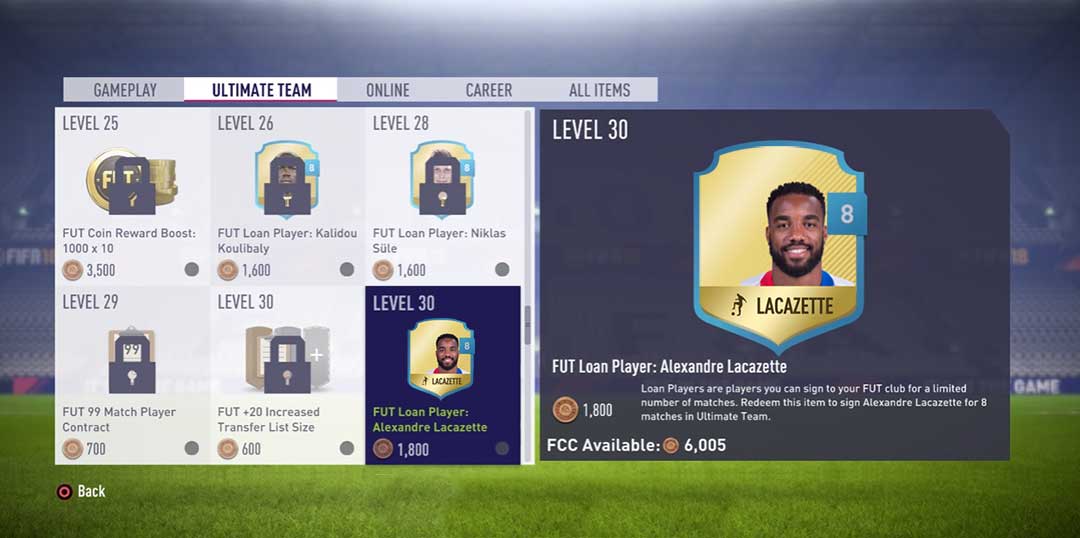 There are several ways to get these cards. Let's see which ones.


✔️ EASFC CATALOGUE
This is the oldest one. The EASFC Catalogue features several players you can get on loan. How you do it? It's easy. Head into the catalogue, either by clicking the right stick or via Customise > Catalogue. From here, go to Ultimate Team tab and browse which players are available to you, depending on your XP level. Each player can play a different amount of matches and has a different price. Once you acquire a loan player, paying with Football Club Credits, the next time you boot up Ultimate Team the card will be available in the 'New Items' tab to be placed into a squad. These loan players can be bought by yourself, or gifted to a friend. Depending on your FIFA player level, better loan players will be available to you.
EASFC CATALOGUE

XP LEVEL
PRICE [FC C]
PLAYER'S NAME
MATCHES
16
800
?? Gianluigi Donnarumma
12
20
1000
?? Thomas Lemar
10
24
1500
?? Naby Keita
9
26
1600
?? Kalidou Koulibaly
8
28
1600
?? Niklas Süle
8
30
1800
?? Alexandre Lacazette
8
32
2000
?? Radja Nainggolan
7
34
1800
?? Toby Alderweireld
7
37
2500
?? Diego Godín
6
38
2800
?? Andrés Iniesta
6
40
2800
?? Pierre-Emerick Aubameyang
6
42
3200
?? Gonzalo Higuaín
5
43
3000
?? Thiago Silva
5
44
3200
?? Mesut Özil
5
46
3000
?? David De Gea
4
47
3600
?? Eden Hazard
4
48
3300
?? Manuel Neuer
5
50
4000
?? Cristiano Ronaldo
3
✔️
SPECIAL EDITIONS
FIFA 18 has three editions for Playstation 4 and XBox One: the standard one, the Ronaldo Edition and the ICON Edition. Each one has different offers but all of them includes loan players.
SPECIAL EDITIONS

FUT loan item of Cristiano Ronaldo
Get this FUT loan Item, usable for up to 5 matches.
FUT loan Icon item of Ronaldo Nazário
Get this FUT loan Item, usable for up to 5 matches.
TOTW Loan Players Packs
Get one TOTW FUT loan player per week for 20 weeks (3 matches each)
✔️
STARTING TEAM
When you start FUT 18 for the first time ever, right after opening your starter pack, the game request you to select a player on your squad to replace with a high rated loan player. The player you swap will be moved the reserves on your squad for use later. This is a one-time chance to improve your squad with a top-quality player. Just like on FUT Draft, it will be shown 5 players to pick one, according to the position you have selected. It is not possible to list them all here because, to the same position, there are dozens of players. If you swap a striker, for example, the game will give you the chance to play with one loan player from Suárez, Lewandowski, Higuaín, Aguero and Aubameyang. The better is the card, the fewer games you can play with him.
✔️
SQUAD BUILDING CHALLENGES
By completing specific squad building challenges, you can win loan players cards. Usually, these challenges are easy and reward who completes them with a Prime Icon card on a 20-match loan.
SQUAD BUILDING CHALLENGES

?? Alan Shearer
?? Henrik Larsson
?? Michael Owen
?? Alessandro Del Piero
?? Hernán Crespo
?? Paolo Maldin
?? Alessandro Nesta
?? Jari Litmanen
?? Patrick Kluivert
?? Andriy Shevchenko
?? Javier Zanetti
?? Patrick Vieira
?? Carles Puyol
?? Jay-jay Okocha
?? Peter Schmeichel
?? Deco
?? Laurent Blanc
?? Rio Ferdinand
?? Dennis Bergkamp
?? Lev Yashin
?? Robert Pirès
?? Diego Maradona
?? Lothar Matthäus
?? Roberto Carlos
?? Edwin Van Der Sar
?? Luís Hernández
?? Ronaldinho
?? Emmanuel Petit
?? Marc Overmars
?? Rui Costa
?? Filippo Inzaghi
?? Marcel Desailly
?? Thierry Henry
?? Frank Rijkaard
?? Marco Van Basten
?? Gheorge Hagi
?? Michael Laudrup
✔️
PACKS
You can also receive loan players when opening specific packs. They are not available for sale on the FUT store but you can get them as a reward on Squad Battles or a special event or even by completing an objective.
FUT PACKS

Loan Player Reward Pack
Includes a player rated 75-80 on loan
Premium Loan Player Pack
Includes a player rated 81-85 on loan
Ultimate Loan Player Pack
Includes a player rated 86-90 on loan
More Details about Loan Players Cards
How the loan players cards work


Loan players are cards which can be used for a limited number of games in FIFA 18 Ultimate Team. You already knew this but there are a few details about these cards that you may not know.
DUPLICATES
If you win a loan player item that you already own in your club, you don't have to discard any of them. You can combine them into one single card with the sum of the contracts of both, and preserving the stats from the first one.
SQUAD
You can play with several players on loan at the same time. You can also own on your squad a loan player and his definitive card but you can only use one at a time.
TRANSFER MARKET
You cannot sell loan players items, which means that you will not find them on the FUT transfer market. If you try to discard them, you will receive 0 coins. Besides that, you cannot use them to submit squad building challenges.
CONTRACTS
Like any other player card, when you use a loan player, you are spending one contract. If he remains on the subs or reserves, his loan duration keeps the same. However, you cannot apply contracts to his card to extend the loan. As soon as he runs out of contract, he becomes useless.
CONSUMABLES
Except for contracts, all other consumables work OK on loan players. You can apply training, fitness, healing, position and chemistry styles, though most of the times it'd be a bit of a waste considering their limited availability.