Loan players are limited use items that can boost the overall performance of your team. In this Loan Players Guide for FIFA 19 Ultimate Team, we will explain how you can add them to your team and how these cards work.
Loan Players for FIFA 19 Ultimate Team
What you should know about loan players for FUT 19
Loan players for Ultimate Team were introduced in FIFA 15. They can inject that extra bit of quality into your squad for a few games and prove vital in key fixtures. Because of that, more and more people are using them. However, most of them will not fit in your squad. You can save them to use at less important matches but it is important to check how important they will be in your team before you 'buy' them.
Loan players cards are identified by a blue circle in the bottom right corner, as you can see in the following image. The number within the circle, show us how many matches he can play until his contracts expire and his card becomes obsolete.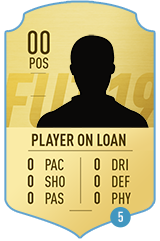 You may be asking what's the point to have these cards when you can have the final one. Well, first they are usually free and you will not be spending the contracts of your cards. Besides that, it gives you the chance to try new cards before buying them. Ever wonder what it's like to have Ronaldo on your team? With the Loan Players feature, you'll be able to try out some of FIFA Ultimate Team™'s most sought-after players for a limited amount of matches. See how a player fits onto your squad before purchasing them on the Transfer Market. That's the most important role of these cards.
How to Get Loan Players
What you should do to add loan players to your FUT 19 squad
There are several ways to get these cards:
1 EASFC Catalogue
2 Champions and Ultimate Editions
3 Starting Team
4 Squad Building Challenges
5 Packs


✔️ EASFC CATALOGUE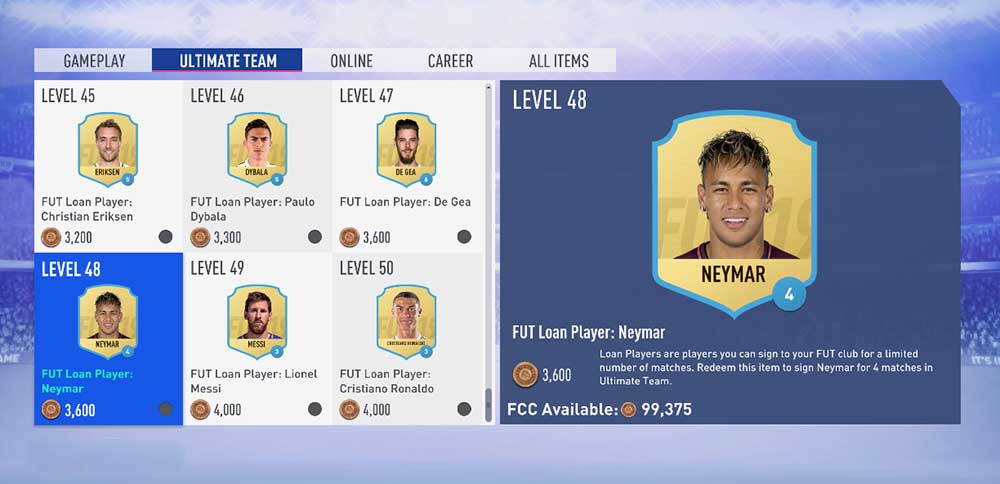 This is the oldest one. The EASFC Catalogue features several players you can get on loan. How you do it? It's easy. Head into the catalogue, either by clicking the right stick or via Customise > Catalogue. From here, go to Ultimate Team tab and browse which players are available to you, depending on your XP level. Each player can play a different amount of matches and has a different price. Once you acquire a loan player, paying with Football Club Credits, the next time you boot up Ultimate Team the card will be available in the 'New Items' tab to be placed into a squad. These loan players can be bought by yourself, or gifted to a friend. Depending on your FIFA player level, better loan players will be available to you.
PLAYER'S ON LOAN

XP LEVEL
PRICE [FC C]
PLAYER'S NAME
MATCHES
16
800
?? Gonçalo Guedes
12
18
800
?? Michy Batshuayi
10
20
1 000
?? Alex Telles
10
22
1 200
?? Sergej Milinković-Savić
9
24
1 500
?? Timo Werner
9
26
1 600
?? Florian Thauvin
9
28
1 600
?? Iago Aspas
8
30
1 800
?? Joshua Kimmich
8
32
1 800
?? Naldo
8
34
2 000
?? Kylian Mbappé
8
36
2 200
?? Leroy Sané
8
37
2 500
?? Riyad Mahrez
8
38
2 500
?? Medhi Benatia
7
39
2 800
?? Kamil Glik
7
40
2 800
?? Mohamed Salah
7
41
2 800
?? Thomas Muller
6
42
3 000
?? Dries Mertens
6
43
3 000
?? Antoine Griezmann
5
44
3 200
?? Samir Handanovič
5
45
3 200
?? Christian Eriksen
5
46
3 300
?? Paulo Dybala
5
47
3 600
?? David De Gea
6
48
3 600
?? Neymar
4
49
4 000
?? Lionel Messi
3
50
4 000
?? Cristiano Ronaldo
3
✔️
CHAMPIONS & ULTIMATE EDITIONS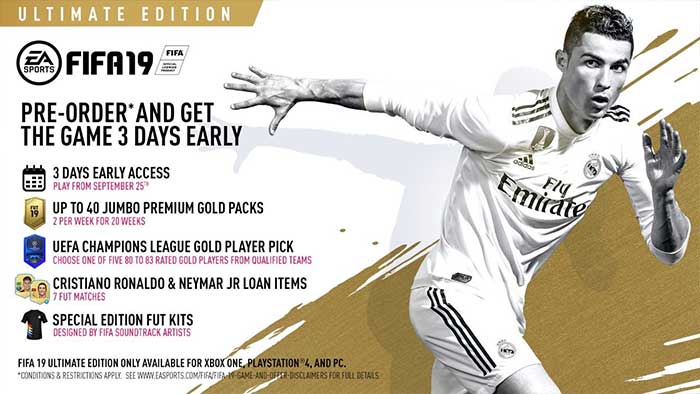 FIFA 19 has three editions for Playstation 4 and XBox One: the standard one, the Champions Edition and the Ultimate Edition. Each one has different offers but all of them include loan players.


SPECIAL EDITIONS

FUT loan item of Cristiano Ronaldo
Get this FUT loan Item, usable for up to 7 matches (all 3 editions)
FUT loan item of Neymar Jr
Get this FUT loan Item, usable for up to 7 matches (not available on standard)
✔️
STARTING TEAM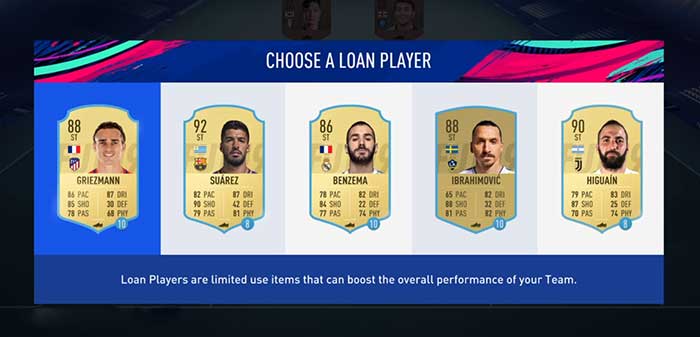 When you start FUT 19 for the first time ever, right after opening your starter pack, the game request you to select a player on your squad to replace with a high rated loan player. The player you swap will be moved the reserves on your squad for use later. This is a one-time chance to improve your squad with a top-quality player. Just like on FUT Draft, it will show 5 players to pick one, according to the position you have selected. It is not possible to list them all here because, to the same position, there are dozens of players. If you swap a striker, for example, the game will give you the chance to play with one loan player from Suárez, Griezmann, Benzema, Ibrahimovic or Higuaín. The better is the card, the fewer games you can play with him.



✔️ SQUAD BUILDING CHALLENGES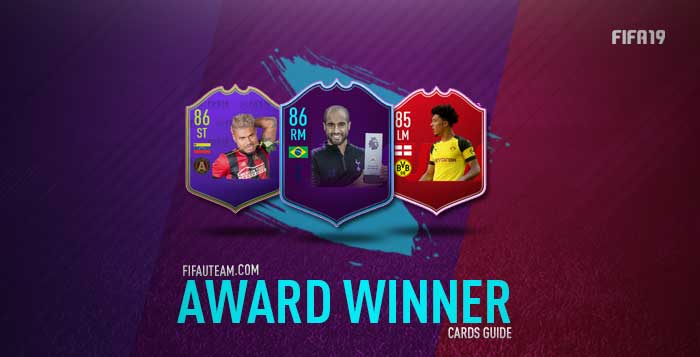 By completing specific squad building challenges, you can win players cards on a 20-match loan. Usually, these challenges are easy and reward who completes them with these cards:
– Premier League POTM items
– Bundesliga POTM items
– Prime ICONS items


POTM ITEMS

PREMIER LEAGUE
BUNDESLIGA
?? Lucas Moura
–
?? Eden Hazard
?? Marco Reus
?? PE Aubameyang
?? Marco Reus
??????? Raheem Sterling
??????? Jadon Sancho
?? Virgil van Dijk
?? Marco Reus
??????? Marcus Rashford
?? Leon Goretzka
?? Sergio Aguero
?? Julian Brandt
?? Sadio Mane
?? Max Kruse
??????? Jamie Vardy
PRIME ICONS

??????? Sol Campbell
?? Michael Ballack
?? Rui Costa
?? Roy Keane
?? Rivaldo
?? Raúl González
?? Hristo Stoichkov
?? George Best
?? Andriy Shevchenko
?? Luís Figo
?? Franco Baresi
?? Hernán Crespo
?? Frank Rijkaard
?? Hidetoshi Nakata
?? Alessandro Nesta
?? Edwin Van Der Sar
??????? Michael Owen
?? Emilio Butragueno
?? Pavel Nedved
?? Clarence Seedorf
?? Ruud Van Nistelrooy
?? Fabio Cannavaro
?? Emmanuel Petit
?? Roberto Baggio
?? Sócrates
?? Marcel Desailly
?? Alessandro Del Piero
?? Carles Puyol
?? Lothar Matthaus
?? Dennis Bergkamp
??????? Steven Gerrard
?? Patrick Kluivert
✔️
PACKS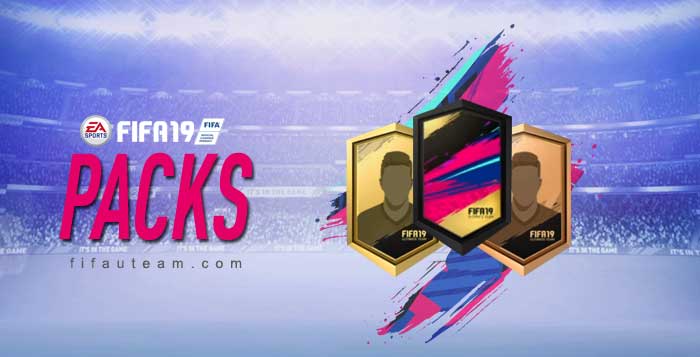 You can also receive loan players when opening specific packs. They are not available for sale on the FUT store but you can get them as a reward on Squad Battles or a special event or even by completing an objective.
More Details about Loan Players Cards
How the loan players cards work
Loan players are cards which can be used for a limited number of games in FIFA 19 Ultimate Team. You already knew this but there are a few details about these cards that you may not know.
DUPLICATES
If you win a loan player item that you already own in your club, you don't have to discard any of them. You can combine them into one single card with the sum of the contracts of both, and preserving the stats from the first one.
SQUAD
You can play with several players on loan at the same time. You can also own on your squad a loan player and his definitive card but you can only use one at a time.
TRANSFER MARKET
You cannot sell loan players items, which means that you will not find them on the FUT transfer market. If you try to discard them, you will receive 0 coins. Besides that, you cannot use them to submit squad building challenges.
CONTRACTS
Like any other player card, when you use a loan player, you are spending one contract. If he remains on the subs or reserves, his loan duration keeps the same. However, you cannot apply contracts to his card to extend the loan. As soon as he runs out of contract, he becomes useless.
CONSUMABLES
Except for contracts, all other consumables work OK on loan players. You can apply training, fitness, healing, position and chemistry styles, though most of the times it'd be a bit of a waste considering their limited availability.