Yes, it is possible to make 100k in the first month of FIFA 18 and we will show you how.
How to Make 100k in the First Month of FIFA 18
The First Trading Guide

In this trading guide we shall discuss the easiest and quickest ways to make coins at the start of FIFA 18 by looking back at what has been profitable in previous FIFA's. A lot of people do not realize some of the in-game features which enable you to get those first 100,000 coins. Once you have got that coin base, you can start to make investments which will mean you can double or triple your coin total. Once we have explained the two ways to get your first 100,000 coins, we shall then discuss the best trading method to ensure you make plenty of coins in the first month of FIFA 18.
The FIFA EA catalogue and manager tasks (now known as Starter Objectives), have always been an easy way to make your first few thousand coins you can make at the start of a new FIFA but you can actually make a lot more than that. If you have an account with a high level, you will be able to redeem items and boosts which in total could make you 100k in the first month. If you do not have a high enough level on your account because you are fairly new to FIFA, ask some friends who have a high level account to gift you some of the boosts or items below. By completing all the starter objectives as well you will receive a mixture of packs in return which could make you millions (if you pack an Icon) but more likely several thousand more coins!
EA Catalogue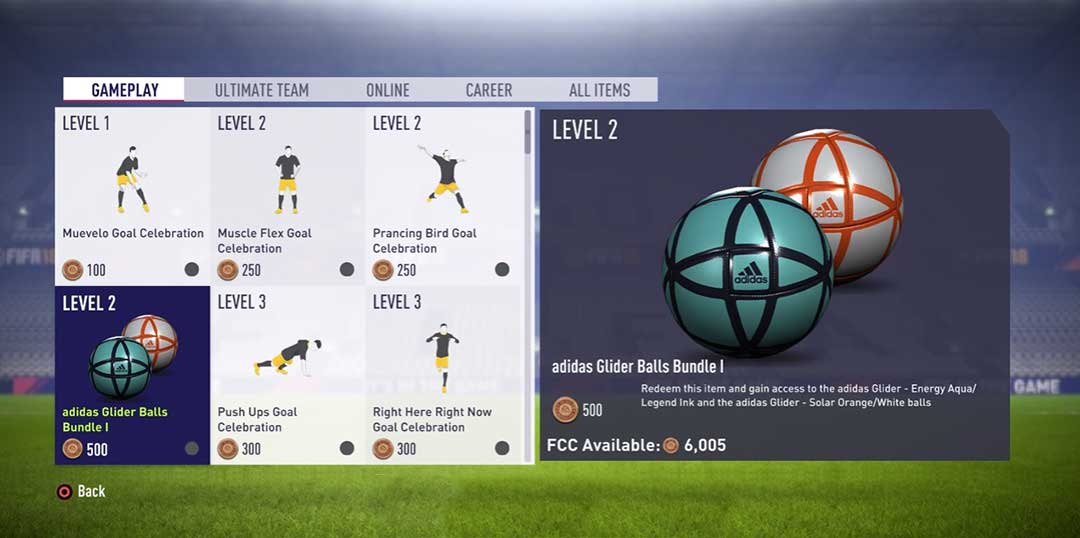 The items which you can unlock in the catalogue which will make you coins are kits, balls, coins boosts, contracts and to increase the size of your transfer list. All of these in one way or another will help you reach that first 100k. Below we shall explain how to use every part of the EA catalogue to your advantage and how to make as many coins as possible from each part.
✔️ Kits
In FIFA 18 there are 14 classic kits in the EA catalogue. Each of these kits will discard for coins. Some kits are rare gold, none rare gold and rare silver. Discarding all of these will make your first 2,000 coins all for free. You can always try and sell them on the FUT market to make more coins but the chances of some of these selling are very low due to a lot of people doing this method.
✔️ Balls
Selling/Discarding the balls is the exact same as the kits. You redeem all the balls from the catalogue and discard them all. The balls are even less likely to sell on the market so we would strongly recommend just discarding them. Depending on how many there are you can make around another 1,000 coins. I know this does not sound like a lot but these first thousands of coins are crucial in first weeks and you will not even have to play a game. After selling the balls this will take our coin total up to around 6,000 coins.
✔️ Contracts
In the catalogue on FIFA 18, there are 5 x 99 contracts which at the start of a new FIFA are very important. You have two different options with the contracts, you can either hold onto them because contracts are very important at the start of FIFA or you can sell them on the market (DO NOT DISCARD THEM). The longer you hold onto them, the more value they will hold. In the first few days of FIFA they will sell for around 500 coins each! After a couple weeks, about 700-800 coins each. Just selling the contracts will make you another 2,500 coins.
✔️ Transfer List
One of the first things that all good traders do at the start of FIFA is to redeem all the boosts which increases my transfer list to hold up to 100 cards. This enables you to hold more items to trade with. The value of an increased transfer list is very high and is one of the first things we recommend in FIFA 18.
✔️ Coins Boosts
Now we are talking about the part of the catalogue which can make you the most amount of coins at the start of FIFA 18. Coins boosts when redeemed from the catalogue, add coins onto the coin bonus you receive at the end on playing a game in FUT. These boosts range from 200 coins to 1,000 coins. If you have a high level account, redeem the 15 x 1,000 coin boosts first and work your way down to the 200 coins boosts. Again if you do not have a high enough level get a friend to gift them to you. After redeeming all these coin boosts after the first 135 games of FIFA, you can get a bonus 87,000 coins!!! This does not take into account the normal coins you receive from completing a game in FUT. You may think 135 games of FIFA is a lot but if you play weekend league that 160 games a month and of course you will be smash out divisions to get further coins!
Starter Objectives

In FIFA 18, there are several tasks which have a range of different packs/coins as rewards for completing them. These starter objectives range from naming your club, applying fitness cards and playing a game on FUT. These are always very simple and quick to complete. They should not take you more than 10 minutes and you will get between 3,000 minimum worth of items if you were to discard them straight away but you will receive fitness cards, contracts and healing cards which will help stack your club in the first few hours of FIFA.
Early Investing
If you have used the EA Catalogue and completed all the starter objectives, as well as started to play some games in FIFA 18, you will have started to build up a decent coin total. Now let's discuss the best trading method to invest those coins and make lots of profit. This trading method involves buying players at the start of FIFA 18 who you believe will have more hype around them as the game goes on. Basically underrated beasts as some people would refer to them as. Examples of players in FIFA 17 which this applies to are Kante, Baily and Rento Sanches.
N'Golo Kante's 81 rated card in the first days of FIFA 17 was approximately 19,000 coins (28th September 2016) Just two weeks later his card was selling for 62,000 coins (8th October 2016). That would have been over 40,000 coin profit in under two weeks per card. Eric Bailly was similar to Kante as well, his rare gold 82 rated card was selling for 20,000 and same as Kante was selling for around 60,000 coins two weeks later. Rento Sanches on 28th September 2016 was selling for 14,000 coins and on the 8th October 2016 was selling for 48,000 coins!! If you look at the graph showing the prices of many different players who were under valued at the start of the game and after about two weeks their prices had massively increased. So now we have looked at what happened to players in FIFA 17, now we can look forward to FIFA 18 and what players this could possible happen with in FIFA 18 and the reasons behind this.
In FIFA 18, we have identified three key players which should see their value continue to rise in the first few weeks of FIFA 18, meaning if you buy them earlier you could be making lots of profit! The three players which we believe will make you lots of coins are Idrissa Gueye, Virgil Van Diijk and Heung Min Son. The reasons to why we believe these players value will increase in the first couple weeks of FIFA 18 is that they are desirable players with very good stats and will be perfect for the weekend league. Gueye is a player who is similar to Kante, in the fact he is fairly small but has very all rounded stats and is very quick. Van Dijk is a fast, strong centre back in the mould of Chris Smalling a FIFA 17 legend and Heung Min Son because he was loved in FIFA 17 so many people will want to try him again in FIFA 18 especially due to him having an upgrade in FIFA 18. Of course there are more than just these three players which will see their value rise in the first weeks of FIFA 18 but these are just a couple we have picked out.
Now let's look at why these players' values will increase and the reasons behind it. There are two main reasons for the price increase, the first of which is that people will realise that these players are very good for their squads due to good stats, very effective in game and good links for chemistry such as their national teams or due to the leagues e.g. English Premier League. As more people will start to play FUT Champions they will need quick, strong and players with good technique. This demand for the weekend league will mean that their price will increase. The second reason for the price increase is that as FIFA 18 goes on, the general player base will have an increased amount of coins at their disposable due to time playing games and opening packs which means there are more coins on the FUT market meaning players which are in demand will see their value increase.
This article was bought you by Dan. Visit his Twitter page here.