Unlike what many people believe, FIFA 13 Ultimate Team is not a difficult game. The problem is that for your club achieve success, you must take the right decisions. Most of players adopt strategies that harm the performance of their club. Know which are the 10 most common mistakes among FIFA 13 Ultimate Team players:
Searching for coins generators and cards duplicators
Buying Packs
Ignoring the Chemistry
Quitting from a Match
Picking the wrong Formation
Do not Betting on a Squad
Do not Watching the Opposite Formation
Having Bad Connections
Not Knowing the Market
Not Knowing the Game Rules
The 10 Most Common FIFA 13 Ultimate Team Mistakes
MISTAKE 1 – SEARCHING FOR COINS GENERATORS AND CARDS DUPLICATORS
Everyday we meet people who lost all their coins and their valuable cards because they believed that there was a quick and easy way to earn many coins in FIFA 13 Ultimate Team. There is not. Some of these phishing schemes seem real and have such beautiful names as cards duplicators or coins generators. Thousands of players are taken by temptation and lose everything they have. Learn more about this subject here.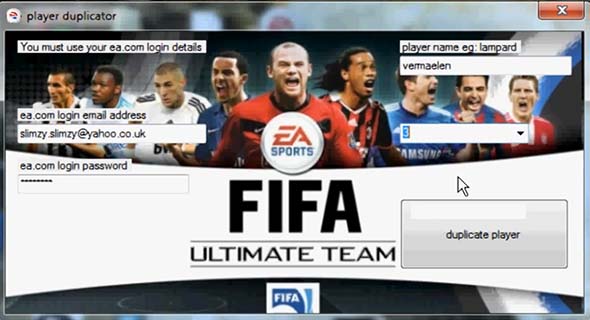 You collected thousands of coins and decided to invest in packs. Once you open them, the more likely it is that you do not receive items valuable enough to cover half of what you spent. Again, the temptation is a bad counselor.
It is not easy to prove that buying packs is a bad strategy because we would have to analyze a sample extremely large. Many players have already spent millions of coins and they can corroborate what we stand for. Even without being able to prove irrefutably trust us: investing in packs is a very bad investment.
It's like playing the lottery. We pay the price of being able to dream. It's almost a certainty that we will not receive any good card, but that "almost" is often enough to make us move.

MISTAKE 3 – IGNORING THE CHEMISTRY
EA Sports has already announced in the early FUT's that a bronze team with chemistry 100 can win without great difficulties a gold team without chemistry. Still, many players insist on investing in the squad and forget that chemistry plays an important role in the success of their clubs. With a chemistry below 90, the players will make many more mistakes.
If you have trouble connecting your players, at least try to apply them formation and positioning cards. And do not forget that the manager must also have the formation of the squad and the nationality of the largest possible number of players. The next time you play, pay attention to see how many gamers follow this last requirement and you will understand why it is the third most common mistake.
MISTAKE 4 – QUITTING FROM A MATCH
You are losing 5-0 at half-time and you are afraid that the it continues until reaches the two digits? Whatever you do, do not give up. Firstly because it is an extreme lack of fair play with the opponent. Secondly because, besides not receive the coins of that match, you will be harmed in your DNF%, the index that measures the number of matches you have not finished. Players who quit are penalized in the amount of coins they receive as a prize at the end of matches. And not just at the end of the next game.
If it is the only solution, place the control and come back once the match has finished.

MISTAKE 5 – PICKING THE WRONG FORMATION
It is known that the formation should be chosen as soon as possible, so that we can optimize the chemistry of our squad. However, most of FIFA 13 Ultimate Team players makes that decision without trying other formations. If they had done, they would discover that there is probably one formation more adaptable to their style of play. As in real football, the formation has a tremendous influence on the performance of your squad. Learn more about it here.
MISTAKE 6 – DO NOT BETTING ON A SQUAD
Many players think that should not exist suspensions, injuries or physical fatigue in FIFA 13 Ultimate Team. Those players belong to the group who do not realized that FUT is based on building a club with a balanced squad and not building a group of eleven good players. The rotation of our squad is one of the keys to success. Try always have two players for each position.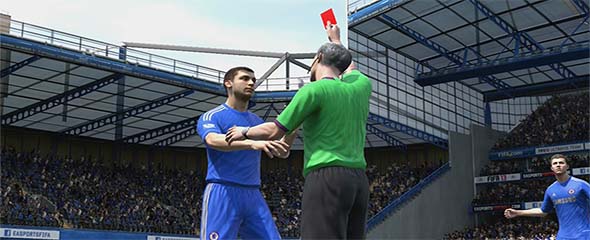 MISTAKE 7 – DO NOT WATCHING THE OPPOSITE FORMATION
In FIFA 13 Ultimate Team, before the start of any match we can view the formation of the opponent. Many players merely check what is the rating of theirs opponents or if there is any superstar. However, collect all the information about the opponent may be enough for the difference between winning or losing the match.
Try to imagine the weaknesses of the opposite formation (eg if he only has 3 defenders, try to attack on the wings), predict the weaknesses of his players (if one side of the defense is much weaker than the other, insist on that side) or identify the player who is the key (if your opponent plays a 4-3-1-2, make an appointment to his strong CF).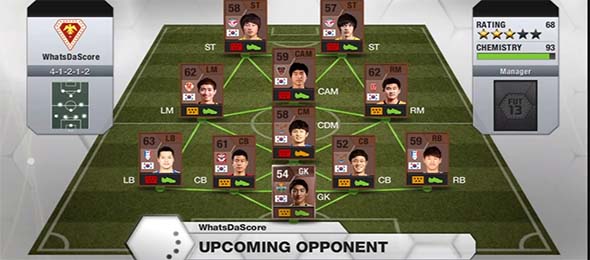 MISTAKE 8 – HAVING BAD CONNECTIONS
Having a bad connection to the server can be harmful to your club. If your connection is only restricted, you will have more difficulty pairing, you will play always in the opposite stadium with the camera chosen by him, your game may suffer constant breaks and, worst of all, the connection may fall sometimes damaging your DNF% and consequently the financial health of your club.
Try to connect by wire, change the firewall settings, open ports on your router or play on NAT1. Whatever you do, your FIFA 13 Ultimate Team connection should be the best possible.

MISTAKE 9 – NOT KNOWING THE MARKET
Making good business depends on the knowledge of the market. Many players discard cards or put them at auction at prices much lower than the prices they are worth on the market. The most common example is with the rare silver cards. If you want to avoid making this mistake, consult a database with the prices that are being practiced.

MISTAKE 10 – NOT KNOWING THE GAME RULES
This is a subject very overlooked by players: do not knowing the FIFA 13 Ultimate Team rules is very harmful for your club. For example, why to buy all the staff cards if you are not thinking applying the corresponding training cards? If you want to know more about FUT 13 rules, read our articles where we try to explain them.
Do you make some of these mistakes? Follow our tips and improve your FIFA 13 Ultimate Team club.