Welcome to Tête-à-Tête with Silvio Teixeira: a very special opinionated area that we are proud to include on our website.
Follow the wise, intelligent, humorous and insightful comments from Silvio. At the end of the article you may know him a bit better too.
In this new episode, "How Much Important is Pace in FIFA 15 ?", the author analyses how important it is for us to have fast players in our squad.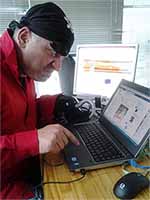 How Much Important is Pace in FIFA 15 ?
We don't seem to get enough of these complaints since the first day of FIFA 15: the game monstrously favours the pacey players!
A few days ago an update was supposed to diminish this absurd advantage. If there was really an improvement I don't know, I personally didn't notice anything different, because fast players keep on being an unbalance component. But how far do their superiority go? We've talked about chemistry being important here, but we'd rather have Messi without chemistry than Llorente (nothing against him) with 10 of chemistry. Is it worth it to have a team without chemistry but full of fast players? I don't know, but I do know that testing this out is gonna be fun!
I start by choosing a formation, since I'm already not looking for good links to build chemistry I'll at least use players in their correct positions. 3-4-3 seems about right, because it allows me to use LM/LW and RM/RW – those are usually the positions where the fastest players are alongside ST's. I'll have only one ST but that's not a problem since I can make him a CM, therefore I can use a pace beast as CM as well, sacrificing quality passing of course (important characteristic for a CM) but I'll have maximum speed.
Naturally I need quality, so although Mathis Bolly is the fastest player in the game he's too weak on other attributes for me to use him. I'm looking for at least some balance, more strength, some attributes that will make this team competitive.
The first player chosen is Theo Walcott, besides the fact that he's the fastest one among gold players he's got other very good attributes, shoots well, has good passing and dribbling. He'd be in a BPL team even if it wasn't for his pace. The other RM/RW is Aubameyang, he's even better than Walcott, except that his pace loses by one tiny point. So except for the chemistry I'm pretty well served on the right side.
The left side has got Gervinho and Maicon, two pace beasts: 93 of pace each. Of course I could use some of those players that cost 3 digits, but the idea here is to build a ridiculously pacey team that won't cost you your kidney and see if it brings good results in the end.
The ST will be Doumbia, who's not only really fast but also has got exceptional quality up ahead. He shoots really well, is strong and tireless, plus with his 4 stars of week foot he can shoot well with both feet.
Until then nothing's really unexpected, but we'll still go on with this line of thought in the CM position, we'll sacrifice quality passing and defending in order to open the gateway for pace. My choices were Musa and Remy, two more pace beasts for our team, most of their qualities are attack-related but who cares?
At this point you might be thinking, "but Silvio, EA's ruining pace abuse". They may have slightly reduced this attribute generally, which they really should since the game got ridiculous with this, but from what I've noticed it didn't change much and I keep imagining if it's not all just psychological since I still can't do anything but watch when the opponent decides to start running. Anyway, our objective here isn't just to build a Division 1 champion team, it's having fun doing this, anything that comes along is profit.
There are still three centre backs left for us to choose, now we need a proper centre back, no improvising, but also we're looking for fast ones (pace over 80) with interesting defensive qualities. The chosen ones were: Caceres, Koscielny and Onuoha. And a goalkeeper to close this up, since we're not worried about chemistry you can choose the best goalkeeper you're able to buy, I chose Lloris because I like him, but suit yourself.
The second part of this adventure is making sure that we're using the correct tactic and many people don't know about that. My idea is to lure the opponent into my field and then run like hell in the counter attack. It's important to remember that 3-4-3 is an offensive formation that focuses on side plays/crossing.
About the in game tactics, I choose a slightly defensive one and push my LM/RM back a bit to help out the defence, and since they're really fast they'll do the job, but of course, they'll be exhausted by the end of the match. I chose counter attack over long passing, the difference between them is basically that with long passing the defender are supposed to distribute the plays directly, but I prefer counter attacks since I'll just get the ball and run like there's no tomorrow.
The team ended up annoyingly like this: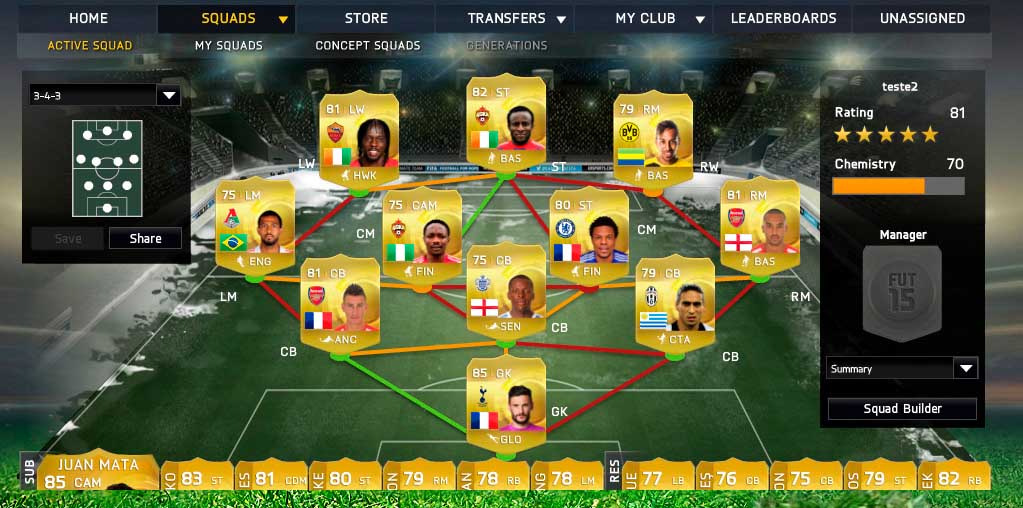 Click in the image to maximize it
One single match isn't really interesting as reference, because if I play against a strong opponent I may be beaten so badly that it won't be all fun and games any more. Or maybe if I end up facing someone too weak that would make things much easier, but after playing six matches there's a natural statistical tendency that we'll come up with more solid conclusions.
So let's get it on!
One of the first different things I noticed was exactly how faster the CMs were. We're used to having LM/RM as the engines but now they're more like the challengers of the midfield. With these extremely fast CMs I realised such great marking outcome I'd never seen before. When we lose the ball on the attack they'll come back at the speed of light. It's true that they're weak at tackling and interceptions in general, but most opponents find themselves uncomfortable when they see a player up ahead blocking the way holding down the jockey button. Important: let the opponent stay marked by the computer always that possible, change the cursor to another player looking to predict where he's gonna pass to, with this strategy interceptions should work fine since your CMs weren't born for this.
Up against other pace teams I had good results, because it's common for people to choose these kind of players when they're not that good at dribbling. I won the first match 3-1 and then drew 3-3 on a hell of pace abusing match.
I ended up facing a team with horribly built chemistry (less than 50) and just average players, and since the guy wasn't very dominant of the mythical arts of FIFA I bashed him 5-0.
In this other match I was up against a very strong team but the opponent clearly wasn't very talented, however I missed too many chances and the one time he shot on target Messi scored against the laws of gravity. We finished 1-1.
But I also lost two games, being one against a team we can consider weaker than mine, but the guy played well, dribbled well, scored two wonderful goals and only didn't score more because Lloris saved me several times. He had the most possession and blocked my speed. He won 2-0 and deserved it. The last match I lost was due to handicap (if that even exists), I attacked a lot, shot a lot, missed a goal with Doumbia inside the box with the keeper beaten, hit the post, but the ball just wouldn't go in. My opponent scored a goal on a cheating penalty, one after an absolute goalkeeper fail, and then another one while I scratched my nose, that's just not cool. 3-1 for him, but I deserved better luck.
In the end I realised chemistry affected me way less than I expected (I had already performed I few tests on FIFA 14), my passing accuracy wasn't that bad, and there weren't many incidents where my players would run into each other. I did notice an exhaustion on my CMs, Remy was the champion on this, he once lost 14 fitness points in a single match!
Moral of the story, I'm now considering even more to use some chemistry breaches in order to switch to better players. So there's a tip for you to lose stress a bit building kind of crazy teams like this, in fact your opponent is the one who will go crazy when he sees a team like this. You can't really win Division 1 but you can go quite far and have lots of laughing with the other guy swearing by the microphone all the time.
That's it for now, guys! See yoooou later!