It was not in our plans but the community have asked and we decide to bring back the MY FUT 14. For who don't know, it is a place where we show how our FIFA 14 Ultimate Team club is going.
Find out the most common problems that you will face in your club, tips, advices, analyses and everything you need to be rich in this game.
MY FUT 14 Ep. 21 – Sergio Aguero
July 17th, 2014
World Cup is over. Sergio Aguero haven't played well but he almost won the tournament.
In our opinion, he is one of the best FUT 14 strikers. Strong, fast and an amazing finisher. You can watch him 'live' in the following video.
Don't forget to turn on the HD!
Good games!
MY FUT 14 Ep. 20 – Lionel Messi
May 29th, 2014
We are back to more MY FUT 14 episodes after the TOTS fever.
In the last episodes, we show you how good or how bad are Hazard and Casillas into the field. Today we will do it the same but with Lionel Messi.
He is one of the best players of the world and, naturally, of FUT 14. Besides being a great striker, scoring a lot with his head, he is also great playing as CF thanks to his amazing pace and dribbling. However, in my opinion, he is too expensive for the good he brings to the team.
Don't forget to turn on the HD!
Next time we will bring Aguero to you.
Bye!
MY FUT 14 Ep. 19 – Eden Hazard
March 13th, 2014
Now, MY FUT 14 will be publish on Thursdays, every 15 days.
Today I will launch the second video of my players showing how good and how bad they are. All these videos were taken from real on line top divisions seasons of FUT 14 in order to give you the chance to see with your eyes what can you expect from these players.
Eden Hazard was the most voted to be here this week. He is one of the top class FUT 14 wingers. I love him.
Don't forget to turn on the HD!
You choose who you want for the next video: Messi or Aguero.
Bye.
MY FUT 14 Ep. 18 – Iker Casillas
February 28th, 2014

Today I will launch the first video of my players showing how good and how bad they are. All these videos were taken from real on line top divisions seasons of FUT 14 in order to give you the chance to see with your eyes what can you expect from these players.
Iker Casillas was the first one. He is one of the top class FUT 14 goalkeepers, with great attributes and with a hyper link with one of the best defenders, Sergio Ramos, which allow us to create more original teams. His weakest point is his height. That's why he conceded several goals from chip shots.
Don't forget to turn on the HD!
You choose who you want for the next video: Messi, Aguero or Hazard.
Bye.
MY FUT 14 Ep. 17 – To EA with Love
February 14th, 2014

Dear EA,
I am sure that in the last two years I have helped you to sell many FIFA copies. In exchange I only ask you a decent game. I know that it is not an easy thing but I think you can try harder.
I know that you are giving today to everyone that play the game on the console a packs with four cards (one of these cards is a player). I also know that you have released today a new tournament with great prizes (learn more about it HERE). These are all good things but I trade it by working servers. It is possible ?
I don't like to complain about others but three of your friends have moved to my transfer list and they don't want to go out. They think it is their house. Their names are Benteke, Mandzukic and Podolski. Thanks to them, my transfer list is stucked.
To finish I send you a picture of their Bios. According to this image, I bought them on 1996. Strange. I don't remember to buy FUT 14 players on that date…
With Love…
Rodrigo Lopes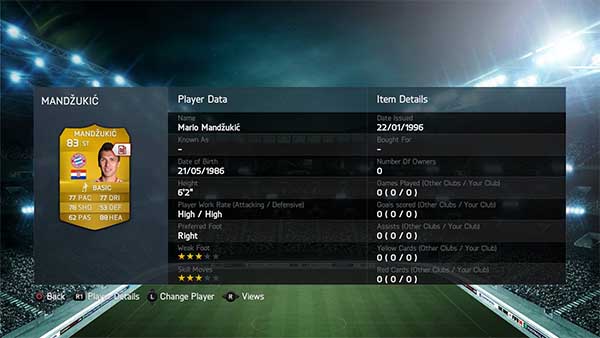 Click to maximize
MY FUT 14 Ep. 16 – First Video
February 09th, 2014

Hi.
For today I have something very special: the first video of my team:
Sorry. This time it was not possible to make a version of this video with English audio. Next time. If you liked it join to our YouTube Channel. We will have more videos.
Bye
MY FUT 14 Ep. 15 – My TOTY Week
January 24th, 2014

Hi.
I already gave you here on this website dozens of ways to getting coins. However, I always said that the most natural trading method is as simple as "buy low, sell higher". I know that the problem is to be sure if the prices will go down or go to raise. That's the key problem. Sometimes it is easier to predict. For example: in huge happy hours with 100k packs, you should known that the prices go down.
TOTY week is a wonderful time to trading because it is easier to know what will happen to the prices. Usually I don't like to give advices about the expected prices because I don't want to be responsible if anything goes wrong. But I did it to TOTY week and all my predictions were right. If you followed my advices, you are rich now. Thanks to me.
My predictions for the TOTY week had different stages:
Stage 1 – Before the TOTY release
Prices go down a couple of weeks before
Stage 2 – First day of TOTY (Monday)
Cards are even cheaper
Stage 3 – Second day of TOTY (Tuesday)
Prices go up because the market is saturated of defenders
Stage 4 – Third and Fourth day of TOTY (Wednesday and Thursday)
Prices go up again because there are only 3 players in packs instead of 5 and everyone is expecting the most expensive ones: the forwards
Stage 5 – Fifth and Sixth day of TOTY (Friday and Saturday)
Prices go down with the release of the most wanted cards: the forwards
Stage 6 – Seventh day of TOTY (Sunday)
Cards are even cheaper due to 100k packs and all TOTY players being released in packs
Stage 7 – The week after TOTY
Prices raise again. Not as expensive than before stage 1 but not as cheap than any of these stages
Do you want to know what I did ? I spent 1.2 million coins in players cards. But not any cards. I knew, for example, that I could buy Eto'o by 20k and sell him now by 30k. But it would mean a profit lower than if I bought cheaper players with 100 % profit. I bought something like 1400 cards. Yes, you read it well. 1400 players cards. Let's look for some examples:
Benteke – Bought for 700 coins and I am selling now by 1500 coins
Ben Arfa – Bought for 700 coins and I am selling now by 1500 coins
Evra – Bought for 750 coins and I am selling now by 1500 coins
Mandzukic – Bought for 700 coins and I am selling now by 1500 coins
Podolski – Bought for 700 coins and I am selling now by 1500 coins
Valencia – Bought for 750 coins and I am selling now by 1500 coins
Remy – Bought for 800 coins and I am selling now by 1700 coins
Torres – Bought for 800 coins and I am selling now by 1700 coins
Aubameyang – Bought for 2400 coins and I am selling now by 4800 coins
Cazorla – Bought for 7000 coins and I am selling now by 13000 coins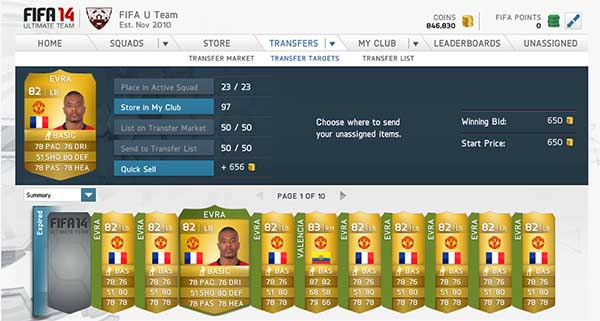 I expect to sell everything on the weekend after TOTY.
Buying at these prices it is impossible to not get a good profit
I have chosen these player but it works with hundreds of other cards.
The only problem was to know if EA Sports would save my entire purchase history. As you know, transfer list, transfer target and unassigned list have a limit. After you fill it, you can't see the cards you keep buying. Until now, everything is perfect and I believe it will work fine.
I bought all the cards at Saturday night when the prices were lower. One week later I think I will double my investment. 1.2 millions coins in only one week. What do you think about it ? It is good or not ?
If you haven't followed my advice, I'm sorry for you. Stay connected with us if you want to be rich. Only on FUT 14, of course.
UPDATE: I completely forgot that in the console it is possible to see all the cards we bought. In the FUT Web App we can only see 10 pages. I still have more than 900 cards to sell.
MY FUT 14 Ep. 14 – First Impressions
January 17th, 2014

Hi.
Today I will share with you my first thoughts about my team.
First of all, I tried several formations and 433 it was my favourite. I am still thinking to go back to my old 442, but by now I will try a bit more. It is important to describe my play style. The progression is usually made by the wings. I use the wingers to cross or to cut to the middle. I defend very well but I my attack is poor.
Casillas may not be the best FUT 14 goalkeeper but he is, for sure, one of the bests. He is the only one that allows me to build a hybrid with Sergio Ramos on the defence. The Madrid's player is irreplaceable. In my opinion, he is on an higher level than Thiago Silva. The PSG's defender has another problem: he is not a good player to the chemistry of the team. Between Miranda IF and Kompany, my preference as CB goes to the BPL player. Cole defends better than Alba and Marcelo but he is not as good attacker as they are. Finally, Dani Alves doesn't have competition on the other side of the defence.
Touré is the key player on the midfield. He is who connects the defence with the attack. I have another five players for this position: David Silva, Neymar, Rooney, Mata and Iniesta (by order of preference). David Silva helps a lot the progression of the team and Neymar assists many times. He could be even better if he would stronger. Both usually play on the main eleven.
On the right side, Navas is much better than Di Maria. To my play style, he is amazing: fast, good dribbling, good ball control and even good shooting. On the opposite side, I was surprised with the good price/quality ratio of Schurlle. However, Willian is even better. When I thought that no one would be better than Willian, I tried Hazard and realized the difference. Now I understood why he is so expensive. There are more goals from crosses and I won a player that can play very well on the middle.
Aguero is the natural choice for my attack. However, Eto'o is the one that scores more goals: more than one per game. He is making me thinking if I should go back for a formation with two strikers.
Here are some stats about the players of my team, that helps you to understand the role of each one:
Best Goals Average

Eto'o 1,07 Goals per Match;
Aguero 0,54;
Hazard 0,50;
Willian 0,27;
Di Maria 0,24;
David Silva e Kompany 0,16.
Best Assists Average

Hazard 0,70 Assists per Match;
Rooney 0,40;
Di Maria 0,32;
Iniesta 0,28;
Willian 0,25;
Neymar 0,24;
Aguero 0,21;
David Silva 0,20.

Most Used Players

Casillas (the goalkeepers have better fitness), Dani Alves (few good alternatives) and Jesus Návas (high quality)

More Undisciplined Players

Thiago Silva, Jordi Alba and Di Maria.

Here are two examples of the teams I usually use (all of the players with indidivual chemistry 10):




Clique em cima das imagens para maximizá-las.




I was promoted now to the division 3. The only division that I have failed the promotion on the first try it was the sixth. This is, I played eight seasons and was promoted seven times. Probably now, the things will more complicated. I already have coins for Messi or Bale but I need more time to analyse my team.

Soon, I will analyse each one of the player of my team.

Until there, don't miss the chance to buy cheap quality players that are been sold by half of the price that they will cost in a week or two. Don't waste your coins on packs.





Hi.

Several follow




MY FUT 14 Ep. 13 – Players' Prices and Chemistry Styles

January 03rd, 2014


Hi.

Several followers have asked me two things about my squad: how much I have paid by my players and which chemistry style should I apply to them.

I am a real good trader but, when it is time to buy players to my team, I don't search the best prices. Most of the times I loose coins because I don't want to buy positioning and chemistry styles cards. It's too boring. I want to play. As the prices are always dropping since the beginning of the game, you will find better prices on the market than the ones I have paid:

Casillas – 36.500 coins
Diego Alves – 1.300 coins
Dani Alves – 58.500 coins
Juanfran – 1.400 coins
Thiago Silva – 36.500 coins
Miranda IF – 40.000 coins
Sergio Ramos – 36.750 coins
Ashley Cole – 3.900 coins
Alba – 6.300 coins
Marcelo – 10.750 coins
Touré – 117.000 coins
Ramires – 10.500 coins
Juan Mata – 49.500 coins
Wayne Rooney- 45.250 coins
Neymar – 330.000 coins
David Silva – 135.000 coins
Navas – 30.500 coins
Di Maria – 34.000 coins
Willian – 30.250 coins
Schurrle – 12.500 coins
Aguero – 295.000 coins
Eto'o – 37.500 coins

For who don't know, it is possible at any time to check the price of the players we have in our club. Just go to 'Squads' – 'Active Squad' or to 'My Club', select a player and use R3 (Playstation) or RS (XBox) to go to his Bio.

To choose the chemistry style is very subjective. It depends of the formation we use, of the preferences and play style of each one of us and obviously of the players. We will publish a guide with chemistry styles suggestions in the future. Today I will show you the chemistry styles that I think are the better ones for my starting eleven:

Casillas – Glove
Dani Alves – PowerHouse
Miranda IF – Sentinel
Sergio Ramos – Sentinel
Marcelo – PowerHouse
Touré – Shadow
Neymar – Deadeye (or Maestro)
David Silva – Hunter
Navas – Engine
Willian – Engine
Aguero – Hawk (or Finisher)

Starting on the next episode, I will analyse every player of my team, individually.

Good trading and good games !





MY FUT 14 Ep. 12 – Adjustments

December, 26th 2013


Hi again.

Unfortunately I did not have much time to test my team so I do not have a lot to share.

I have started by trying a new formation. I was used to 442 and 451 did not work for me. At this time I migrated to the popular 433, but I'm still not sure if I will keep playing with this formation.

I am generally happy with my team. I have joined several good players with high or very high chemistry. Here is my starting eleven:

Casillas
Dani Alves
Miranda IF
Sergio Ramos
Marcelo
Touré
Neymar
David Silva
Navas
Willian
Aguero




Click over the image to maximize it




In this team, everyone has individual chemistry 10 except Touré that got 8. The chemistry styles are not final.

About the substitutes, they were chosen according the needs and the quality of the squad, keeping the chemistry high:

Diego Alves
Thiago Silva
Ashley Cole
Juanfran
Juan Mata
Ramires
Di Maria
Schurrle
Eto'o

Navas and Eto'o were the players that most stand out in this first division promotion. In the future, I want to try Hazard, Iniesta and Rooney. I will keep you up to date. See you next week.
MY FUT 14 Ep. 11 – The Season Starts Now
December, 13th 2013

Welcome back.
For some players, the season only have started now. That's my case. I used the current-gen to tests but my personal account was saved for my new PS4.
The pre-season has not been forgotten. With daily trading, I gather lots of coins. To this team my budget is 1.2 million coins. On the coming weeks I will share here the behaviour of my team, a couple of videos and my opinion about the game and about the players.
Today I will introduce you my first team. It is a hybrid squad, with three leagues and really great players. I will start testing it on a 451 (2) formation. What do you think about this team and what you would change if it was yours ?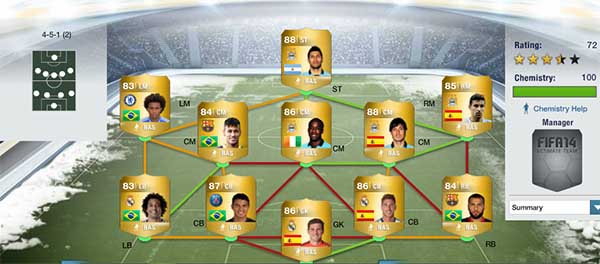 Click over the image to maximize it
MY FUT 14 Ep. 10 – Stop the Traders !
November, 22nd 2013

Hi again.
Since november 20th that thousands of FUT players all over the world can't use the search feature on the FUT Web App. Every time they try to find a card on the market, they receive the answer "No matching results found. Please modify your search criteria and try searching again". Even when they don't select any filter. It is a bug ? No. It is the trader hunting season !
EA Sports has blocked this feature to all the players who have not played any match on the console. And this is permanent. No more trading for these players on the FUT Web App or Companion App (Android and iOS). How to fix it ? Buy the game.
I am not against this decision. It helps to the fight against several kind of cheats, including users with multiple accounts and autobuyer softwares. It makes no sense to see in the leaderboards that in the top of traders are players who have not earned a single match coin. FUT 14 is a game to be played on the consoles. There are people making money with it that don't know how to take a penalty.
What I disagree is a different thing. I can't understand why it is done without previous notice. Even worse: they are punishing who haven't bought the current-gen game but are planning to buy the FIFA 14 for next-gen. It is my case. I have a account to the website (tests, etc) and another one personal. It is an amazing week for trading, with a SIF Ronaldo around here, and I will loose the chance to collect some more hundreds of thousands coins. Thanks god, day 29 is coming…
And you ? What do you think about it ? Share your thoughts with us.
MY FUT 14 Ep. 9 – Buy Cheap, Sell Higher
November, 15th 2013

Hi. Yes, I'm still here.
I know that right now you are more interested in getting my opinion about players and potential teams, but today I will still talk about trading. Usually our articles are very theoretical. We will try to bring here some practical examples to show how easy is to be a FUT 14 millionaire. Tomorrow Silvio Teixeira will explain the Price Fixing (Portuguese version), and today I'll talk a bit more about the most basic rule of trading: buy cheap and sell higher.
For many people, it may seem complicated to know at what price to buy, at what price to sell and which cards to invest. The Trading Guide already explains everything, but I'll try to make things simpler.
As I always say, it is possible to make profit with (almost) any card. Let's try. Choose any BPL card that, by being the most popular league, will be the one with higher demand. If you choose a very expensive card, you will taking a higher risk because the price could go higher or have a larger drop. At this early stage, I recommend choosing a card between 2k and 6k coins. But how do I know the price, you ask. If you are thinking that the answer is to consult a database, you may be surprised to know that this is not the best choice for me. I will try to explain in an article devoted exclusively to this subject, but for now I can give you a short explanation. Firstly, the average price that a database shows is calculated from a sample and not from all the transactions. That is, it is always subject to error. This error can be quite large in many cases as it happens when the cards of the sample are subject to price bumping. Compare the price of Neymar, Aguero or Bale in the database and their sold cards on the FUT Web App. Sometimes it is possible to find differences higher than 30%. That's why we always advise to use the transfer targets to watch the price of the cards in which you are interested. If you do not have time to check the prices at different hours of the day, find out the minimum BIN. Just try several BIN's, from the higher ones to the lower ones, until you got no results.
For this range of prices, it is always possible to buy cards by BID for 300-500 coins less than the minimum BIN. So you just have to go to the market and bid all the cards for that price. If, for example, Torres has a minimum BIN of 3k coins, bid all his cards you can for 2,500 coins. If you have the chance, before the bedtime, bid several of these cards that end during the low traffic hours (3am to 6am UK). You will not win all the cards but the ones you win, are guaranteed profit. Just place them for sale for 200 or 300 coins more than the minimum BIN.
This method assures me 10k coins per day but you should not forget to follow all the trading guide tips: hours method, to be original when choosing the cards, put a BIN 10% higher than the BID, set the lower time auction possible, etc…
For those players who insist on asking us in which cards they should invest, we have a new tip. Now that the FUT Web App allows you to search by player name, as it happens in the console, you should invest on players who were more difficult to find before this new filter. For example, if you wanted to see all the cards of Ramires, you were forced to introduce more filters in order to not get Óscar cards in the results. But why is this a good strategy ? First because traders give preference to make their trades in the FUT Web App and they don't like to use players who require many filters. Right now, they already are used to work with some cards, and it is less likely that they will change to the more difficult cards now that the players name filter is a new FUT Web App feature. Another reason is the Autobuyers. They work like the humans, using filters to find what they want. These cards represent a greater effort and larger time to find them. That's why many publishers of these kind of software do not recommend to work with these 'similar' cards.
Get rich. See you next week.
MY FUT 14 Ep. 8 – Who wants to be Millionaire ?
November, 1st 2013

Hi.
Right now we are finishing one of the best guides we ever wrote. It will be published next Sunday. Until there we have a lot of work to do and that's why this episode will be a bit shorter.
I will take my time to tell you which one was the hottest moment of my week.
As you probably know, EA Sports have stopped the Ultimate Team and EAS FC servers last Wednesday to perform a maintenance. To me it is a great moment to make good business. If you don't know why, check it HERE. I was not prepared with prices list as I should be, but I was bidding on cards by 150c that know I will be able to sell by 800c to 1800c. However, the big moment had not yet come. As usual, the start of maintenance was delayed a few minutes and I decided to look for some players. I was really surprised that there were no cards with values much lower than the usual BID's. It seems that people have started to be more careful. But not everyone. Some seconds before the beginning of the interruption, I decided to try my luck and find a cheap Aguero, a player that fits very well in my project team that I will present you next week. I knew that it was almost impossible to find him but… he was there in front of my eyes: not a regular Aguero but his TOTW card that was placed on the market a few seconds before by an unlucky guy. I spent the last 30 seconds controlling the bids of this card to ensure that the last offer was mine. Suddenly the market goes down. It's green! I checked all the browsers and all of them say the same thing: the maintenance has started in that moment. I stayed calm and I spent 5 hours of agony to know whether or not I had become millionaire (yes, because was almost there – just needed 100k for my first million). When the servers finally came back, a feeling of resignation came over me: I lost the auction and I will need keep joining all the crumbs to build my dream team. For the winner, that have bided at the same time as I did, it was a happy morning for sure: he paid 91k coins by a card that is worth 680k. Not bad.
So, if the lucky one is reading these lines, please send me half of the profit. Otherwise I will say to your girlfriend that not everything you do on your computer is trading on FUT Web App.
I you want to be millionaire follow this technique. I was almost there. And don't forget to use high start prices. Good trading for everyone !
MY FUT 14 Ep. 7 – The Market has Changed
October, 25th 2013

What a shit (can I say shit ?). Today is Friday and I didn't prepared anything good to put here. It is another week where I have to write something that looks interesting. Maybe no one will be reading this. It would be a good punishment for those websites that replicate FIFA U Team. If they copy this without checking, it will be the end of those websites.
Well, let's raise the level of conversation. Let's talk about the economy. Or something like that: the FUT 14 market (this is the part where those who was still reading give up). People have requested us to write about other cool things. Maybe next week. This time we will keep talking about trading. There are interesting things to discuss about the FUT 14 market.
If you have played Ultimate Team on previous years, you might have noticed that the market is different. Right ? We hear here a "it is worse now". For 95% of the players it is worse, but for 5% it is much much better. In nature nothing is created, nothing is lost, everything changes. And here is the same thing. The coins that 95% of the players are losing are going straight into the pockets of the 5% of the other players. I will not explain again how to be part of the 5%, because it is already widely explored in FIFA U Team website, but I want to try to answer to the question "What has changed in the FUT 14 market ?". Maybe it was subject for a book, but a dozen lines should be enough to get some ideas. After all, if I publish a book you would only read the summary of the back cover, isn't it? As you are a smart guy, I will be very brief writing half words. Not literally, of course.
First of all, you have to understand what is happening to the market. Then, I will explain why it is happening. You know what is a logarithmic function ? If you do not, check the following picture: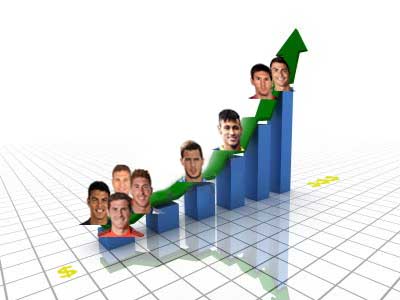 What I want to show you is that the players' prices follow a distribution like the graph: there are many players extremely cheap and there are only a dozen of them ridiculously expensive. It makes no sense, for example, that Bale worth so much as a thousand gold players all together. Wanted to see him on the field against all these people.
When this happens, the price dispersion is smaller. Most of the cards are so cheap that it is no room for wide dispersion. That is to say, it is difficult to make a profit. The price you pay for a card is almost the same that you receive for selling it.
In the last weeks, many people have complained about how more difficult is to trade right now. It is becoming harder and harder. Many times, what you get by selling a player is not enough to pay the 5% tax to EA Sports. There complains are true. Market prices are too tight and competition is huge. But why? Basically there are two factors that contribute to this: the events and the players.
Lets start by events. Untradeable cards in starter packs, worse loyalty bonus and FIFA Points unavailable was only the fuse for a competition even fiercer. With less money in circulation, all players wanted to earn the 100 coins of an useless card. Then there were the glitches in the EAS FC catalogue and in the consumables. Such mistakes usually make a few players richer and the others poorest, since their cards are devalued due to increased demand, increasing the gap between rich and poor that I will talk later.
But there are more events: the ones that are yet to come and that result in a speculative bubble. In previous years, it began at Christmas and increased with the TOTY launch in the first days of January. Now begins much earlier, due to the release of legends cards and XBox One, and a few days later of Playstation 4. Basically, we have speculation since the beginning of the game. Many people will say that the market will crash but that will never happen. But it is also true that we will never be as close of it as in the coming weeks.
Players are also responsible for this anomalous behaviour of the market. The truth is that every year, they are accumulating trading experience and a minority of them has become a real machine to make coins. Some of them have improved their tactics using autobuyers. Did you know that there are people who get paid to earn coins during the whole day ? These few millionaires, intentionally or not, set the market prices. Only the best players can give them good profits and they only focus on them. Thanks to that, all other cards, including defenders, see their prices successively falling making trading with them very unappetizing. It is like a sort of spiral in which, as it happens in the real world, those who are rich becomes richer but the poor get poorer. And if a poor gather enough coins to buy a top card, he will have to pay the price the rich set.
Are you rich or poor in FUT 14 ?
Bye.
MY FUT 14 Ep. 6 – Short One
October, 18th 2013

Hello.
We are finalizing the last details to launch this weekend our 'FIFA 14 Ultimate Team Home' Hub that will help our followers to more easily find what they are looking on our website. So, this episode will be (even) shorter than usually.
This week was not a good trading week but this is part of the life of any trader. Firstly because I don't have much time available and then (or is it the reverse?) because I bet on the wrong horse. It may seems a cliché but it was not my fault. It was EA Sports fault.
I have bought dozens of position change cards, expecting to sell them with a big profit, thanks to the method of putting them on sale at the lowest BIN of the market. How I have bought the cards in midweek at low prices, I would profit successively before the end of the auction some hundreds of coins for each card. I was thinking to make about 200k coins in a single weekend . So what went wrong ? Basically there was a bug or glitch, whatever you want to call, in which for every consumable that you bought, you got another one free. Something like you see in the supermarkets: buy one, get two. Many players have taken this opportunity and have bought hundreds of these cards (remember that there is no limit to store consumables in FUT 14). How you can imagine, the prices of these cards have dropped a lot and my trading weekend was ruined. Hopefully, I had other cards to sell – we always should diversify a bit. For some more time the consumables market should be avoided because who have bought will wait awhile until release their cards, extending this state of virtual collapse.
In the next weeks I will show you what I am thinking to my team, talk about the dangers of databases, explain what have changed on the market and bring here some more tips.
If you have good writing skills and know more about FUT than who have produced it, contact us. We are always ready to be helped.
Thanks for joining us and good games for all!
MY FUT 14 Ep. 5 – We Love Weekends
October, 11th 2013

Hi.
We have no idea how much coins we have right now. Why ? Because the weekend is coming.
The last one was great as we have predicted in the last episode and we are betting everything in this one. Our transfer target is full of gold managers and several David Luiz. Our consumables pile has dozens of league managers, chemistry styles and positioning cards. Our balance is very low right now but if everything goes OK, we will increase our fortune in 50% this weekend.
We didn't make much profit during the week because we tried to study new opportunities and it takes us some time. Now, that we understood how the things are working, it's time to make coins. Do you should do the same because it will never be so easy to make coins as it is right now. We already have explained the easiest way but we will try again:
1) Study the market. Don't ask us again which cards you should use. You can make profit with any card. Just be sure to study their prices over the week and in different times of the day. You can use a database but to use the transfer target list is the best choice.
2) Buy the cards on Wednesday or Thursday night.
3) Sell the cards on Friday night and all Saturday and Sunday.
More easy than that is difficult. If you want to understand everything about trading, just check our guide HERE.
If you have a good idea about the weekends prices, try to do the same thing that we will do: buy many many cards (preferentially consumable since the pile has no limit) and put them to sell 50 coins lower than the lowest BIN you find for these cards (which should be much higher than the price you have paid for yours). You will sell them all in less than one hour which means that you are making profit all the time.
We love the weekends. And you ?
MY FUT 14 Ep. 4 – Two Tips
October, 4th 2013

Here we are again.
Today we want to focus in two great tips that we want to share with you: the magic weekend and the almost unknow EAS FC new feature.
Our team is going fine. We have now 250k coins more 120k in cards that we expect selling soon. We dropped the manager league cards and we are now making some good profit with players and positioning cards. The managers cards went well until some days ago but the prices has dropped too much. Here are some examples of what we have been doing:
David Luiz (the most traded player in FUT 13) – buying at 23k and selling at 29k
Ramires – buying at 17k and selling at 22k
CF-ST Position Change Cards – buying at 600c and selling at 900c
Several Non-rare Gold Managers – buying at 150c and selling at 350c
Our best deal was buying the German manager Low by 1400c (he will be sold by 4000c) thanks to the maintenance method that we already have explained HERE. But, as many of you, we have a lot of cards stacked in our transfer list that no one wants to buy. Don't worry about that. Just keep tracking the market, buy more cheap cards and wait for the weekend. You will see that this weekend will be a wonderful time to sell cards. We are almost sure that we will sell everything and we will cry for not have bought more cards during the week days. It is our first tip of the day and if you don't believe that it is a really good tip, just wait and see. While you wait, we will buy more cards to sell at the weekend.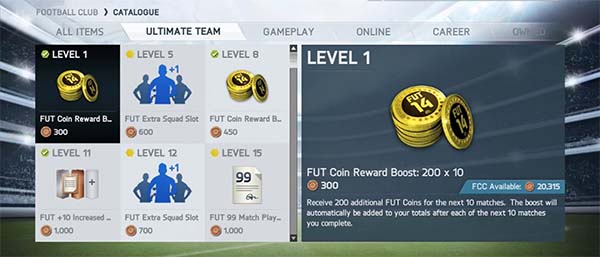 Sending gifts to friends is a amazing new feature of the EAS FC Catalogue
Most of people do not know that in FUT 14 it is possible to send a EAS FC item for a friend as a gift. And those who know, haven't used this amazing feature because they didn't realize the benefits that they can get. It is so great that EA Sports has not done much publicity fearing a massified use of it. In fact, you can send a item for half price for as many friends you want and still be able to redeem it for yourself. As you know, it is very easy to get thousands of FC Credits in our account. So, why not used them to sending gifts to your friends and asking them to do the same for you? You can improve your contracts, transfer list size, transfer targets list size and much more. The EA Sports FUT Coin Reward Boosts have been temporarily disabled in the EAS FC Catalogue while EA Sports investigate an issue, but when it comes back, this tactic will be even more amazing. What are you waiting for ? If you need some help, we will publish a EAS FC Catalogue guide on next Monday.
Good weekend!
MY FUT 14 Ep. 3 – The Big Day
September, 27th 2013

Welcome back to MY FUT 14.
Today is the big day. The game is now available in the most of the worldwide stores, including the European ones. For many gamers this is the first day of FUT 14. More than 1 million players have taken advantage from the FUT 14 Web App early access but there are many players that just start it today. When we say that today is the big day, we are not talking only about the FIFA 14 release. We are talking about trading.
If you saved some coins as we told you to do in the previous episodes, you will have now the chance to multiplying these coins several times. It already started yesterday but today the market will be crazy. Thousands of players will open packs trying to find a Messi card (that they won't find) and they will sell the cards by really cheap prices. Be sure to take some hours to buy and sell these cards. If you are a really good trader you may make more than 100k coins in a single day (!). Chances like this do not exist forever. Keep your eyes wide open.
In this week we made something like 70k coins. We expect to make much more in the coming days. Here are some trading suggestions:
CF-ST Position Change Cards – buying at 900c and selling at 1,400c
Sniper Chemistry Style Cards – buying at 750c and selling at 1100c
POR 1 Manager League Card – buying at 150c and selling at 400c
BRA 1 Manager League Card – buying at 150c and selling at 450c
Several Non-rare Gold Managers – buying at 150c and selling at 500c
Several Rare Gold Managers – buying at 900c and selling at 1,400c

As you may notice, the market is changing a lot and the profits are now bigger. Yesterday, for example, we buy/sell several cards with profits of 500%. Our favourites were the position change, the chemistry styles, the manager leagues and the staff cards.
More than ever you need to use the hours method. If possible renew your cards every hour. What are you expecting for ?
We almost forget it. If you want to play matches, use your starter pack players in offline matches. It is a good way to make some coins since you can not trade them but you can use the 45 contracts they have and get the matches rewards.
See you soon.
MY FUT 14 Ep. 2 – The First Weak
September, 20th 2013

Here we are, as promised.
We only got 18k coins in 5 days, what was much less than we expected. Last year we got something like 200k in the first week. We didn't have much time to make coins but we tried several things.
As you probably already know, in our opinion, any card is subject to be a good card to trade. We will give some examples of cards that we are trading successfully but you should do it with your own cards. It is important to study the market and try everything until find a niche in which one we feel comfortable.
These were the cards with better results:
CF-ST Position Change Cards – buying at 3,000c and selling at 3,300c
CAM-CM Position Change Cards – buying at 2,900c and selling at 3,200c
Sniper Chemistry Style Cards – buying at 700c and selling at 900c
MLS Manager League Card – buying at 150c and selling at 250c
TUR Manager League Card – buying at 150c and selling at 250c
ENG2 Manager League Card – buying at 150c and selling at 250c

We know that our profit was low but we already know that most of you are in the same position. Why it is happening ? It is easy. Because there is no money on the market. And why it is being different from previous year ? We will give you a couple of reasons:
All the starter pack cards are now untradeable. It was a great way to make some thousand coins in previous versions.
The loyalty bonus is much worse this year. In a general way, by more FUT years we got less packs.
The FUT Web App has started a couple of days earlier. It will take longer to get the injection of match coins.
The FUT 14 players are better traders than FUT 13 players. It is harder to find good deals.
The FIFA Points are not available to buy which means that just a few gamers are buying packs and they do it with coins. It doesn't help to get more money on the market.
We know that there are many gamers unhappy with their profits. But if they stopped a while to think about why it is happening they will realize that the things are going well. And it will get better very soon. The mornings without selling a single card are ending. The season starts today to the Season Ticket subscribers and they will help a lot to bring more money to the market. With the increase of the inflation this weekend, the trading will get much easier. There will be more money and people will spend more.
But not everything are good news. If you are almost having enough coins to buy that good player you want, you should know that his price will raise very soon. Every time you think that finally you got the coins you need to buy him, his price will raise again. It is why we say that the first days are so important. It may make the difference between being a step ahead or a step behind of inflation.
Very soon all of us will have to decide if we are going to buy players, now that most of them are cheap, or if we are going to keep with that coins to trade. It depends of what we want for our team. In our case, we believe that we have good trader skills and we will try to get richer before to build our squad.
Final advice for today: be patient. Nobody said that it is easy. When FIFA Points and retail game are released, everything will be easier: there will be more money on the market and there will be lots of gamers, specially the new ones, wasting good cards. Until there, try to being a step ahead from the inflation.
See you next week.
MY FUT 14 Ep. 1 – New Season
September, 18th 2013

The Season has started!
EA Sports has anticipated in two days the FUT 14 Web App release to avoid server problems and the truth is that this year everything has gone much better. Due to technical problems our day one was in 15th September. If you played FUT 13 and don't have accessed yet the FUT 14 Web App, what are you waiting for ?
When we start our new season, the first thing that we should do is to answer if we want to keep our club's name or not. It is important to pay attention to this step since it is not possible to change it again excepting using the EASFC catalogue item and this one may require a certain level of XP experience which we may not have.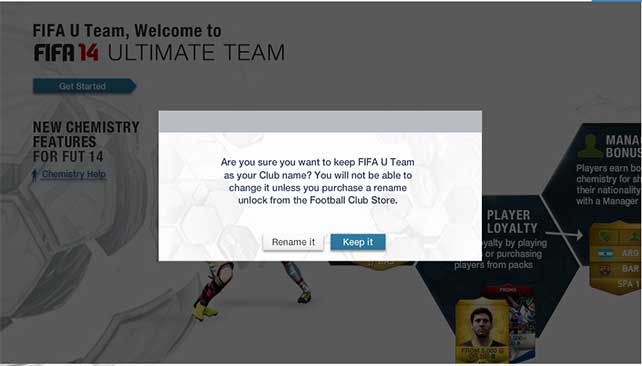 Everyone gets a starter pack in the beginning and it wasn't different with us. This pack has 34 non-rare cards: 3 of gold category, 2 of silver category and the rest of bronze category. These cards can not be traded which means that they are useless until the game release. As you can see, it is not just you who have awful cards.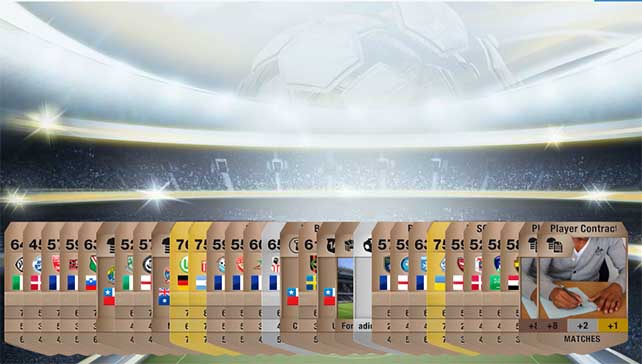 We have started playing Ultimate Team in November 2010. We were rewarded with the same extra packs that we got last year: two all players packs, with 4 players cards of each category, and two gold packs, with 12 cards mostly gold. 95% of the players don't get good cards in these packs. In our case, Popov and Nolito were the best ones. Yes, we know: too bad…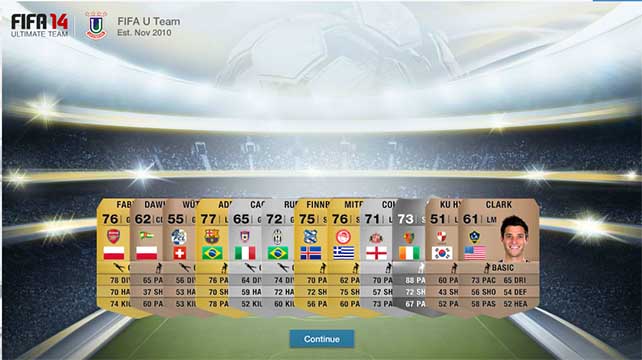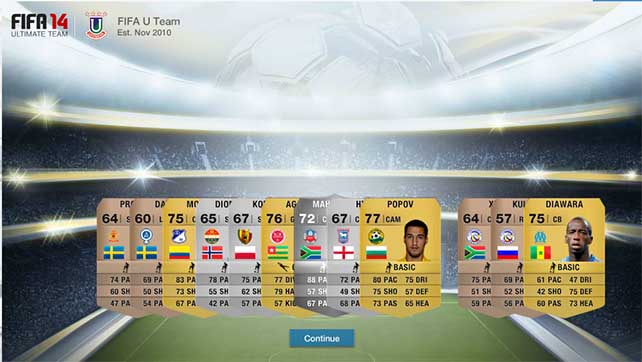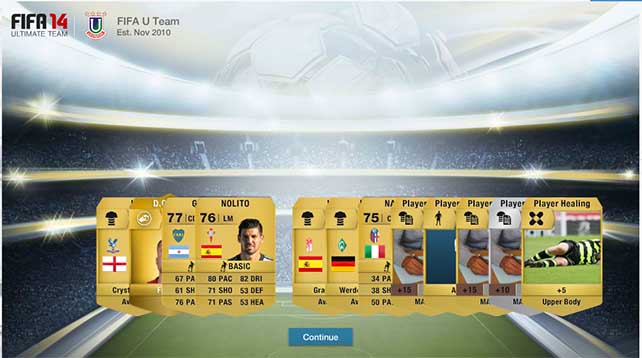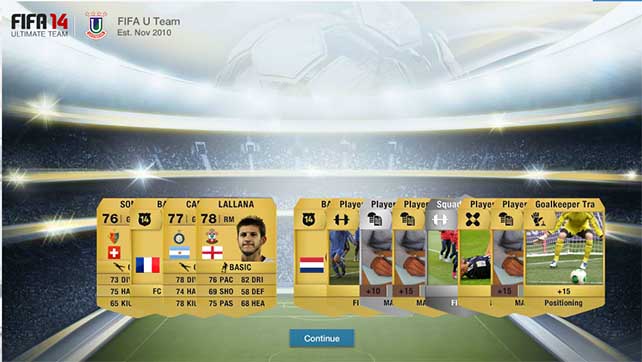 There is another good way to get some more cards. Just open your FUT 14 Web App everyday and you will get once a day a daily gift. We prefer the ones that give us up to 2.500 coins.

In this first episode we only have showed you our first cards. In the next episode, that will be published in Friday, we will show you how we are making coins and we will try to explain what is happening with the market in this first week. Feel free to comment whatever you want.