For the fourth year in row, I will open the doors of my club to the community. Find out the most common problems that you will face in your club, tips, advices, analyses and everything you need to be rich in this game.
MY FUT 16 Ep. 1 – New Season
September 17, 2015
Every year I try to drop this project but you guys not allow me. As you requested, here I am to a new season.
This year, the FUT Web App start was smooth, keeping high the expectations for FIFA 16. Still, I only had success at the third try. Nearly a year ago, EA corrupted my founder account, did not transfer content as they had promised, forcing me to create other accounts to play. It was just with one of those accounts that I accessed the Web App and I redeemed two mediocre packages. Anyone got worse? Yes, sure. There are people that not even got success accessing to the Web App.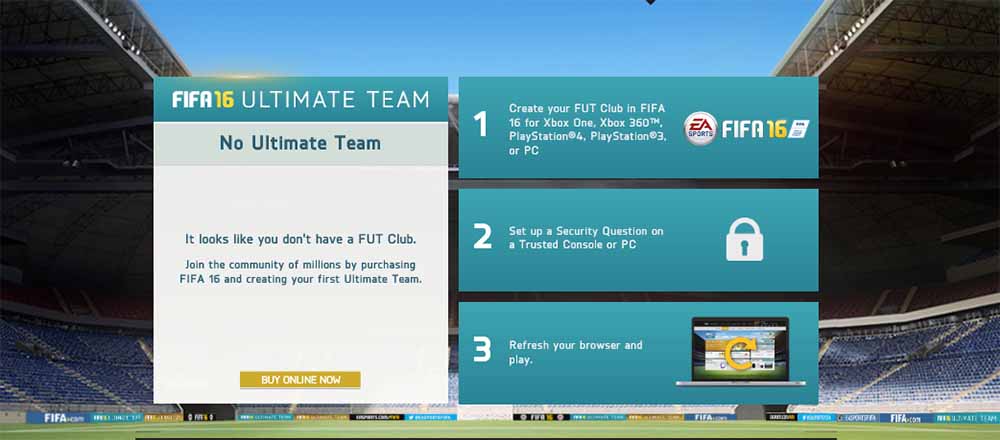 I started FUT 16 with empty pockets. I had to wait the end of the auctions to invest in other cards. You also started with almost nothing but between nothing and almost nothing goes a considerable difference when we speak about the first Ultimate Team days.
There are no secrets on how to make coins. Buy low, sell higher. As simple as that. Always has been and always will be. And it works with almost all cards. With me, for example, for lack of time to investigate the market, I bought all the rare gold managers I found on sale by 150 coins and I sold them by 300. It's only 150 coins in a card but in ten cards it's 1,500 coins (outside the 5% tax, of course). Now that early access has been released, there is more coin n the game and inflation is already being felt. I had to make a slight adjustment to my method, so I started buying them by BIN and BID by 200 coins. I still duplicate the investment. There are managers who, by their popularity or by league and nationality associated, justify a few more coins because the return is guaranteed. It's the case, for example, of Barclays PL and British managers.
As I already said, this works well with managers but it also works great with badges and stadiums of the most popular clubs, rare gold players and many other cards. You just need to check the price for which these cards are being sold, and buy them for a lower price. The only thing that doesn't work any more is the discard method. Price Ranges set a minimum price higher than its discard price, and for that reason the discard method is not profitable any more.
Soon you will be playing FIFA 16, collecting match coins and applying these and these tips, like redeeming the EAS Catalogue items coins boost. Everything will be easier and you will be ready to reach your first million.
Good luck for your season!