MY FUT13 is a place that shows you the everyday of my FIFA 13 Ultimate Team Club.
Learn how to manage your FUT club to the success.
MY FUT13 Ep.12 (last one) – The End
August, 29th 2013
Hi.
Yes, we know. The last episode was about Xmas and now we are almost in the end of the Summer. Half a year later we came here to say goodbye. Promised is promised.
In this latest episode we will do an overview of the players that played more matches with us. Nothing better than having an idea of the main team: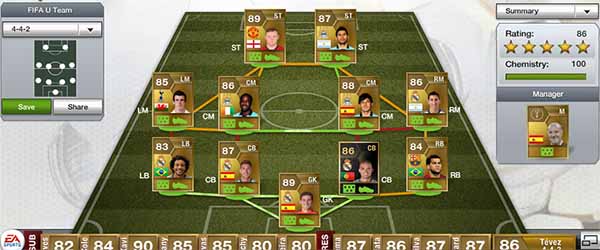 Click in the picture to maximize it
Who has followed us in the previous episodes, will not find big changes from the last hybrid BBVA/BPL team that we had shown. The truth is that this one was already a high quality team. As we are not big fans of IF cards, so there was not much to improve.
On the goal, we believe that Casillas is the best goalkeeper from this two leagues. We also tried the TOTY card but there was not a huge change. Diego Alves is for us, the best buy from the all FIFA 13 GK. Very good value for money.
On the defence, Ramos and TOTW Pepe are an amazing double. When one of them becomes unavailable, Thiago Silva is occupying the place connecting wel with Diego Alves / Marcelo and with Diego Alves / Dani Alves. On the right side, João Pereira is the shadow of the Brazilian and on the left Cole is covering Marcelo (TOTY version also not convinced us).
Touré (can we clone him?) and David Silva fill the midfield with quality. But to their positions there are very good alternatives: Xavi (connects well with Silva, Navas and Benzema), Mata and… Tévez. The Argentine player is great as CM, scoring an amazing average of goals for a player in this position. Furthermore, by having a hyper link with Aguero, he gets the maximum chemistry and allows greater variety of combinations in the rest of team. On the right side, Di Maria has always played well even having TOTS Navas to his position, while in the left side Hazard and Bale are very equal.
In the attack, the choice goes to Aguero and one more. Usually, the other player is Rooney. Unloved by many gamers, he still have a style of play that fits perfectly on this team. In his place sometimes plays Benzema. He was much better than Falcão.
The coins were enough to buy this team, to make a lot of experiences and it still left something like 2 million coins. The trick ? Trading and no wasting coins with packs. Easy.
An that's all. The new season begins at September 15th. Are you ready ?
MY FUT13 Ep.11 – It's Christmas !
December, 23th 2012
Hi.
Christmas is the time of gifts.
Many new players will start playing FUT 13 for the first time during the coming days. There will be great business opportunities, since the errors and the players at bargain prices will proliferate, but the entry of such a large number of players has another implication: the beginning of the much advertised FIFA 13 Ultimate Team market collapse that will culminate in early January with the launch of the TOTY. Or not?
Take advantage of the offers that EA has for you.
We also want to give gifts.
For those who still play FUT 12, we give the tip of In Form Glitch.
For the others we offer a tip that many may find it helpful and others not.
Let us look at the FIFA U Team squad (above). Vidic is a great defender but he is too slow to our type of game. The ideal would be to buy Thiago Silva to be partner of Sergio Ramos. Also Robben and Ibrahimovic could take the place of Di Maria and Aguero. However, in all these cases we can not do it because these signings would ruin the chemistry of the team.
We bet that you also want to have THAT player in your team but you can not because he is of another league and another nationality.
Well, there is a way to do this.
If you begin a match with the usual team and put the players with bad chemistry on the bench, you can make put them on the field as soon as you want without having any influence on the chemistry of the team. Indeed, according to the FUT 13 rules, the player that enters assumes the chemistry of the player that is been replacing.
The only disadvantage of this trick, in addition to having to take a short break in the match, is that you spend one more contract per match for each player that you substitute. Still, for many people this can be a very viable alternative.
We await your opinion. If you liked it, great. It's Christmas!
Apart from Ronaldo and Messi, who would you seek to improve team FIFA U Team? We await suggestions …
Merry Christmas !
MY FUT13 Ep.10 – The Players
December, 8th 2012
Hi. Today we will give you feedback about the players of our club.
Iker Casillas
For those who want to build a top team, like us, to choose the best goalkeeper is almost mandatory. We had played with him in FUT 12 and he continues to worth goals in every match he plays.
Nemanja Vidic
An authentic wall. By ground or by air, the Serb player is unbridgeable. The problem only comes if your team suffer many counterattacks, such as ours. Is that Vidic is slow and gives reason to those who argue that pace is the number one attribute for any player.
Sergio Ramos
He is not so good defensively as Vidic (nobody is!) but he does not compromise on fast play. For those who have money to buy him, the Spanish is without doubt one of the center backs in FUT13.
Dani Alves
His price is too inflated but the truth is that the Brazilian is the best right back of FIFA 13 Ultimate Team. He defends and attacks well and he stills fitted with 90 of pace. Only for those who can pay…
Ashley Cole
Good left backs are the hardest players to find. The English is not fantastic but he fulfills his mission well. Moreover, Cole is not very expensive.
David Silva
The Spanish player is the creative of the team. At any time he can unbalance thanks to his dribbling, his passing and especially his fantastic ball control. We tried other players for the same position but none of the BPL compares to David Silva.
Yaya Touré
Although our number one choice for this position was RVP, Touré is winning the place match after match. Now we already consider him one of the cornerstones of our squad. He gives the defensive balance that a 4-4-2 requires and the midfield earns muscle. And if you thinks that he only defendes, you are wrong: the Manchester City midfielder positioned very well within the area to finish.
Ángel Di Maria
Di Maria is certainly not the best right midfielder in FIFA 13 Ultimate Team, but he is the one that best fits our team. Offensively he is a player that fulfills all that you can ask: he is fast, has good dribbling and crosses well.
Eden Hazard
He is not as good player as they say, but he stills a very regular player. Near the bottom line he can dribble very well to be able to shoot and serves the strikers even better. The crosses are millimetric.
Sergio Aguero
The Argentine champion in england is not a cheap player and it is easy to understand why. In Barclays PL, there is anyone who makes so good pair with Rooney as he does. He compensate the slower pace of the English striker.
Wayne Rooney
Everyone knows how Rooney plays. And in FIFA 13 Ultimate Team it is no different. Powerful, strong physically, with excellent shooting and a heading well above average. When he backs on the ground, he can recover many balls.
Diego Alves
The Brazilian goalkeeper confirms our expectations of being better than Valdes and a worthy substitute of Casillas.
Vicent Komapny
We thought in the Belgian defence as the best BPL replacement for Vidic. It may be true but still there are many better alternatives in other leagues.
Pepe
The Portuguese was one of the players that most surprised us. Fast enough, good defensively and great in anticipation. A typical case of good value for money.
João Pereira
Another player undervalued. He does his work in the defense and when he has room to run (almost) nobody catches him.
Gael Clichy
The French player is an alternative to Cole when we intend to exploit the space that the opponents give us on the flanks. The speed is his greatest weapon.
Juan Mata
Some consider Mata a phenomenal player but we can not see in him these skills. He only plays when we no longer have any alternative.
Robin Van Persie
We put RVP in midfield and we do not repent. Too bad that he not defends as well as Touré. Offensively he is fantastic. He works sometimes as third striker getting an average of one goal every two matches.
Jesús Navas
The Spanish player is not as complete as Di Maria but he can be even faster. And sometimes pace makes all the difference.
Gareth Bale
Bale is a strong competitor to the Hazard place in the first team. So strong that he ends up playing almost as many times as the Belgium wing. Besides being faster, Bale defends much better.
Carlos Tévez
He is not as good as the two main strikers but he gets the best goal average of the whole squad. And that says a lot. We highly recommend him.
Radamel Falcão
The Colombian player plays better in the real world than in our club. We bought him because we wanted a lethal header but we are not completely satisfied. Still, a good player.
Do not forget to follow us before Christmas. We'll give you a tip which may be very helpful to improve your FUT13 team.
Bye!
MY FUT13 Ep.9 – Time to Win
November, 18th 2012
Hi.
Here are the news about MY FUT13.
Contrary to what I had anticipated in the previous episode, my first season in Division 1 was better than I expected. I won the last matches and it made me champ. For anyone who plays since the ZX Spectrum, the absence of a special animation for a moment like this was a little disappointing. Basically, winning the Division 1 is the same as winning any other division except for the prize. EA should show the prizes more clearly since many times we don't know how many coins we won. After the division 1 title, the motivation decreased and FIFA U Team dropped into the second division in one of that moments when we lose a match and another and another and we still want to play one more looking for the victory that return to us a little of our honor. Big mistake. When you're in a wave of losses the best thing to do is to stop and to try in another day. There are time to win but there are also time to lose…
After the Division 1 title, the desire to gather coins to buy better players has declined. I reduced the time available for this activity and the daily income dropped to about 15k coins. It is enough. The investment remained in the managers cards but, for now, this is not at all a profitable niche. But even with a bad niche and with limited time available, there are always ways to make coins. Is thus because there are better hours to win.
The important thing is to know the behaviour of the market. Of the millions of players from FIFA 13 Ultimate Team, most are from the UK. UK time zone defines when it is and when it is not good time to do business. In a very simplistic terms, we can say that in order to make profit, you just need to buy cheap cards at dawn or before 9 am and sell them during the day when demand is high. Besides the hours, the days of the week also have great influence. Our biggest advice is to go into weekend with the stock well loaded. To sell during these two days will be easy and you may even stretch out a bit more in price. This topic is a little more complicated than most people think, so we will deepen it in an article to be published next month. In fact, December is the month of articles on how to make coins. Do not miss …
Dani Alves was the only major purchase since the last episode. Even before I try him, I already knew that he was not worth the over 200k coins that are claimed by him. But it is also true that there are no other player to fill that position with such quality. The Brazilian was the last player that was missing for me to achieve the squad that I idealized in the early episodes. Before I venture into the IF's (which are stupidly expensive), I will test other players with lower rating, as Kompany, Navas and Ramires, to see how they fit into my club.
MY FUT13 Ep.8 – Building a Squad
November, 1st 2012
Hi again.
Here are the news about MY FUT13.
As expected, the quality of my squad allowed me to go up to division in division. I won the fifth, the fourth, the third and the second division but in this last one I failed the promotion at first try. Reached the top division, I thought I would find real FUT professionals but the truth is that the difficulty level is not so high. For now, I already did enough matches to keep my club in same division in next season. The attack to the title will have to wait for when I have more time available.
I'm still making 25k coins per day. This is more than enough to build a super team. As I don't want to waste much time with this, I kept the bet on the gold managers. They are not so profitable as before, so I need to sell a larger amount to get the same gain. To have increased the trade pile up to 40 items, allowed me to recover from this loss.
In order to increase the range of choices, I also began to buy and sell silver managers. Well explored, the silver market could be equally or more profitable than the gold one.
As soon as I have all the players that I predicted to hire, I will have sufficient liquidity to invest in players. the profitability of players that cost 5-10k is small. The big profits are made with the purchase of several major players. Until the, the best investments are the formation cards and the position cards. For those who have more availability, the prizes of matches and tournaments are not to ignore. Another little help are the coins boosts from EASFC Catalogue. I already spent all. More only when I get to level 48.
Some of the changes introduced in FIFA 13 Ultimate Team were made to force players to build a balanced squad and not to hire a group of eleven good players. The reformulation of moral and fitness are the best examples of this. Only with rotation is that we can overcome these obstacles. There is always a chance to play an offline match resting our best players to the big challenges. But honestly, who has the patience to break a winning streak that almost make us win the title? I do not. That's why I hired several players who can replace the players of the main team without losing much quality.
After joining Hazard to my team, I just got to hire Dani Alves but he stills overpriced. I preferred to hire the following players for use as an alternative to the start eleven: Clichy (to the place of Ashley Cole), Pepe (Sergio Ramos), Juan Mata (David Silva), Touré (Van Persie), Bale (Hazard) and Tevez (Aguero). Any of them continues to ensure very good connections and a chemistry well above 100%.
A more detailed players analysis is reserved for an upcoming episode. Today we will share only the first impressions. In goal, Casillas is the right choice. On defense, Sergio Ramos makes a good match with Vidic. Bale and Clichy seem to be first choices with an impressive quality on the left side. In front, Aguero scores more goals per match than Rooney. The choice between a team more attacking or more defensive is made, respectively, by placing on the midfield Van Persie or Toure. The Dutch scores more than one goal every two matches. It was a good bet to put him in this position where my players do not usually tend to score many goals. Touré is the right man when I want to play more safely.

Stay tunned.






MY FUT13 Ep.7 – The Debut
October, 18th 2012
Hi again.
Let's see what's new on MY FUT13.
It took a long time but FIFA U Team finally debuted. It took only 3 minutes for Rooney to become the first scorer of my club.
The results have been very good (won 14 of the first 16 matches). However there is no great merit mine. I have an excellent squad and opponents of Seasons 5 and 4 are very weak. Even not being a great player, it is natural that the good results continue until the first divisions.
As recommended, I started to play the single player season. So I could test my team before the matches with higher difficulty. I am currently in division 3 of online season and divison 4 of offline season. In the next episode I will have played a few more matches and climbed more divisions.
EASFC Catalogue, Manager Tasks and Training Cards
If you read our article about how to start FIFA 13 Ultimate Team, you already know which things we should do first. After you complete them there are three more things that you should try as soon as possible. I already made them.
The first one is to go to the EASFC Catalogue. The items that are there for FIFA 13 Ultimate Team are few but good. Once you have gathered enough credits, which is very easy, try to buy all the bonus coins you find and increase the consumable pile size, the trade pile size and the watch list size. Learn more about this subject in our article about the EASFC Catalogue items for FIFA 13 Ultimate Team.
The second is to finish the manager tasks. It is extremely easy and quick to achieve and with the advantage of receiving as reward a Gold Pack. You can learn more about this subject in our article about Manager Tasks.
Finally, it is also advisable to purchase some training cards of player tactic. You will hardly be able to hire all players with the tactics of your squad. To maintain good chemistry, you will need to purchase these cards. Right now they are still relatively cheap. For example, for my 4-4-2 I bought some cards for 2.300 coins that will cost twice within a few weeks.
This is a topic that always accompany us. The financial health of our club is vital to its success. As time is short I have kept the strategy of earning coins that have already been explained in previous episodes. Profit is lower but the market has reached a maturity that is reflected in a huge balance. It's harder to make money. For the purposes of my club, the daily profit of 25k coins are sufficient.
Until now the players have played as expected. Since the last episode, I hired some players to the bench, as Piqué, and the best possible goalkeeper: Iker Casillas. There remain to hire Hazard and Dani Alves to achieve the initial goal.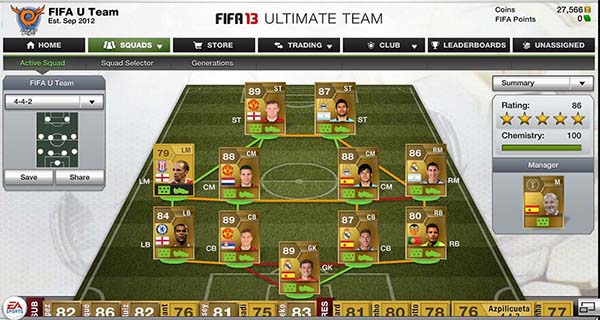 When you're building a squad, a strategy that can be followed, and I follow, is to hire a good wing early and try to attack preferentially for that side. Thus we can gain some time to gather enough coins for the wing of opposite flank. That's why Hazard is one of the last players to hire. I alreday have Di Maria. By now, Dani Alves is to expensive.
See you soon!
MY FUT13 Ep.6 – Building the squad
October, 12th 2012
Welcome back to MY FUT13.
The preparations for the FIFA U Team first match are made. I have a stadium with moral +8, I filled the consumables pile with contracts and I hired managers to my club that increased contracts cards by 50%.
About coins, the method of earning them remains the same. The profit is lower because the market is now more balanced. Still, the trading yielded about 900k coins in about 24 days. It could be more but this is enough for my purposes.
The next step was to choose the tactic. In my case, I wanted to keep that one that I am used on previous FIFA version: the 4-4-2.
Finally it came time to hire players for my club. A good strategy to follow is to idealize two squads of 11 players connected by league, club or nationality: a high-quality and expensive squad, and other median and cheap. We started by building the more accessible squad and whenever our budget allows, we hire the stars of the main squad. One by one.
In my case, I bought some superstars, like Rooney, very early because I knew that they would appreciate. At the start of FUT, the best players are undervalued because nobody has money to pay for what they actually worth. Messi, for example, is now worth about five times more than in the early days of FUT 13.
The goal that I had set was to build a strong gold team hybrid Barclays PL / BBVA. I used FUTHEAD support to build the squad and to check the chemistry. You can watch the idealized FIFA U Team squad clicking here.
I identified that the weakest positions on English League are GK, CB and RM. I filled these positions with BBVA quality players and selected some few elements to make the transition between the Premier League and the BBVA without harming chemistry: Sergio Ramos / David Silva and Di Maria / Aguero.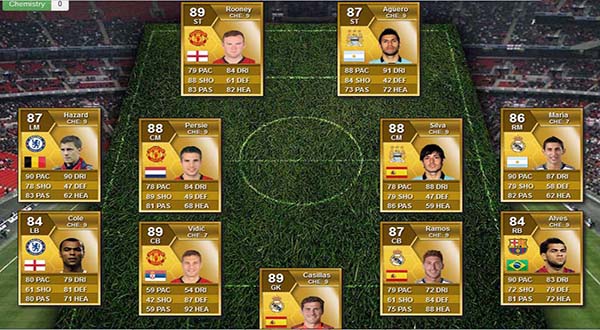 When choosing players to hire, I analyzed their attributes according to their positions and not just their rating. I chose a solid central back and another fast central back, midfielders with excellent quality pass (I had to adapt Van Persie), fast wingers with good cross attributes and one fast striker side by side with a slower one with good heading.
Here are the major signings already made:
Vidic (102k);
Sergio Ramos (138k);
Ashley Cole (18k);
Robin Van Persie (95.5k);
David Silva (67k);
Di Maria (35,5k);
Sergio Aguero (150k);
Wayne Rooney (170k).
For later will stay Casillas, Dani Alves and Hazard.

You can access to the current squad clicking here.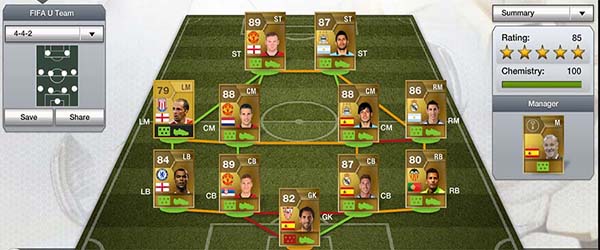 Now it's time to start playing. See you soon!
Note: MY FUT13 will be released preferably under this format, instead of video, so as to be able to increase the frequency of episodes. Comment and put your questions here in order to the episodes go as far as possible against your needs.
MY FUT13 Ep.5 – More than Coins
September, 25th 2012
Rooney has signed for FIFA U Team. But the game is more than players and coins. Watch the tips that we have to you.
MY FUT13 Ep.4 – Start Earning Coins
September, 25th 2012
Watch how I made 13,5k coins per day without effort.
MY FUT13 Ep.3 – Starting Point
September, 23th 2012
Today I'll show you what I did with the cards that I received on welcome packs and which strategy I will follow.
MY FUT13 Ep.2 – Welcome Back Pack
September, 19th 2012
Hi again. Today I'll show you the beginning of FIFA 13 Ultimate Team and which welcome packs I earned.
MY FUT13 Ep.1 – Introduction
September, 17th 2012
Hi. Welcome to MY FUT13, a reserved place to show you the everyday of my FIFA 13 Ultimate Team Club.
I've been asked hundreds of times how can I build so strong and so valuable teams. It isn't diffcult. There are thousands of betters teams. In each FUT, I made more than 3 million coins. I'll show you how to manage your club to achieve success in FIFA Ultimate Team.
That's all for today. Follow me because FUT13 is coming.
Come back to this place to track the progress of my FUT13 club.
You can watch other FIFA Ultimate Team TV videos here.