FIFA 18 featured only four new stadiums: Kirkless Stadium, The Amex Stadium, Wanda Metropolitano and Stubhub Center. For most of the FIFA community, this wasn't enough. They expect the most realistic football video game possible and want to see new FIFA 19 stadiums. You have the chance to show EA Sports which fields should be officially licensed for the upcoming FIFA game. Vote for your favourite stadiums and help them to make part of the next FIFA franchise game.
FIFA 19 Stadiums
List of stadiums (almost) confirmed for FIFA 19

Before anything else, we will publish the list of licensed stadiums included in FIFA 18. That way, it will be easier for you to see which ones are missing.
?? Anfield
?? Carrow Road
?? Emirates Stadium
?? Etihad Stadium
?? Fratton Park
?? Goodison Park
?? Kc Stadium
?? King Power Stadium
?? Kirklees Stadium
?? Liberty Stadium
?? Loftus Road
?? London Stadium
?? Old Trafford
?? Riverside Stadium
?? Selhurst Park
?? St. James' Park
?? St. Mary's Stadium
?? Stadium Of Light
?? Stamford Bridge
?? Stoke City Fc Stadium
?? The Amex Stadium
?? The Hawthorns
?? Turf Moor
?? Vicarage Road
?? Villa Park
?? Vitality Stadium
?? Wembley Stadium
?? Allianz Arena
?? Amsterdam Arena
?? Borussia-park
?? Donbass Arena
?? Juventus Stadium
?? Olympiastadion
?? Orange Vélodrome
?? Parc Des Princes
?? San Siro
?? Santiago Bernabéu
?? Stadio Olimpico
?? Veltins Arena
?? Volksparkstadion
?? Wanda Metropolitano
?? Bc Place Stadium
?? Centurylink Field
?? Estadio Azteca
?? King Abdullah SC
?? King Fahd Int.
?? La Bombonera
?? Monumental De Ñunez
?? StubHub Center
?? Suita City FC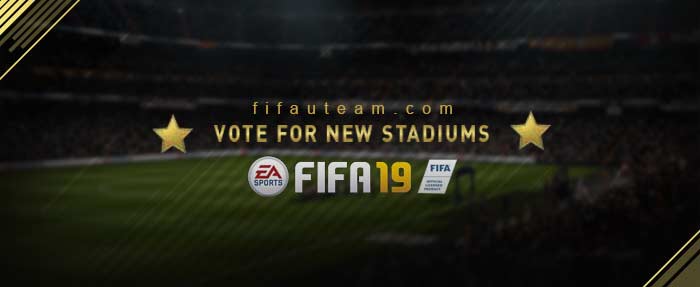 New FIFA 19 Stadiums
Vote for Your Favourite Stadium

Now, that you know which ones are missing, it's time to show your support for your favourite fields, dropping your votes to be added as new FIFA 19 Stadiums. You can cast your votes once per day, so remember to come back to this page regularly, to vote for new FIFA 19 stadiums.
THE POLL IS NOW CLOSED. FINAL RESULTS ARE DISPLAYED NEXT

When you vote honestly, everyone wins: you have the chance to help your favourite stadium to become part of the new title and EA releases a game according to the community wishes. Let's make FIFA a better game.
FIFA 19 VOTES
?️ NEW LEAGUES
? NEW TEAMS
? NEW NATIONAL TEAMS
?️ NEW STADIUMS
⭐ NEW ICONS