If you don't want to miss any detail about the new EA's title, you are in the right place. In this page, you will find all the official FIFA 19 news, images and videos, directly from Electronic Arts, until the release date.
Official FIFA 19 News
Everything about FIFA 19 directly from Electronic Arts



AUGUST 17, 2018 | 3PM ??
With 16 new stadiums, over 200 new head scans, and the official broadcast package, FIFA 19 provides the definitive LaLiga Santander experience.
AUGUST 6, 2018 | 3PM ??
It was revealed the last episode of Alex Hunter Journey. This time, he will try to win the Champions League playing by Real Madrid.
AUGUST 4, 2018 | 3PM ??
A new online game mode was announced for FUT 19: the FUT Division Rivals. It's like Seasons and FUT Champions mixed together.
EA also introduced the first three OTW items (Ronaldo, Lemar and Goretzka), UEFA Champions League items and the new feature Players Pick.
The #FUT19 reveal is at 3:15 PM UK, live from the #FIFAeWorldCup! #FIFA19 ➡️ https://t.co/6KSBqgKLvO pic.twitter.com/iW25pxeExl

— EA SPORTS FIFA (@EASPORTSFIFA) August 4, 2018
AUGUST 4, 2018 | 3PM ??
EA SPORTS™ revealed the list of new Icons for FIFA 19 Ultimate Team:
?? Clarence Seedorf
?? Claude Makelele
?? Eusébio
?? Fabio Cannavaro
??????? Franck Lampard
?? Johan Cruyff
?? Raúl González
?? Rivaldo
?? Roberto Baggio
??????? Steven Gerrard
JULY 24, 2018 | 3PM ??
EA SPORTS™ provide more details to the community about what has changed in the FIFA 19 gameplay, publishing three new videos:
JUNE 09, 2018 | 8PM ??
EA SPORTS™ FIFA 19 delivers a champion-caliber experience on and off the pitch, thanks to the introduction of the UEFA Champions League and a series of gameplay innovations on PlayStation 4, Xbox One, and PC, that provide new ways for you to control every aspect of every minute on the pitch.
✔️ Active Touch System
This new system fundamentally changes the way you receive and strike the ball, enabling closer control, improved fluidity in movement, more creativity, and increased player personality when. First touch gets an overhaul with new tools such as the disguised touch, flick-up volleys, or even skill specific animations like the Neymar Trap, so that you can stay one touch ahead of your opponent and create scoring chances.
✔️ Dynamic Tactics
The reimagined tactical system gives players the tools to set multiple tactical approaches, deeper pre-match customization, and new options for in-match adjustments. Each tactical approach combines formations, mentalities, and attacking and defensive play styles so that you can easily customize your play in any situation.
✔️ 50/50 Battles
User reactions and player attributes determine the outcome of loose ball duels across the pitch. Thanks to increased teammate intelligence and spatial awareness, every challenge matters in the fight for possession.
✔️ Timed Finishing
Get another level of control over every shot with the Timed Finishing system, which puts users in charge of how accurately they connect with the ball. Trigger a timed finish by double tapping the "shoot" button when attempting a strike. The precision and timing of the second button tap determines the result of the contact; perfectly timed strikes increase a shot's accuracy and power, while poorly timed contacts make the shot more likely to miss the mark. Whether it's a hit from outside the box, a precision header, or a deft touch, timed finishing adds a higher layer of control to finishing in FIFA 19.
✔️ Real Player Motion Technology
The game-changing animation system, which brought enhanced player personality and movement fidelity to EA SPORTS FIFA, is back with increased coverage of the entire pitch. Enhanced animations for tactical shielding, impact balancing, and physical jostling take realistic player movement, responsiveness, and personality to unbelievable heights.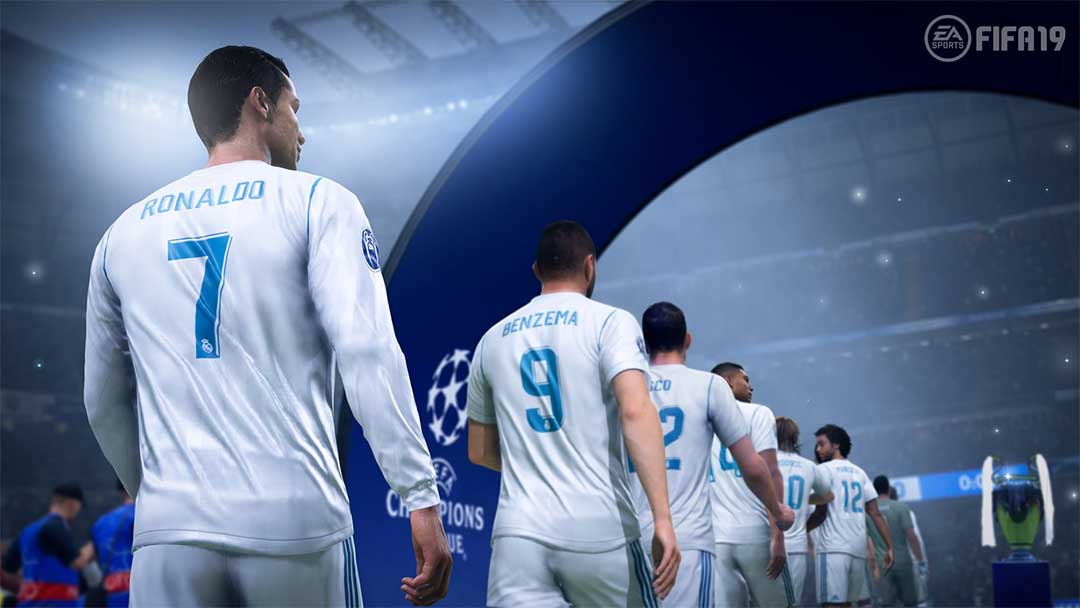 JUNE 09, 2018 | 7PM ??
FIFA 19 was officially revealed on the EA Play 2018 conference. It was announced that the game will launch worldwide on September 28 for PlayStation 4, Xbox One, Nintendo Switch™ and PC. The biggest new was the addition of the UEFA Champions League.
Achieve European glory with your favourite club in Career Mode or the all-new standalone UEFA Champions League mode. Discover the exciting finale of Alex Hunter's story in The Journey: Champions. Build your dream squad with live UEFA Champions League and Europa League content updates in FIFA 19 Ultimate Team. No matter where or how you play FIFA 19, you can experience the greatest club football competition in the world.
JUNE 07, 2018 | 4PM ??
The first official announcement was made through all the EA's social networks. The official logo was revelead and the community was invited to watch the first FIFA 19 presentation on the EA Play.
Be the first to see the #FIFA19 reveal. Set a reminder and tune in on June 9th ? https://t.co/sERArjXuuo pic.twitter.com/vZwO2ppPls

— EA SPORTS FIFA (@EASPORTSFIFA) 7 de junho de 2018
We will be updating this page with more FIFA 19 news