FIFA U Team has gained international notoriety thanks to its detailed guides' quality. But it's become more of a cult website with Silvio Teixeira's Tête-à-tête. These chronicles attracted a new kind of public, one that's loyal and requires closer help. Central point and My Happy Hour haven't got replacing Tête-à-tête as objective, but satisfying these kind of followers who stay around at least all Saturdays looking to read an article of easy understanding written by someone with lots of game experience.
Rodrigo Lopes, the website's author, has always wanted to do something while being some place near the community where he could explore more freedom of content. In this area, which will start by being a monthly thing, he'll definitely have the opportunity to show a mostly personal vision about (not only) the game.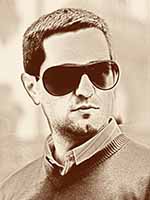 Ultimate Team Myths: Portugal is not France!
Welcome to 'My Happy Hour', the area where I can finally fire at all directions without complexity. Starting today I'll even gather some enemies, which is okay since it's a normal thing to happen in personal opinion areas. I know many people are looking for answers concerning the current Ultimate Team themes, but I can't just not start by one that's been bugging me for a long time.
Someone's left a comment here in the website about them having to explain to their nephew that in real life Benzema is much better than Ibarbo. The little lad, also a FIFA lover, just wouldn't believe. The truth is that games are gaining such power of influence that, unfortunately, they're already capable of twisting reality. Those who are younger or have got less knowledge aren't the only ones being fooled. Who doesn't know about the story of Tó Madeira, that one player whom several English clubs were after? In a world that revolves around appearances more and more everyday, this is a real danger. There's just one tiny step between what's fiction and what's reality, one even tinier when it comes to FIFA. What starts at seeming to be quickly turns into being and then in just a few moments becomes permanent certainty. It's one of these certainties I want to unmask today. Expose the truth.
Whoever lives in the same country as me has eventually heard this unfortunate phrase: "Portugal is not Greece". It's been repeatedly and exhaustively said by the Portuguese politicians, who intend to inject confidence on the markets concerning health and economy in Portugal. I'll even go further, though: Portugal is not France!
Obviously I'm not comparing the economies of said countries, after all the influence of a country such as France is incomparably superior, at the point where they can afford not to perform the budgetary targets but still demand them from the poorest countries. The thing that I disagree with, besides that, is EA's treatment towards Portuguese football in relation to French football. It's obvious that companies chase profit and so they'll prioritize the markets with the most potential. That just turns into a problem when the community starts resembling the ideas according to a market instead of the actual quality of a national league. The thought which I defend and intend to show is simple: the Portuguese league is superior to the French league. That's obvious for me but for most people that aren't familiar with both leagues, the Ligue 1 is the fifth best league in the world, as in EA's propaganda.
Before anything I want to remind you that I don't intend to compare French football with Portuguese football, national squads histories are irrelevant. It doesn't interest me that France won the 1998 world cup or that they haven't been ahead of Portugal on FIFA rankings for the last 8 years. What matters is which one has the best quality league: the Portuguese or the French main league?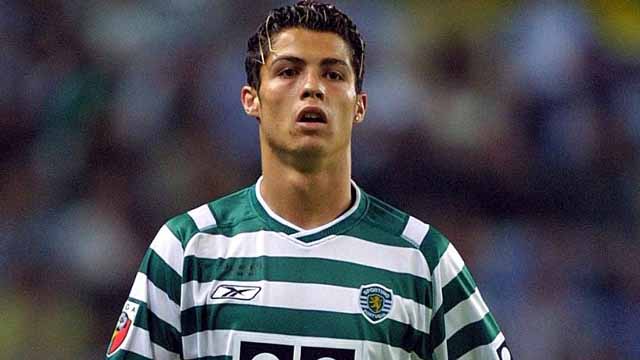 Let's start by clubs. As far as I can tell, the best way to compare quality among them is by analysing the results they've had in European competitions. The main one, our current UEFA Champions League (previously known as the European Champion Club's Cup), has been won four times by Portuguese clubs against just one title by the French. Actually it would be quite fair if we said they've got half a title since Marseille's victory in 1993 was probably the most polemical one in the history of the competition. Now moving on to the other two most important European competitions, the UEFA Europa League and the UEFA Cup Winners' Cup have got three Portuguese title-holders against just one French. Should I keep going or have you got the idea?
There are still people who are not satisfied with these numbers that would rather defend the fact that not always the best appearances have resulted in titles. Well then, between the two main club European competitions, Benfica just by themselves have been in the dispute for as many finals as the French clubs have altogether. To be true Benfica have played even more UEFA Champions League finals. But then there are still those who say history doesn't really matter, but what's present. Going back for a bit, just for the last five years, Portuguese clubs have occupied 20% of European finals. Which means they've been in four of them against zero by the French. If we go back to the start of the century it gets uglier, a 7-0 thrash to be more exact.
The Portuguese supremacy over the French is already too obvious, but for those who just won't accept that there are still many other indicators that will keep pointing in the same direction. One of them, for example, has to do with there being two Portuguese clubs against not even one French among the current UEFA club competitions top 10 ranking. Another ranking, which seems even more clarifying to me, does this evaluation per federation, and it works as basis for the calculation of the number of clubs each country classifies for the next year's European competitions. After Spain, England, Germany and Italy comes Portugal's name naturally. Plus, Portuguese clubs are closer from stealing an Italian spot than losing one to France. Checkmate.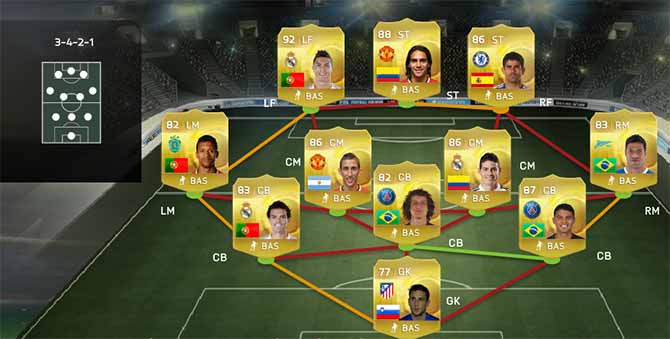 Example of squad formed by players from the Portuguese league
Liga Nos is not a smaller league. This is where some of the biggest names of today's worldwide football came from. Is there anyone who hasn't heard of, let's mention some, Pepe, Falcão, Hulk, Ramires, Di María, Matíc, David Luiz, James Rodriguez, Garay, Diego Costa, Nani or Cristiano Ronaldo? It's needless to compare one player to another, but you just can't say the amount paid for any of those wasn't quite impressive. Mangala, for example, holds the title for the most expensive defender to be bought in the history of the BPL (okay, maybe this wasn't that good of an example). Hulk and Witzel together went for 100 million euros. Falcão and James, almost half of that each one. Markovic, Fábio Coentrão, Anderson, Pepe, Enzo Pérez, Rodrigo and Ricardo Carvalho costed around 30 million euros each. Even a goalkeeper, Oblak, was sold for 16 million and a manager was sold for 15. There's a reason why FC Porto and Benfica are the two clubs that sell the best in the world. That's just possible since there's been lots of quality in this league, obviously. In the last five years, just these two have raised 750 million euros with players, which equals the budget of all MLS clubs together during 10 seasons or the cost of two Maracanã stadiums. One after finished.
While the rivals of Lisbon and Porto are the player-selling champions, Sporting CP are one of the worldwide player-raising leaders. Unquestionable talents such as Luís Figo, Cristiano Ronaldo, Nani and João Moutinho were raised at Sporting CP. All of those were first in the Portuguese league highlight before they became the stars of the other most competitive leagues. Actually, the last one in the list, also fondly known as the rotten apple, was the exception. He went to play in a smaller league: the French.
The big value of the French league has to do with the several millionaire moves made by Paris Saint Germain, responsible for bringing players such as Thiago Silva, David Luiz and Ibrahimovic to France. The first two have played in Portugal, although Fluminense's defender wasn't quite noticed. On the other hand, Zlatan takes the spot as one of the most popular players in the world, that's his biggest characteristic which perhaps may be more related to his personality rather than his unquestionable playing skills. After all, the all-time PSG best player and scorer keeps being Pedro Pauleta. A Portuguese, of course. Justifying that a league is better than the other just because of one player seems disproportionate to me. In Portugal there are many players performing no place behind the ones in Ligue 1. For example we've got Jackson Martinez, who's a remarkable finisher, and Nico Gaitán, one of the most technical players in the world.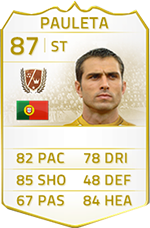 And the Portuguese league doesn't stand out only for its players. It's practically everything. It's got the best referee in the world – Pedro Proença, although he retired this season. It's got the best agent, Jorge Mendes. It used to have one of the best club managers in the world, José Mourinho, which led FC Porto into an European title up against Monaco in the most unbalanced final of the century (3-0). It's even got Luis Figo who was recently on a FIFA presidential launch. France has Platini in UEFA but I think it is not something they should be proud. Between Blatter and Platini, I keep the choice to the devil.
Oh! And the fans' passion is also bigger in Portugal. For football, I mean. Whoever lived the Euro 2004 up close knows that. The Portuguese are kind of the Brazilians of Europe for the way they live and love football. In France, although there's the fact that it's a much more populated country, tastes vary more between the people for they've got The Tour and the Roland Garros, for example, as other very popular sports competitions. It's not that big of a surprise that the Guinness Book of Records keeps on indicating Benfica as the most widely supported football club in the world. French clubs, though, I suppose I shouldn't even mention. It's ridiculous to mention that some games performed by Portuguese clubs in the French territory had more Portuguese supporters in the stands than French ones.
On FIFA 15, French stadiums win 2-0 against the Portuguese, although it shouldn't be like this. The modern Dragon and Alvalade Stadiums are clearly better than the Stade Gerland. Even the fantastic Axa Stadium, located in Braga, winner of several international awards and yet complimented by… Barack Obama. Not to mention the Estadio da Luz, home for the last UEFA Champions League final, recently considered the most beautiful stadium in the world by the readers of… France Football. Case closed.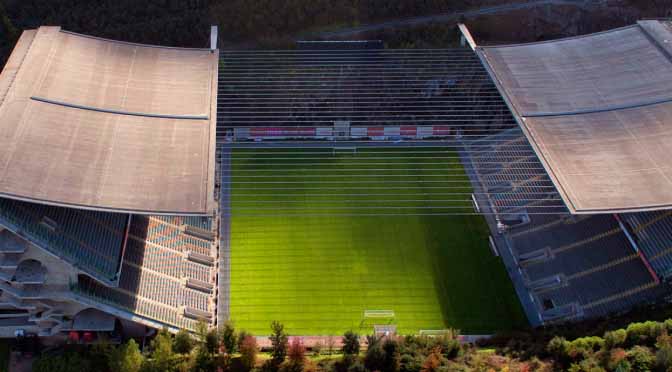 I accept EA ignoring the quality of the Portuguese League and doing a Belgium League TOTS instead. It's ridiculous but they do what they want. I accept them favouring the French league players' stats over the Portuguese. I accept them including the generic Estádio Nacional as the only Portuguese stadium in the game (looks so much like the Portuguese National Stadium as it looks with the municipal pools). I accept that a player from the NOS league has to score double the goals so they can dream of a place in the TOTW. I accept there not being any tournaments doing reference to the Portuguese league. I accept that there are players later sold for several million euros who didn't even have an Ultimate Team card. I accept that they forget about us when it's upgrade time. I accept that our fan chants haven't got a single update for nearly a decade. And I even accept that some clubs haven't been licensed, then they have to go for alternative names such as Barcelos and Funchal. What I don't and will not accept is people considering the French league better than the Portuguese league just because EA and other economical factors will stand out. No! Portugal is not France!
For all those French websites that love copying our content, here's a message: this one's free! Copy and share this article in French. I'd love that.