Welcome to Tête-à-Tête with Silvio Teixeira: a very special opinionated area that we are proud to include on our website.
Follow the wise, intelligent, humorous and insightful comments from Silvio. At the end of the article you may know him a bit better too.
In this new episode, "The rain is back!", the author shows you that the famous Rain of Coins, which made so much success on FIFA 14, is now falling more than ever.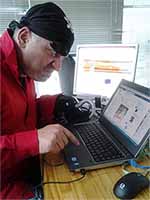 The Rain is Back !
People who know us are already familiar with the Rain of Coins, a fond nickname we gave to this trading technique in which you get little amounts of coins for every trade you make, then it eventually pays off once you do that many times. The good thing about this technique is that it doesn't offer any risk at all, so that ends up attracting more and more people.
Until last week it wasn't yet very clear if this technique would keep working or not, and naturally we kept trying it on a few players. Now the prices have stabilized. The results were outstanding! I'm managing to get 100% of profit on several players. Of course it's still not something that will make me rich instantly, after all we're talking about buying players for 800 coins and then selling them for 1500, it's something around that. A 700 coins profit (minus 35 of taxes, of course). Although, if you multiply that to 30 sales a day, we'll have reached 20k coins of profit (considering taxes again). That's not bad.
In case you weren't around here with us on FIFA 14, the Rain of Coins works the following way. Set:
– Buy Now Max: 900
– Quality: Gold
– Chemistry: Sniper (you can vary that)
And search the hell out of it! Ignore the non-rares, we're here for the gold rares. Last year I was going for 800 of buy now price, but for now let's stay open for more possibilities setting 900. There are so many good players showing up with these filters that I can afford to leave some behind and only go for the best ones. Among those, I'll mention some that have been filling my pockets so far:
· Serge Gakpe

· Vladimir Bystrov

· Diego Capel

· Marlos

· Luciano Narsingh

· Milton Casco

· Zoran Tosic

· Patrick Herrmann

· Cristian Tello

· Maicon

· Bruma

· Eliseu

· Marco Sal

· Nordin Amrabat

· Aleix

· Obafemi Martins

· Jonathan

· Susaeta

· Montoya

· Ahmed Musa

· Bernard

· Danny
Note that all of them have 85 of pace or more. Since this FIFA is full of the pace abusers, let's take some advantage of the reliable pacey players we were able to find. Unfortunately the web app is currently crap for Xbox users, and the maximum transfer list capacity is still 30 (1). That surely is making our jobs harder as traders, but this technique will still work well.
Of course you can also buy for 800 and sell for 1600, this way you'll get a few more coins, but sometimes, depending on the player, it can take a while. Because of this I'd rather gain less but keep the rotation. That's your call. You can set 1600 of start price, but if you don't manage to sell in 24 hours, better just get humble and lower that price. Originally we used to buy for 800 coins and sell for 1100 to 1300. The moment is a good one, so you can get ambitious and try to get some more for now. The good thing about this is that you can't possibly lose coins, there's absolutely no chance that you'll lose money for buying a gold rare with good chemistry style on for 800 coins. At least that's never happened to me, and I've been doing this for a long time.
Watch out for players without contracts, only buy them if their price is actually good. People normally get turned off by that enormous flag that indicates 0 contracts. If you buy one of those, I suggest that you use at least one of those bronze contracts that stay unused in your club before listing them on auction. They'll only add 1 contract but that already turns water into wine. By the way, it doesn't really make a difference if he has 1 or 10 contracts. Now if that's 40 contracts, it does make a difference, so you can even rise the price a little if this is the case.
Before you start buying like crazy, take a look at all the chemistry styles, maybe sometimes you'll find loads of the same player with the same chemistry style. In that case, don't buy him, because the more copies of him there are, the more difficult it'll be to sell him. On the other hand, the ones you find in small amounts will be sold quickly and will even reach higher final prices.
Although I've been giving priority to the pacey ones, there are other kinds of players that are worth the shot, like Klose, Honda, some keepers like Enyama and Rui Patrício, but again, be careful because the transfer list maximum capacity is still 30 for Xbox (1).
A suggestion, every time you manage to buy at a great price, choose to leave one of each stored in your club (you can't do it with more than one of the same player), this way when you don't instantly find players to substitute the ones you've sold, take some from you "storage".
The chemistry styles Hunter, Catalyst and Shadow are almost never available for this price, not even for non-rares, so you may skip those. That's because these three are really expensive. It's interesting to take a peek at them late at night, though. Even if the one you find is a non-rare, don't hesitate to buy it.
It's funny because right after writing the above I went to the web app to see their prices, and I managed to find a Hunter with the minimum 2700, a Catalyst for 1400 and I found a Shadow for 1000! It turned out to be Luizão (who's pretty slow), but still a great deal, and he was at his 59th minute so someone had just started his auction. I bought him and listed him on auction, then I sold him for 2100 coins in 15 seconds! Profit was over 100%, not bad! And as if that wasn't enough, I found a shadow Mario Fernandes for 1000, but since he's gold non-rare I "only" set 1800 coins of buy now and he was also sold in a few seconds as well. So basically writing this article is giving me some money.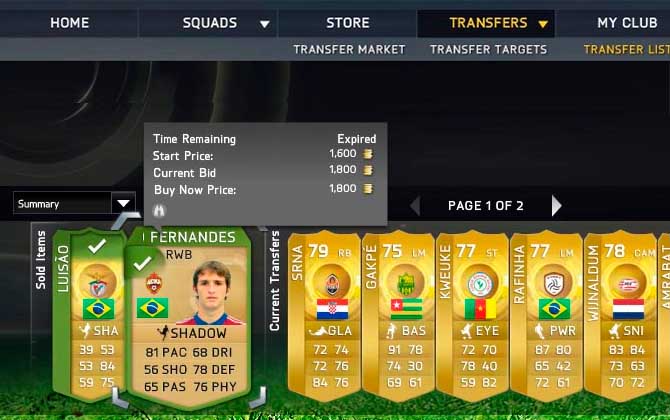 The lesson we've learned in this experience is that it's really worth it to search for these three chemistry styles, but not just at prices of "Rain". See what's the minimum price for them and, who knows, maybe you'll get lucky like I did.
Detail, there will be indeed some shadow players for 600 coins, but they'll be bought almost instantly (if not instantly). I've tried twice, you don't get the time to even to click bid because of the damn auto buyers, which EA had promised to extinguish, by the way. Apparently they didn't keep their promise… What can we do?
Note that these are the Playstation prices. I've managed to find even better deals on Xbox because of the smaller concurrence while the web app is down for Xbox users, so you can probably find the same awesome deals on the console for now.


Notes
(1) Not any more. EAS FC items for increasing the transfer list are now working