Record Breaker are the best cards of FIFA 16 Ultimate Team. Let's learn something more about these cards.
FIFA 16 Record Breaker Cards
Introduction
It is extremely rare, but sometimes EA needs to create new cards that does not fit in any of the other cards types. These special cards are usually released for celebration or charity reasons.
If you own the regular card of a Record Breaker, your card will keep unchanged. If you want the improved version, you will need to buy the corresponding special version in the market or pull it from a pack in that day.
You can have the regular card and the RB card of the same player in your club. However, you cannot use them both in your squad at the same time.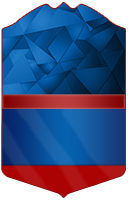 FUT 16 Record Breaker Card
Ratings, Stats and Availability
The ratings and the stats of RB players receive a huge bonus in these blue cards, making them almost always the best players of the game.
They are extremely rare and usually become available in packs only for 24 hours. That's why it is not easy to find them in packs or in the market.




History
FIFA 16
Gonzalo Higuaín (91) – Most goals scored in a single season in Serie A
Gianluigi Buffon (86) – Most minutes without conceding a goal in Serie A
Jamie Vardy (81) – Most consecutive matches scoring goals in Barclays Premier League
Petr Cech (86) – Most clean sheets in Barclays Premier League
FIFA 15
Wayne Rooney (91) – Most goals scores by England national team
Cristiano Ronaldo (97) – Most hat tricks in La Liga history
Lionel Messi (95) – Most goals scored in La Liga history (253) and
most goals scored in European competitions history (74)
Manuel Neuer (91) – Most clean sheets in Bundesliga history
John Terry (86) – Most goals scored by a defender in Premier League history
Peter Crouch (77) – Most header goals in Premier League history
Sadio Mané (77) – Fastest hat trick in Premier League history
FIFA 14
Miroslav Klose (90) – Most goals in World Cup history (16)
FIFA 13
Lionel Messi (91) – Most goals scored in a single year (91)
FIFA 12
Lionel Messi (99) – Charity for Leo Messi Foundation
FIFA 16 Record Breaker Cards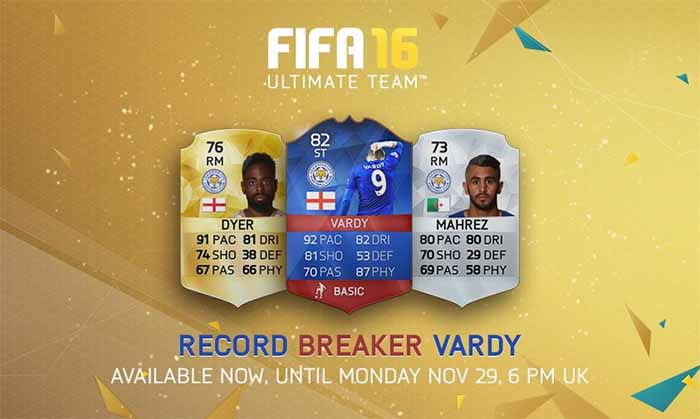 FIFA 16 Record Breaker Cards Overview
Colour | Blue and Red
How many Cards in FUT 16 | 1 to 5
How many times they are released | 1 to 5
How often they are released | Extremely Rare
How long they are in packs | 24 hours (sometimes it is a week)
How big is the boost | 7 points
Date of the first card in FIFA 16 | Unknown
First Card in FUT History | Released for the first time in FIFA 12

Record Breaker Cards from FIFA 12 to FIFA 16
| | | |
| --- | --- | --- |
| MORE EXPENSIVE | HIGHER BOOST | HIGHER FREQUENCY |
| | | |
| Record Breaker | Pro Players | TOTW |
| TOTY | Record Breaker | MOTM |
| Legend | TOTY | Pro Players |
| TOTS | Legend | TOTS |
| MOTM | TOTS | Heroes |
| Heroes | MOTM | Legends |
| FUTTIES | Heroes | Transfers |
| TOTW | Upgrades | FUTTIES |
| Upgrade | FUTTIES | Record Breaker |
| Transfer | TOTW | TOTY |
| Regular | Regular | Regular |
| | | |
| LESS EXPENSIVE | LOWER BOOST | LOWER FREQUENCY |
More Cards: