Welcome to Tête-à-Tête with Silvio Teixeira: a very special opinionated area that we are proud to include on our website.
Follow the wise, intelligent, humorous and insightful comments from Silvio. At the end of the article you may know him a bit better too.
In this new episode, "Specializing on Trade", the author helps you level up as a trader.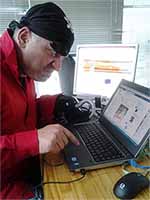 Specializing on Trade for FIFA 15
Usually I try writing about things that people ask the most, matters that bother the community, normally what people desperately look for answers to. It's not always possible for us to create an article answering to every single one of them, because we don't know everything and we only have some experience that we're able to share. Sometimes, however, the matter quite slips away from our hands since EA's release of information doesn't help much and it's all up to us to make tests and more tests to come up with our own answers based on statistics. And although I'm not a mathematician I'm sure nothing goes against statistics, it'll always be trustworthy as long as the math is done in a decent way and is not based on assumptions.
One of the most frequent questions we're usually able to answer are about Happy Hours coming out. EA doesn't announce this information with much antecedence and saying anything is basically making an assumption, because as far as we can tell they release Happy Hours as a way of controlling/stabilizing the market. If prices are high they'll launch packs to make people buy more and this makes the prices fall once supply increases. People open more and more packs expecting to get Messi or some other top players, but once they only get average ones most will be listed with lower prices because they want to get more coins quickly in order to buy more packs before they run out of Happy Hour special packs.
A few days ago I received tons of questions concerning the last Black Friday and then Cyber Monday. People wanted to know if the prices would increase or decrease, how much they'd increase, how much they'd decrease, some even asked me what player to buy. Unfortunately our powers don't go beyond what could be achieved by anyone else. Because of this I decided to share with you what I do with my trades no matter if there's HH, Black Friday or whatever other event going on. Of course it's important to look out for these events, but if you do as me they start having quite a secondary importance, really. It's gonna be a painful job, so all the lazy blokes can stop reading here, this article isn't for you. Unfortunately it's also not for newbies, because it requires great amounts of coins, so if you're new and don't have much money, I suggest you go for a little match or take the time to watch the last Gotham episode, this new Penguin is the man and Gordon is killing it (literally).
Let's go then, my system is based on analysing (and keep a continuous analysis) the 50 players I consider the ones with the greatest potential for trading. You'll make your own list, but I'll explain what you need to consider from my point of view. For choosing my Top 50 players I do consider some things like:
– Being from a strong league such as the BPL, BBVA or Serie A
– Costing between 3000 and 50000
– Being one of the best for the position
It doesn't mean I can't open an exception for someone from the Liga 1 or some other remarkable player from any other league, but these are usually rare cases. I don't monitor players cheaper than 3000 coins because I pick these to focus on with other techniques like the rain of coins or something such low-cost. The third item is crucial, they have to be one of the best and therefore most searched of his position and, even if there are more expensive ones for the position, setting a minimum price of 3000 coins already leaves tons of useless players out of the radar. While he's one of the best for the position he's most certain to give you return, because you're not under the risk of not being able to buy several of him.
Using a database such as Futwiz (guess I'll go ask them some coins for all the advertisement here) we can select a minimum overall of 75 (I'm only interested in gold cards) and rare (I have no interest in non-rares either, and I'll do one for in forms separately). I'm taking Xbox prices as basis but anyone can choose what they like.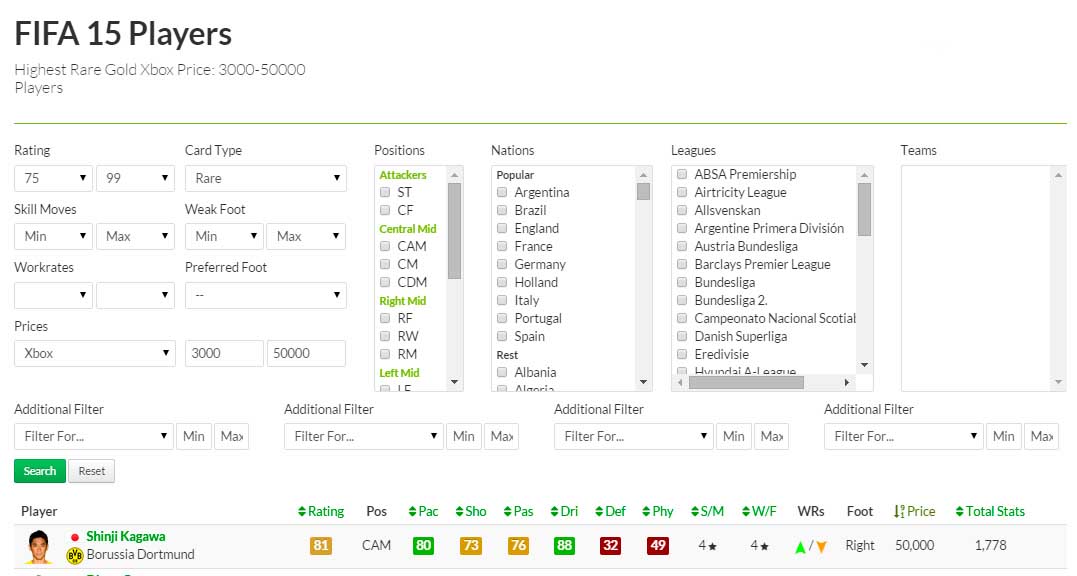 Click in the image to maximize it
So here's a list of some interesting players. Some I was able to choose with my eyes closed, Rooney, Falcão, Thiago Silva, Van Persie and so many other names that aren't only on this list, they're also a potential target for any of us. Some players are remarkable, while others are simply the only option you can find in a league. For example, in the BBVA we've got several average ST's and two excellent ones, but one of these two has got an absurd price (Suarez goes for around 475k at the moment), the other one is practically the only option for someone who wants to have a strong BBVA team: Benzema. This player is always my target for trades. But since he's expensive sometimes, I monitor 50 players and that gives me more options. This way when prices are too high (therefore not a good moment to buy), I still manage to find out which one of the 50 is the most adequate for the purchase, the one that has had the lowest price for the last 30 days.
And what if all players have their price increased? Then what interests me is the one that's increased the less, because he's got the best potential to increase even more. Of course there's a limit and it may happen that I decide not to buy anything, which isn't a bad thing, if prices are that high it's time for me to sell the players I have stored, I was just waiting for the right time!
But how to monitor these players? First go to this website:
ultimateteamtrading/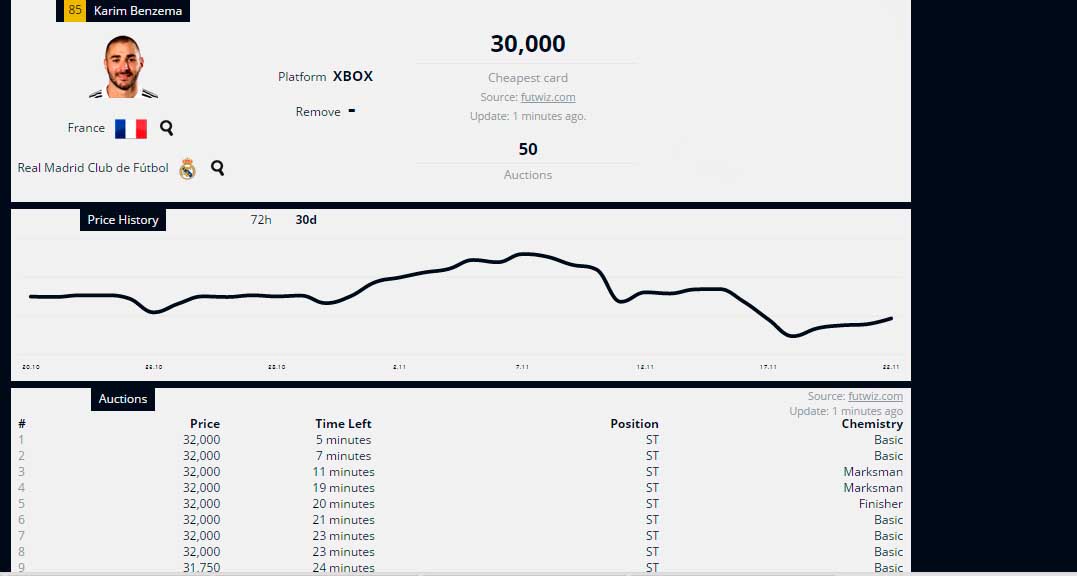 Click in the image to maximize it
You just have to input the player's name, then select on graphics his price in the last 7 or 30 days. With this it'll show you the average price he was being sold for. Notice how Benzema's graphics show that his price is very close to what it was in the last 30 days (at the moment), that definitely makes this a good moment for me to buy him. I think he's still gonna fall a little bit so tomorrow I'll take another look, and once he shows a slight tendency of rising again I'll buy. A tendency is comprehended as three points (three days) rising. Of course in this case I'll have lost the best moment of all, but yet it'll be the best possible for me. Many people will buy him today when his price is low, 30k at the moment, but if it falls to 20k they're gonna feel like killing themselves for not having waited for the right time (I bought two days after writing this, the price was at 22k). This is why I wait for the price to start going back to its original value. Especially knowing we'll soon have some special event such as HH, Black Friday or special Messi going on. Of course it won't stop falling now…
You go choosing the players you want to control and click "add to list". This way you'll have a list of players to monitor and access will be simpler. With this in your hands, whenever you want to choose someone to invest in, just give them two clicks and see who's at a price lower than they were in the last 30 days, because that's a safe basis. Longer comparisons than this aren't suitable, because prices from three months ago don't serve as parameter any more. The fluctuation goes more easily by the last 30 days.
Let's take a look at the list I have: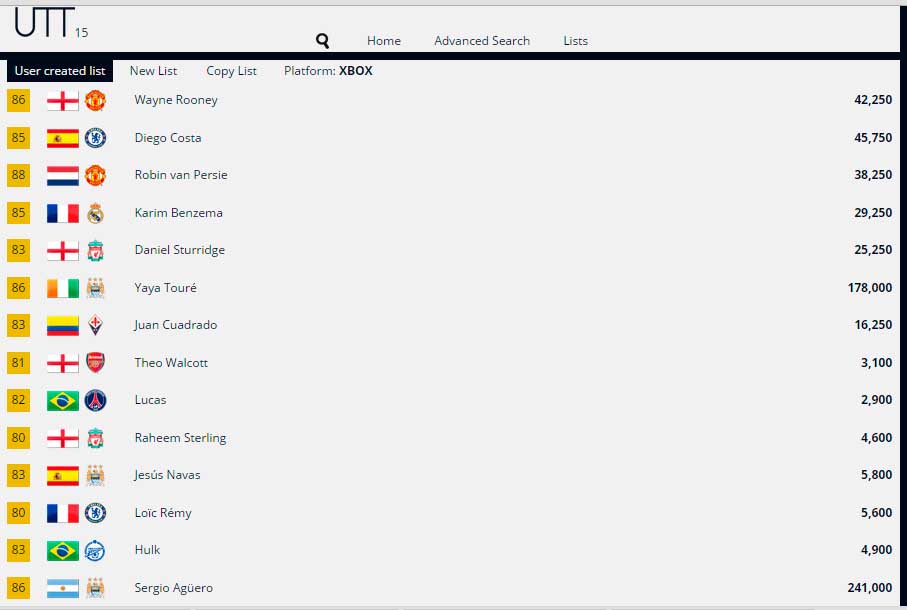 Click in the image to maximize it
Immediately we have a daily updated average price, always having in mind that these values are very close to what we have on UT, but since they're taken as sample there can be some variation, so it's worth it to take a last check before you close any deal. So click the name of your chosen player and you'll be able to see the graphics of his last 30 days again.
At this moment (as I write this) looking at the graphics of all the players I can see a price decrease, but how to find out which one is the most adequate? We just need to verify which one has the biggest percentage difference between his maximum price and current price. While doing this exercise you'll notice how players with prices close to each other behave similarly. Let's take a look at two examples:
Benzema – He has had in the last 30 days 55.955 coins as his highest price, and right now as I write this he's at 28.250, having lost approximately 49% of his value.
Van Persie – His highest price in the last 30 days was 60.188 coins and currently he's at 33.948, having lost 44% of his value.
Now let's take a look at two lower price cases:
Walcott – 9.000 as highest price and now it's at 3400 – 64% decrease
Lucas – 8.200 as highest price, now it's at 3200 – 61% decrease
Players who had their price decreased more produce more increment potential, however the profit per player will be lower. The most expensive players have got smaller return percentages, but since they're expensive, the total received is much bigger per player.
When investing, if we see there's technical draw, the lack of quality alternatives should be considered. In the previous case, I'd easily choose Benzema because when we look at the BPL there are lots of great alternatives to Van Persie.
On the other case I'd choose Walcott. That's because there are way more people who build BPL squads over Ligue 1 ones, and although there are other good options for the RM position in the BPL, Walcott's 96 of pace still really attracts the buyers.
The graphics in this moment represent a similar situation, all players have lost some value, but when the situation goes back to normal you'll be able to notice that it will show if a player's price is increasing while other is decreasing. Don't buy someone whose price is close to his highest values practised. Always choose someone for they're costing less than what they normally do, or if you see the price tends to decrease.
It's even possible for someone that's familiar with programming (any decent programmer would be able to do this) to capture this website's prices and then send them to a sheet on excel. With this set a few automatic operations and so allow the system to suggest which player has had the most significant price fall, who tends to decrease or increase and what are the best investment choices. It's really good because with this I can have on graphic the lines of all the players I want, being able to make quick comparisons visually other than having to click one by one.
This way, when you decide to go shopping just get your list and check who has the biggest fall at the moment, then buy several of him and wait for his price to rise again in order for you to refill your pockets with loads additional coins. People who have more coins can do it a bit differently, they can even make a separate list to IF players. Since these come up with different behaviours they do deserve a comparison just among themselves.
Ready to put all your advanced trading abilities on practice? So let's get to work and if you need any help just leave a comment and we'll give you a hand!
That's it for today because it's a good time to watch the last episode of Agents of Shield, I always knew Skye was guilty after all, he never fooled me!
See yooou later!