CENTRAL POINT is the fortnightly column of FIFA U Team website, written by Hugo Versiani.
You will find here the most hot Ultimate Team topics but also old stuff, described in a very objective and special way.
In this fifth episode, "Steven Gerrard's Tribute: Thanks, Captain !", the author shows the Liverpool captain history in FIFA Ultimate Team.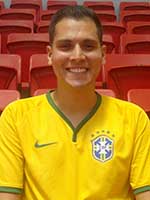 Steven Gerrard's Tribute: Thanks, Captain !
A week from now, after 17 years, Anfield will say goodbye to one of the biggest names in the history of the club and international football. Steven Gerrard, Liverpool's eternal number 8 and captain, is one of the few examples of players who stayed in one club for several years. The Major Soccer League – MLS will be his destination, LA's most popular Los Angeles Galaxy. This is why the day 16th of May, 2015 will be marked in the Reds' history for the countless tributes there are going to be.
In times of great names in the midfield such as Kroos, Modric, Yaya Touré, Pogba, Vidal, Schweinsteiger, Matuidi and James Rodríguez, the English midfielder who plays at Liverpool is no longer one of the first choices for a team in FUT. Because of his age, some attributes aren't the same as before, pace for example, but passing and shooting still do have quite as much quality. Still, I notice many FUT players using him (at least on PC) in their squad for the midfield role. With what I got from chatting in the middle of games with these players, as a quick/informal research attempt, I can say these two are the highlighted reasons as for why people still use him: excellent cost-benefit for starting the game and mainly for the tradition of using him on other FIFA game modes.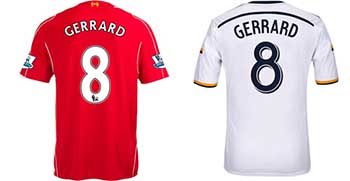 An analysis using the Reds' kit for observation makes it easier to understand the changes a player goes through looking at his six attributes (only rare gold cards, no upgrades) during these five years of FUT. Pace was highly affected over the years, so it's no surprise that Gerrard went from being a CAM back in the 10-11 season to being a CDM today. The opposite happened to his physical (which used to be heading), a considerable strength improvement, resistance and jumping, since he's never been really the best header. Dribbling and defending also have never been his specialities, so he's always had regular numbers on these, although in several matches he's played as the first defence line man looking to assist his team mates with his quality passes on counter-attacks. Finishing and passing: two amendments which make him the excellent player he is. Even with his advanced age (in terms of football) his numbers keep on looking extraordinary.
| | | | | | | |
| --- | --- | --- | --- | --- | --- | --- |
| YEAR | PACE | DRIBBLING | FINISHING | DEFENDING | PASSING | PHYSIO |
| | | | | | | |
| 10-11 | 82 | 79 | 89 | 82 | 93 | 70 |
| 11-12 | 80 | 77 | 87 | 80 | 89 | 70 |
| 12-13 | 71 | 77 | 86 | 73 | 86 | 75 |
| 13-14 | 67 | 77 | 84 | 73 | 86 | 75 |
| 14-15 | 63 | 75 | 83 | 70 | 85 | 81 |
Steven Gerrard – FUT 2010/2015
In order for you to visualize what I'm talking about, watch the two videos below that justify the primacy of these two fundaments performed by Steve G, the third player with most games played (707) for the club, only behind Carragher (736) and Callaghan (857). The first video, the one with the finishes, was uploaded by the Anfield Legend channel. The second one, with assists, is by LFC TV">, both on Youtube.
FINISHES
ASSISTS
Crystal Palace will be Liverpool's opponents next Saturday, however this is not what I'll be talking about, but the other glory moments in this player's career while making the connection between those and the game. Since FUT's launch on FIFA, in 2009/2010, Gerrard hasn't had as much glory as in the past, but here are some phases that marked the player's career and Liverpool's history.
This way, today's article will be telling you the story of Gerrard on the virtual pitch of FUT. From 2009/2010 to 2014/2015 several different cards of the midfielder have been released and some of them reserve special moments. Excellent on assists, free kicks, penalties, both short and long distance shots and mindful dribbling, that's what Gerrard's all about.
In FUT10, Gerrard played 49 games, scored 12 goals (9 in the BPL) and Liverpool finished only 7th in the national league, while Chelsea were the champions. His card's profile picture highlights his satisfaction towards the team's performance, although he's got some notable attributes for the attacking midfield role.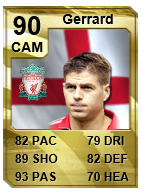 In the next season, in FUT 11, having suffered an injury in the end of the 2010-2011 season, Gerrard spent a lot of time in the medical department, participating only 24 times, 21 of them were games for the BPL. He still managed to earn an IF card.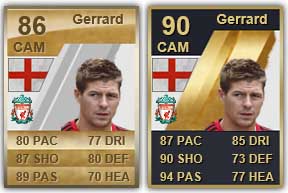 In FUT 12, the 11-12 season, Gerrard had his season start marked by a groin injury, which took him away from games for both his club and England's national squad. In the same season, Liverpool won the Football League Cup on penalties against Cardiff City and this got him a couple of IF cards (images 3 and 4). The MOTM card is the result of his Derby Merseyside hat-trick, which happened in a game between Liverpool and Everton for the Premier League.

In FUT13, Liverpool earned only 61 points in the BPL and finished 7th. Steve was the player who played the most games for the club, a total of 46 games, 36 of them for the BPL. That year the midfielder earned two more cards, one TOTW IF and one BPL TOTS.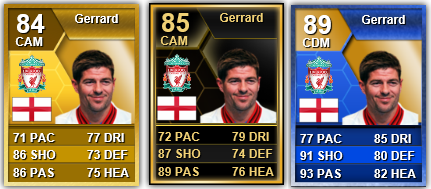 In FUT14, year of the FIFA World Cup Brazil, Liverpool finished second place in the BPL, having Suárez, Sturridge and Coutinho as symbols of the good performances alongside Gerrard. This way, the club's performance on the national league got Steven Gerrard in the BPL TOTS (image 4). On the other hand, the English national squad's performance in Brazil left much to be desired. The English Team was drawn into the World Cup's group of death, losing 1×2 to Italy, then the score repeated itself up against Uruguay and the only point they got was from a 0x0 draw against Costa Rica. As a tribute, FUT 14 introduced a new version called FUT World Cup, with specific cards for this game mode (image 3). Gerrard's IF at the time (image 2) was the result of his great performance against Manchester United in the BPL (3×0), having converted two penalties and participated in Suarez's goal.

As for now, in FUT15, Gerrard still has only got his regular game release card. His club occupies the fifth position in the national league, guaranteeing their spot in the Europe League, but still longing for a spot in the UEFA Champions League on the last rounds. If we don't have anything commemorative coming regarding his goodbye to Liverpool, I'm afraid this will be his only BPL 2015 version card. With him moving to the MLS, to the people who build squads based on this league, it's already time start reserving a spot in the midfield for him, alongside Kaká and the others.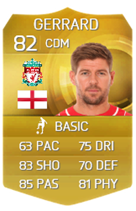 As you should've noticed, I'm a big fan of Steven Gerrard's football. Talent, dedication and leadership make him one of the best in history. In this last generation, players with similar history are few, having spent such a long time playing in the same club or having played for just one club for their entire career, for example, Xavi and Iniesta (Barcelona), Buffon (Juventus), Casillas (Real Madrid) and Rogerio Ceni (São Paulo. I must give him recognition although I'm a Corinthians fan). After all these players I've mentioned, EA still want to come up with this new hero cards thing? Give me a break!