Welcome to Tête-à-Tête with Silvio Teixeira: a very special opinionated area that we are proud to include on our website.
Follow the wise, intelligent, humorous and insightful comments from Silvio. At the end of the article you may know him a bit better too.
In this new episode, "Time to go gold-digging!", the author teaches you how to select the best players to get coins from by trading.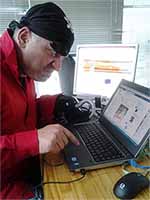 Time to go gold-digging!
FIFA 15 has arrived at full strength now that it's available for everyone and not just EA Access subscribers. About that, I've never seen 6 hours pass so fast in my life. Talk about frustration, opponents disconnecting before the match, all that time wasting… Several minutes supposed to be used to enhance the experience were simply thrown away. But it was worth it, after all I was able to buy some FIFA Points and get my squad ready.
I opened 20 of those 15k packs and didn't get any player worth more than 10k, so that just confirms nothing's changed for me, I'm still that same unlucky guy. And I'll have to make up with trades, as always…
The thing about the beginning is that you can't trust anything at first sight, and don't forget that the FIFA 14 market is only there to fool you. I saw people bidding 2k for Campagnaro, who's no longer gold rare, and two days later he was going for 400 coins. Palacio also relegated to gold non-rare and people were paying 4k to have him, today I found some for 800 coins and it should stay like this, if not decrease. You have to remember that gold non-rares are cheap except for one or another, and right now we still don't know which ones are those, so make sure you don't take unnecessary risks.
At such a complicated moment, you should get to know about the gold-digging method. Think of the place where gold-diggers go to get their living from. They chase rare stones looking for a sign on where they might be. Once someone finds something and the others find out about it, they take everything quickly until nothing is left. The same happens on FUT. Because of this there's no point on me telling you that this or that player is good for trading at the moment, because the market is unstable and by the time you see it, the "mine" will already be gone. So it's important that you know how to find one by yourself.
I always liked using ultimatedb for checking players' prices, but it's not activated for FUT 15 and maybe it won't return (R.I.P. ultimatedb). However, it can be any other website such as futwiz, futhead or wefut. I like wefut better, but since you guys usually go for wefut we'll take it for the example. We have to start thinking about what we're looking for. For example, players with good heading don't seem to be worth the investment any more because the header goals handicap has been fixed. Some people still haven't realised that and are still paying good money for these players, that's too risky. I don't like risky, so let's just stay away.
We should look at the important points, some can turn out to be superficial, some can actually pay off. This is gold-digging, searching where you sense good potential. What are these points?
– Skillers (Always very much requested)
– Pacey players (Every FIFA has its pace lovers)
– Brazilians (Now more than ever since we don't have the Brazilian league)
– BPL players (The most requested league)
– Best passers/shooters (Players with one top attribute are always good for trades)
– Fast CB's (These are rare and can be interesting for trades)
– RB's and LB's (From leagues without many of them)
– Players with chemistry style (Preferably gold rares)
– Consumables (gold rare contracts)
My initial focus is to avoid expensive players since their price is very likely to go down. Of course it can go up as well, there will always be that guy saying he managed to get loads of coins doing something different, cool, it's about taking risks, but for me the beginning isn't the best moment for that, so let's just go for players we can afford for now. I have to remind you that the prices I'm going to mention are from XBox, they're usually a little higher on Playstation, but like I said, what matters is that you understand the technique in order to do it all yourself.
I decided to start off by going for the skillers. 5 star skill players never disappoint me when it comes to trading, and the funny thing is that most people who buy them can only do 2 or 3 star skills, but yet they insist on using 5 star skill players. It's kind of like a fat guy who buys skinny t-shirts hoping that he'll lose weight, but usually that doesn't happen. But anyway, that's not of our concern so let's focus on buying cheap and selling expensive.
Browsing futwiz, (take a look at the image below) go on Players and select FIFA 15 Player Search. Set 5 on Skill Moves – Min, no need to set Max. I set a minimum price of 500 and maximum of 5000 on XBox. I used 500 as minimum in order to eliminate the most insignificant ones and 5000 as maximum because that's what usually interests me, but I'll probably end up choosing one below 2000. Click "Price" so that the order goes from cheap to expensive. And this is what we have:
– Matiaz Fernandes – Seria A – 800 coins
– Ronaldinho Gaucho – Brasileiro – 850 coins
– Boussoufa – (Who??) – 900
– Maxim – (Huh??) – 1400
– Nani – (Liga Portuguesa) – 1800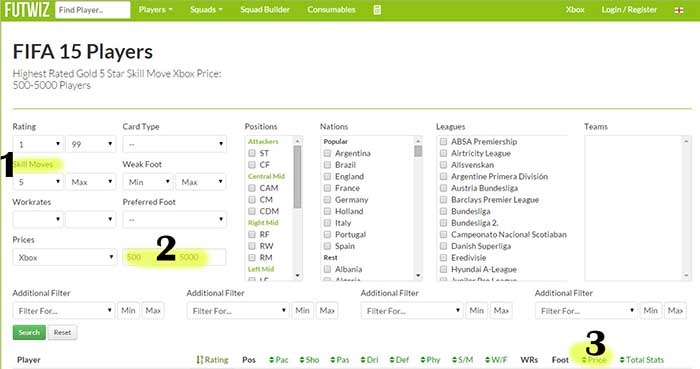 Click on the image to maximize it
The two first seem to be a good opportunity for me. Not just because they're cheap but also because they have other interesting characteristics: Matiaz plays on the Seria A, which is a good league, and Ronaldinho will certainly be one of the requests for people building brazilian squads. I bought 10 Ronaldinhos and 5 Matiaz. I'll pass the remaining because their leagues are underused. Nani got out of the BPL to play in the Liga Portuguesa, and for that price there will be some risk. I still believe he can be worth the shot, but I'll pass for now. These two first will certainly give me more than 100% of profit.
Detail: try bidding instead of using Buy Now. If I can bid a player 800 but there's also another one of him with 800 of Buy Now, I go for the bid. This prevents me from having my Transfer List full, so if I do that I'll be able to have hundreds of players stored even though the Transfer List's maximum capacity is 30.
The other gold-digging area: Pace.
It doesn't matter how the game has changed, pacey players will always be very requested. Some people are so addicted to it that they build teams without any chemistry as long as the players are extremely fast. If we find any with a good price, we should buy it with no fear. Let's go back to Futwiz or another database of your preference. Click reset in order to clear the previously used configurations. Firstly let's take a look at the pacey players no matter their league or nationality. I'll keep minimum price on 500 but I won't set maximum. This will show me all players, even the most expensive ones, it's good to have an idea of comparison with the biggest players of the game. We got the list shown below: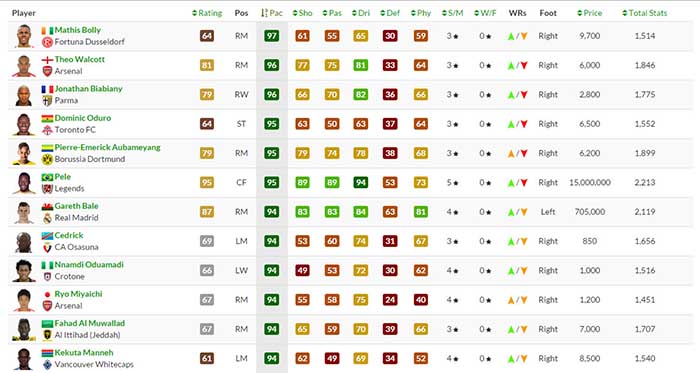 Click on the image to maximize it
Bolly is the first one, but he's bronze and way too expensive for now. I don't have enough coins, and even if I had I wouldn't buy him. Too much risk.
Walcott is the second one and he's more famous. I've played with him but didn't like it, he's just fast, nothing else.
There are a few interesting silver ones there, but at the moment I'd rather invest on more gold ones. People should show interest on them later in the game, now it's a bit soon. As we scroll down we can see the first gold player I've found interesting for his price, Martins, but look, he's from an underused league and his nationality is not so good either. I bought two of him just in case, but buy more if you have extra coins, there are many people that don't understand anything about chemistry and will buy him just for his pace. The same goes for other pacey players from underused leagues, although I'd rather not count on them too much because I want a faster return. This way, the next one that's interested me was the Brazilian Maicon, he's currently playing in the Russian league but will certainly be on most Brazilian squads. I bought ten of him for 700 coins each (bidding, not using Buy Now), but if you find him for 900 it's still worth it. Narsingh isn't in a very strong league as well but I'll buy some because he's really cheap and you can always build a Dutch squad. Mohamed Salah (93 of pace) was an extremely expensive silver Chelsea player, now he's gold and really cheap for a player in the BPL, so I didn't think twice, bought 10 of him. I won't make this longer, you understand the criteria, right?
Our third evaluation will be on Brazilians in general. We got Ronaldinho already, now let's filter Nationality only. It's interesting to click on rating in order for you to see the highest-rated Brazilian players. As you already know, the overall isn't nearly what matters the most, but since most people that will buy them from us don't know anything about FIFA, let's see which Brazilians have the highest overall and good prices.
The first high-rated player with good price found is the GK Julio Cesar. Brazilian goalkeepers have always been the weak spot of players who build Brazilian squads. Among the other alternatives Julio Cesar should be the most sold, it's worth it to buy a few of him, especially now that his price is 800. Bernard lost one point of pace but it's still 90, and he costs just 850 coins, great deal. Even if now he's costing a little more that he's worth the shot, his price should increase a lot because there aren't too many alternatives on the Brazilian market with his quality.
A Tip:
when you find a good player for trades and you buy ten of him, like I did, don't list them all on auctions, do that with only two. In a day the market can dramatically change and you might lose money. Yesterday I bought 30 contract cards for 200 coins each (gold rare), I thought about selling them for 400 and so get 100% of profit, but I only listed one on auction and no one made a single bid. Today it was sold quickly, I checked and they're paying 600 coins for this card. If I had listed all for 400, I would've lost money. Don't list all of them on auction, do that with one or two, this way you'll know if the market's receptive, that's the same for any card.
While I'm typing this time's passing, I started Monday the 22nd and today is Wednesday 24th. And to exemplify how things are going take a look at some of the sales I've done since then, Ronaldinho (which I bought for 800) is being sold for 2000. Look, I bought Kaboul for 400 coins for him not being rare, I've played with him, used his contracts and put him on an auction with 500 coins of start price just in case, but I didn't set a Buy Now price, so I ended up selling him for 1300!! Beside him, Aduriz ended as 1500. These non-rare that used to be rare and overused on FIFA 14 can be found cheap for not being rare anymore, because people who can't identify them set their price around 400-500 coins. However, people who come from FIFA 14 pay good money for them, but be careful, if there are too many of these non-rares it means their price will drop. And if people realise that, they'll stop paying more for them. So you can buy them, but make sure you don't pay much.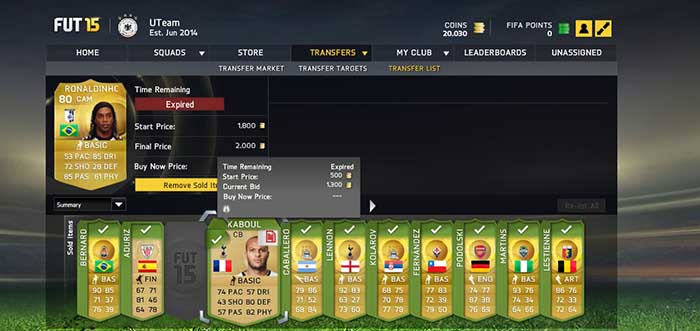 Click on the image to maximize it
You can see on my transfer list that some of the tips I gave did well, giving me at least 100% of profit. If the profit ends up being 50% it's already great, but since I was one of the first to go buy them it's nothing but fair that I get more, that's why it's important that you understand how to go gold-digging and not just ask what player's best to trade! We could go on and talk about the other points I've mentioned, but the important part is that you understand how to discover the opportunities, especially at this time when everything is still new and unstable. Use databases like we do, filter by attributes in order to find the best for each and see which prices are good, it's certain profit for you!
Importante – Database prices (futwiz, futhead or any other) are merely a base so that you can gain interest or not on a player, but you may notice some difference once you search for them on the market. Usually when I'm after players that cost 1000 coins tops, I set maximum price of 1500.
Ready to discover your own mine of gold? Find it, explore it and then share it with us here mentioning what kind of profit you managed to get, then let's reach our first 100K real quick, next thing you know the first million is right over there!
That's enough, I've got cramps in my fingers from typing. See you laaater!