TOTY cards are the most wanted IF cards of FIFA 16 Ultimate Team. Let's learn something more about these cards.
Click here to see the complete list of all FIFA 16 TOTY cards
Click here to learn more about FUT 16 TOTY
Click here to see our TOTY prediction
Click here to see the FUT 16 TOTY shortlist
FIFA 16 TOTY Cards
Introduction
Every year since FUT 12, in early January, EA Sports build a team of players based on their real performance on the previous year. The players of this TOTY are selected from the voting of FIFPro, the world wide professional footballers association, and announced in the FIFA Ballon d'Or Gala. They are supposed to be the best players in the world.
The market has a tendency to anticipate the TOTY weeks before its release
They are upgraded with a blue TOTY card which becomes available in packs for a week (two days for each position and a final day with all players together). In the week a player gets his TOTY card in packs, it is impossible to find his regular card there. Your odds of pulling a TOTY card from a pack are exactly the same of pulling the regular card of that player in another week.
If you own the regular card of a TOTY player, your card will keep unchanged. If you want the improved version, you will need to buy the corresponding TOTY version in the market or pull it from a pack.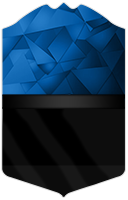 FUT 16 TOTY Card
Ratings and Stats
The players ratings and stats of TOTY cards are usually boosted in six or seven points. The attributes have a similar increase but it doesn't mean that all attributes have to be improved.
The position of the players in these cards may change if, in the previous year, they played really well in a new position.
Availability
The Team of the Year is released once per year. It means that these very special blue cards are assigned only to eleven players (one goalkeeper, four defenders, three midfielders and three forwards), that can be of any league and category. It is only made a distinction between the four lines, not between each position. For example, instead of having full backs, this team can have four centre backs. Usually they are all gold and play in the BBVA, Barclays and Bundesliga.
In FIFA 16, TOTY cards are announced on the Ballon D'Or Gala at 5:30pm (UK time) and released in packs at 8pm. You can get a TOTY card in any gold packs with rare players cards.
These IF cards will be available into packs on the following days:
TOTY CARDS DATES
FROM
TO
GOALKEEPER
11/01/2016
8pm
13/01/2016
6pm
DEFENDERS
12/01/2016
8pm
13/01/2016
6pm
MIDFIELDERS
13/01/2016
6pm
15/01/2016
6pm
FORWARDS
15/01/2016
6pm
16/01/2016
6pm
ALL POSITIONS
16/01/2016
6pm
18/01/2016
6pm
UK time
You can have the regular card and the TOTY card of the same player in your club. However, you cannot use them both in your squad at the same time.
Excepting the Pro Players and the Record Breaker cards, these ones are usually the most expensive cards of the whole FUT 16.
FIFA 16 TOTY Cards Overview
Colour | Blue
How many Cards in FUT 16 | 11
How many times they are released | 1
How often they are released | Only once
How long they are in packs | One week
How big is the boost | Usually six or seven points compared to the regular card
Date of the first card in FIFA 16 | January
First Card in FUT History | Released for the first time in FIFA 12

TOTY Cards from FIFA 12 to FIFA 16
| | | |
| --- | --- | --- |
| MORE EXPENSIVE | HIGHER BOOST | HIGHER FREQUENCY |
| | | |
| Record Breaker | Pro Players | TOTW |
| TOTY | Record Breaker | MOTM |
| Legend | TOTY | Pro Players |
| TOTS | Legend | TOTS |
| MOTM | TOTS | Heroes |
| Heroes | MOTM | Legends |
| FUTTIES | Heroes | Transfers |
| TOTW | Upgrades | FUTTIES |
| Upgrade | FUTTIES | Record Breaker |
| Transfer | TOTW | TOTY |
| Regular | Regular | Regular |
| | | |
| LESS EXPENSIVE | LOWER BOOST | LOWER FREQUENCY |
TOTY of previous years:
More Cards: