Welcome to Tête-à-Tête with Silvio Teixeira: a very special opinionated area that we are proud to include on our website.
Follow the wise, intelligent, humorous and insightful comments from Silvio. At the end of the article you may know him a bit better too.
This week, in the episode 'Welcome to FIFA 15!', the author explains the biggest changes of the new game and shares with you how you should start FIFA 15.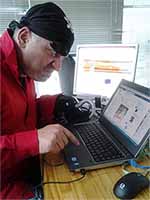 Welcome to FIFA 15!
The FIFA 15 demo is already out, everyone's talking and I'm just sitting here laughing. Lots of specialists seem to appear out of nowhere after playing two matches in a game that's just received several changes. And, by the way, there's something interesting I've noticed about these changes. In my work place we have an Xbox to play on our free time and, naturally, many people there are not really football players, but their reaction on FIFA 15 was something like this: " –Is that it? Nothing's changed, it's just the same as before!". That's typical of people from outside of the area because the graphics may not have changed too much, but for people like me lots of changes could be noticed. It's a completely new game and, so far, they're making a good impression. If we get back to how better than the demo FIFA 14 turned out to be, and maybe add some small improvements to the final FIFA 15… that might be the way to break PES's dreams.
I could stay here and talk about everything that's changed, but there are already billions of posts and articles doing this all around the world. Although it's all just arrived this week, it's nothing new anymore, then I'll just mention what has impressed me instead of all that's changed:
Voice commands through Kinect
this is just brilliant, you simply have to say "Substitute" while the match is going on, then a list of all the substitutes pops out down below on the screen. Then you say the name of the player that's going in and the one that's being substituted, this way you won't need to waste a second. The moment the ball is out of play the substitution happens. This will be available for players who own the PS4 thingy, too, the difference is that almost every Xbox One owner has Kinect because it comes along with the console (now there's a different model without it, but until that they all came along). While almost everyone DOESN'T own the PS4 thingy, and most won't really think of buying it just because of this.
Header goals
Although they happen (which they should), those header goal amazing sprees have definitely come to an end. We simply kept crossing the ball on a friendly in order to test it out. When player 2 managed to do the clearance, he would give me the ball and we kept doing it over and over again. Still, the score rate was very low. The fact is that there won't be all those mad constant header goals anymore, the ones that eventually happen will be worthy. Some people will still be able to do it and so come to the conclusion that it's still easy, but those won't really take it from an adequate basis.
The Fans
This may be an item of less importance but it's one that really got into me. The fans cheer loud, sometimes they even stand out over the commentator, they vibrate with a sliding tackle, and when you score decisive goals the camera shakes and gives you the impression that you're among the crowd! There are so many cool animations not only from the fans but also from the players pushing each other on the pitch, arguing, interacting, and (thanks, EA) all of them can be skipped by the press of a button, because watching all these animations should be an option and not an obligation, of course.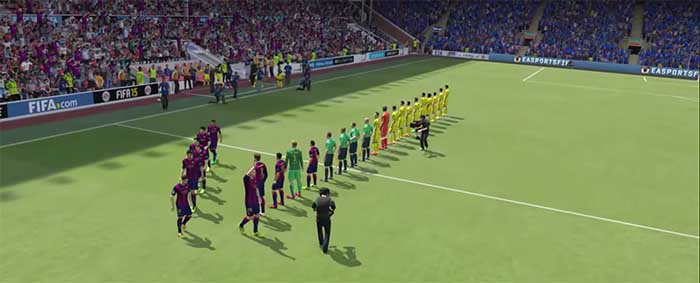 Of course there are many, many new stuff, but like I said it's all being explored on every website you go, each with their very own personal opinion, but one thing is clear: the game has really improved and it's worth buying.
While we're not able to play the final version, let us just keep having fun with the demo and our All Stars team at this point on FIFA 14. I think maybe EA's decided to get all kind and give us more chance to get good cards from packs, that should be interesting for people who will still keep playing FUT 14 for some time. Only last week I got 3 IF's, all from simple packs, it was nothing that came from too much investment. Anyway, I'm one of those who will immediately upgrade for the newer version (I already bought and downloaded the game, just need EA's seal of approval), and it almost breaks my heart to see that I'll have to leave my All Stars team behind. Here I go, building a new team where I'll have to use cheap players, changing one card to another of the same player just for the contracts, and doing all those other strategies we are forced to do in the beginning when we still have nothing.
I'm indeed against buying packs, be it with coins or with FIFA Points, but I need to go against this position of mine on every beginning of FUT. Without a doubt, the start of a season is always the best moment to buy some packs with FIFA Points, so I'll spend some money. Not too much, but I'll buy 20 or 30 extra packs (other than the ones we'll get) to start building a team that will allow me to play with some confidence, even if it turns out to be a modest one.
It's certain that we have to be careful in this first moment because building a modest team doesn't mean joining 11 random player cards together and starting a match with them, a few things should be prioritized in this moment. We still don't know what EA is up to this time, after all on FIFA 13 the pacey players used to be the ones to decide a match, on FIFA 14 those were the header goals, and now on FIFA 15 we may have a new style coming to stand out. However I always tend to spend my coins on attackers with the best finishing attributes (for shooting inside of the area) and long shots (for shooting outside of the area). These are my favourite players in the beginning. I can't afford to want too much, so I just leave pace behind for a while (because I prefer ball passing), dribbling (sometimes I'll lose control of the ball anyway), heading (with luck and bugs I'll score some headers eventually) and basically I'd rather invest on these two attributes. In the first matches of this new FIFA I'm the legitimate shooter. My thing is to just bomb the opponent with shots all the time while having midfielders with good long shot attributes and strikers who will finish well inside the area. Most opponents will still not have good goalkeepers. One of the few things I like to pay attention to is the players' preferred foot, I'd rather have a right foot player as the right midfielder and a left foot one as the left midfielder
The players are being announced and it's important that we verify what league will have the cheapest players with the best attributes. It's important to mention that the players' prices in this FIFA may be lower than what they use to be "IF" EA really does as promised and stops the automatic trading systems. One way or another, my focus will be on the cheapest players with the best attributes I've mentioned, how there's something else that needs to be considered: the chemistry! For people who don't know, the chemistry affects several factors inside the pitch, the main ones are passing and positioning, but it DOES NOT affect the shooting, after you've got the ball in control. In my case I'll give priority to the shooting so chemistry won't be so important. Of course I'll try and increase the chemistry as much as possible to avoid passing errors and players bumping into each other for no reason. But again, that's not my main objective.
Naturally we would need to judge all of them by their new attributes, so if that's going to be with the info we have available as for today the analysis would be basically this:
1. ST's with high finishing attributes: Searching on wefut.com we verified that (without looking at the league) the highest ones are from some very expensive players such as Falcão, Van Persie, Ibra and others, but also we found in the same group a few players with reasonable prices such as Giroud, Higuain, Benteke, Negredo and Soldado. All of them have their finishing attribute over 88. If you've chosen BBVA you can take Javier Hernandes and Negredo. If it's the BPL you could have Giroud and Benteke, and if that's the Brazilian league we could, oh wait…

2. Choosing someone with decent long shot and, depending on the position he plays at, we choose a formation. Over 84 we have Schurrle, Podolski, Lampard, Gerrard, Fernandinho and Cabaye. Some of these are pretty cheap, but if by any chance they're expensive in the new FIFA you can lower your long shot standard to 82 and use players such as Ramsey, Milner, Lucas Piazon and De Bruyne.

3. Choosing players with their preferred foot to its respective side of the pitch (except maybe for players that have a 4 or 5 stars weak foot)

In this case I'd easily leave the perfect chemistry behind to use some CM's and CAM's with high long shots and, little by little, substitute their links to improve the chemistry.
About the defense, the only thing I can do right now is pray. I won't be able to have a great keeper initially, anything inside the budget will have to do, so that should be someone like Reina, Ruffier or Mignolet. They're not bad and the goalkeepers have been improved on FIFA 15. The defenders won't be so good as well so we'll have to choose players that don't attack too much and that have a high DEF attribute. About the heading, well, patience. It's not worth it to choose defenders by their headings if FIFA keeps giving advantage to the attackers. For what I've noticed this shouldn't be a problem anymore on FIFA 15, so I won't really worry about it.
Centre backs such as the argentinian Samuel are ideal, because despite his low pace, his attacking rate is low and his defending rate is high, which means he does not get out of there even if a meteor falls down into the pitch. The same goes for Papadopoulos, Palleta, Diakité and Cannavaro (and others). To help out the centre backs, I always choose right and left backs that can be weak on all attributes but pace, besides them being cheap of course. Everyone knows about Abate, Jordi Alba, Walker and others for that and those should be expensive at first, so you could also take a look at Sarioglu, Eliseu, Konko and João Pereira, for example. These are less known and from underused leagues, but they have 86 or more of pace. Being fast you can at least have a bigger chance to stop your opponent's crosses.
Don't forget that we're giving priority to the chemistry, so be careful on the kick-off, don't go passing the ball if you don't have space, the good old long chip pass is nothing to be ashamed of. When coins start coming in you'll change that, but on the first days you'll have to swallow your pride and play by the rules.
If you're privileged and able to buy big amounts of packs with your FIFA Points you won't have to do all this in the beginning, so things will be much easier, but most people can't really sell their kidney in order to buy so many packs. Don't forget to keep an eye on the market for players that you're using or players that you want for your squad, maybe you'll find one with 99 contracts and reasonable price. Contracts are expensive on the first days. If you have some, don't sell them, use them on your best players. Also don't forget to use those untradeable players you'll get to build crap squads and win offline bronze tournaments with them, because they're really easy to win and this way you'll be able to gather a few coins without worrying about contracts.
And don't forget, the Web App will be available this Wednesday and we'll be able to start our trades even not having bought FIFA 15 yet, so make sure you log in everyday to get your daily gift packs.
See yoooou later!
TETE-A-TETE GIVE YOU A MILLION!
And the winner was…Junior. Congratulations.
Correct answers were published in the previous Tete-a-Tete.