The United Kingdom is the best market to EA Sports. At least to FIFA games. To this region, everything is made with very careful. Find out who will join Messi on the FIFA 14 UK Cover.
Who Is in the FIFA 14 UK Cover ?
We already have showed HERE how the international FIFA 14 Cover will be. Messi will be obviously in all FIFA 14 covers, but in some regions other popular players will join him. In the North America, for example, it will be Javier "Chicharito" Hernandez to have the honour to be next to the Barcelona player. On the South & Central America cover, the chosen was Arturo Vidal. but there is more…
The most waited cover is the one that will be sold with the game in the UK. It easy to understand why: in the whole world, it's there that there are more FIFA players. Last year, Joe Hart, Manchester City goalkeeper, and Alex Oxlade-Chamberlain, Arsenal promising young player, were the chosen to join And what about this year ? Who Is in the FIFA 14 UK Cover ? Let's see…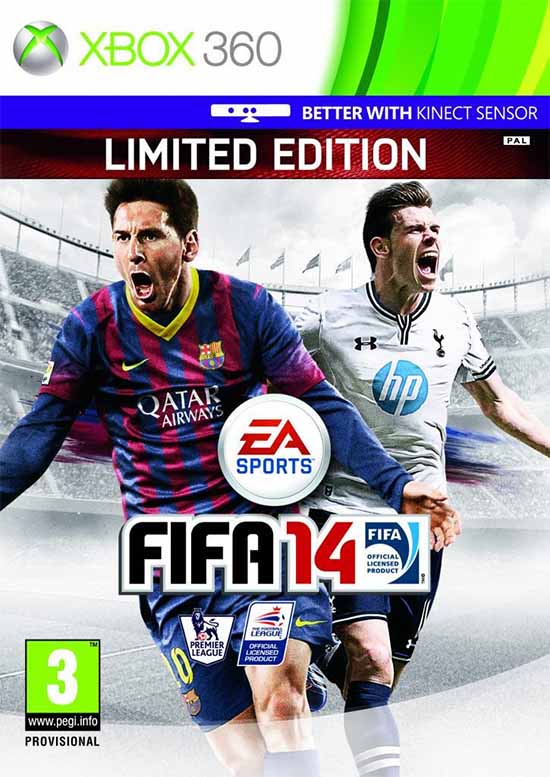 Right. As expected, the chosen was Gareth Bale. He began his professional career at Southampton, playing at left back. Since transferring to Spurs in 2007, managerial and tactical shifts have seen him transform into a more offensively-oriented player. Since the 2009–10 season, Bale has played an integral role in Tottenham's success domestically and in the Champions League. Last season he was awarded the PFA Young Player of the Year, the PFA Players' Player of the Year and the FWA Footballer of the Year awards. Tottenham Hotspur superstar Gareth Bale will make his debut on the cover of FIFA 14 in the UK, Ireland and Middle East when the game launches this September.
To make this even more mediatic, EA Sports have offered packs to those who guess who joins Messi on the FIFA 14 UK cover (subject to draw) and also launched a teaser about it. Watch it: