Do you want to know which formation is right for your team ? If so, you need to read this guide that shows you how to choose the best FIFA 16 formations to you.
Even if you already know which formation to use, be sure to read this article. You will find that there are many options and there is always room for improvement.
If you want to know every single FIFA 16 Ultimate Team formation in depth, click here
How to Choose the Right FIFA 16 Ultimate Team Formation
There is no better formation than another. All of them have strong and weak points. You should decide which one is better to you.
Before you even start to sign players, you should start by setting the formation that you will implement on your squad. If you leave the decision for later, you will not equip your squad with players who you really need and you will be penalized in the individual and squad chemistry. You can solve the problem by buying new players and, in certain cases, positioning cards but the investment will be very high.
The most common question is: How do I decide the formation that I will use ?
There is no exact answer, but you should consider a few factors:
What is your play style ?

Do you often attack by the wings ? Do you enjoy possession ? Do you have a patient style ? Do you often play in counter-attack ?
With which formation you are most familiar and which ones you like most ?

There is any formation that let's you more comfortable ? Did you have better results with some formation ?
Into which formations the players that you think are essential fit ?

The attributes and skills of your essential players can be better used in some of the formations?
What are the formations best suited to the goals you set for your FUT 16 clubs?

Do you want to try to win all the matches even taking risks or do you will be happy even not winning all the matches ?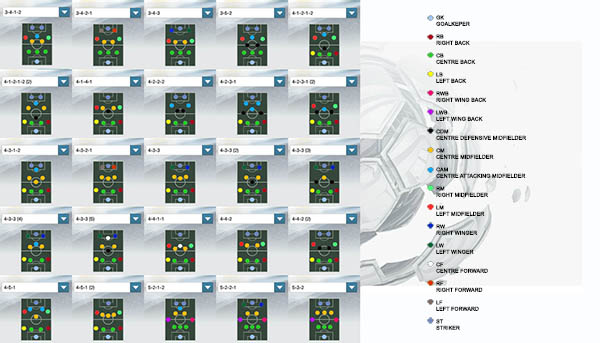 Click on the image to maximize it
Best FIFA 16 Formations
If you want to know which one is the right formation for you, you should analyse carefully every single formation in the next chapter. However, if you are too lazy to do that, take a look to the top formation we have gathered for you.
Most Used FIFA 16 Ultimate Team Formations
The most used and the most popular formations are almost the same. This doesn't mean that they are the best ones. However, if you don't know from where to start, these ones are good suggestions:
4-1-2-1-2


4-4-2
4-3-3
4-2-3-1
3-5-2

From most used to least used
Most Attacking FIFA 16 Ultimate Team Formations
Please note that the most used attacking formation doesn't mean it is the best attacking formation. If you are looking for a formation setup for an attacking style, please take a look to this TOP 5:
3-4-2-1


3-4-1-2
3-4-3
3-5-2
4-3-3 (4)

From most attacking to least attacking
Most Defensive FIFA 16 Ultimate Team Formations
Please, note that the most popular defensive formation doesn't mean it is the best defensive formation. If you are looking for a formation good for a defensive style, please take a look to this TOP 5:
5-3-2


5-2-1-2
5-2-2-1
4-3-3 (3)
4-2-3-1

From most defensive to least defensive
FIFA 16 Ultimate Team Formations for a Counter Attack Style
There are formations more suitable to be used in a counter attack style. If you identify yourself with this playing style, please take a look at the TOP 5 formations for you:
5-2-1-2


5-2-2-1
4-3-3 (2)
4-4-2 (2)
4-2-3-1 (2)

From best to worst counter attack style
FIFA 16 Ultimate Team Formations for Possession
FIFA isn't played the same way by everyone. If you prefer a passing and possession style, keeping the ball with you and building up your game patiently, you should look to the following TOP 5 formations:
4-5-1


4-5-1 (2)
4-1-2-1-2 (2)
4-2-2-2
4-3-3 (5)

From best to worst possession style
FIFA 16 Ultimate Team Formations for Crossing
FIFA isn't played in the same way by everyone. If you prefer a crossing style, taking advantage of the wings, you should look to the following TOP 5 formations:
3-4-3


4-4-2
4-4-2 (2)
4-3-3
3-4-1-2

From best to worst crossing style
Our TOP 5 FIFA 16 Ultimate Team Formations
You already have chosen your formation, right ? Maybe not. Most of the time, even if you have your very own playing style, the best formation is not the most attacking or defensive one but the most balanced one. Take a look to our personal selection of the best five formations to be used in this game:
4-1-2-1-2


4-3-3
4-4-2
3-5-2
5-3-2

From best to worst
We shared with you the required know-how to choose the best formations. If someone ask us again what is the best formation to their play style, we will not answer. Consider yourself warned