FC 24 ACHIEVEMENTS AND TROPHIES
FC 24 Achievements and Trophies are systems for measuring a player's progress in the game.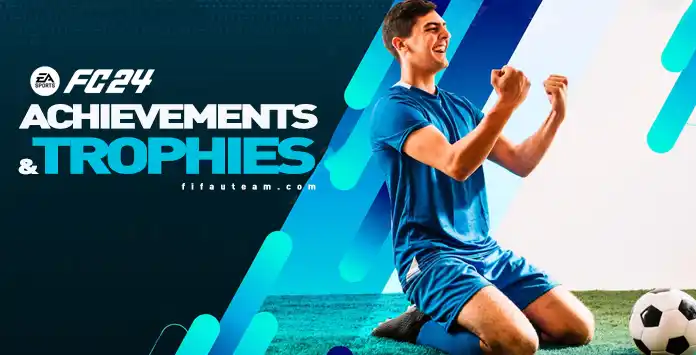 How to Get Platinum in FC 24
PlayStation's way of tracking a 'completion' of a game through bronze, silver, and gold trophies, while Xbox, Origin, Steam and
Epic Games
use an achievements system based on gamerscore. In the case of FC 24, those who complete all objectives earn a Platinum trophy, the most coveted of their kind, or 1,000 Gamerscore, depending on the platform.
In this FC 24 achievements and trophy guide, we will show you how to get every trophy in the game and achieve platinum or 1,000 Gamerscore. Platinum is earned by getting every other trophy in Football Club 24. The final milestone shows the world you've completed everything FC 24 has to throw at you. It is quite the bragging rights reward, so you will need to complete objectives in several
game modes
.
You will need an online connection if your goal is to complete all objectives. You'll also need to subscribe to Xbox Live or PlayStation Plus as some achievements/trophies require access to the multiplayer segments, which these consoles don't allow without these services.
There are no hidden Xbox achievements or PlayStation trophies in FC 24, but you'll have to put some time into earning all of them as some require you to win multiple games against other players, which can be challenging. Some are as simple as just playing a single match of a certain game mode, but if you want to earn everything and platinum FC 24, you will need to give your best.
An Ace Up Your Sleeve ▲
Bullseye ▲
Campeones ▲
Defensive Masterclass ▲
Do Your Homework ▲
End of Line ▲
Fashion Icon ▲
Graduation Day ▲
Golden Generation ▲
Level Up! ▲
One Moment Please! ▲
PlayStayles+ ▲
Precious Advice ▲
Record Breaker ▲
Seasoned Veteran ▲
Squad Building Completionist ▲
Surgical Aim ▲
The Alchemist ▲
Top of the Pyramid ▲
Trust Me, I'm a Manager ▲
Walk the Walk ▲
Welcome to the Big Leagues! ▲
We're Going Up ▲
We're in the Game! ▲
Winning in Style ▲
Aiming High ▼
A Moment of Your Time ▼
Balanced Path ▼
Becoming Unplayable ▼
Fresh Fit ▼
Full-House ▼
Girl Power ▼
High Grade ▼
In Cahoots ▼
I Played Them All ▼
Let the Games Begin ▼
Like-Like ▼
Momentous Achievement ▼
Multitasking ▼
Parking the Bus ▼
Safe House ▼
Sharing is Caring ▼
Specialist ▼
Squad Building Connoisseur ▼
Tactical Tinkerer ▼
The Chosen One ▼
The Winning Formula ▼
Training Addict ▼
Tune Your Club ▼
Achivements and Trophies List
Official List Sorted by Game Mode, Score, and Alphabetically
Gameplay & Skill Moves
7 | 150
Bullseye (30)
Score a goal using Precision Shooting
PlayStyles+ (30)
Score a goal with an active PlayStyle+
Surgical Aim (30)
Complete 25 Precision Passes
Bring it On (15)
Play and win a match with the competitive settings turned on during any offline mode
Dead-ball Specialist (15)
Score a goal from a Free Kick
Intuition and Execution (15)
Win a penalty shoot-out without missing
Power Shot (15)
Score a goal using the power shot mechanic
Manager Career
6 | 175
European Legend (50)
Win the UEFA Champions League Final
Golden Generation (50)
Hire an Expert level coach for each department in your club
An Ace Up Your Sleeve (30)
While spectating a match in Tactical View in Manager Career, jump in and score a goal
Best of Five (15)
Play 5 H2H matches with a friend in Kick Off
Do Your Homework (15)
Check a pre-match report, complete a training session and attend a press conference before a match
Football is Everything (15)
Play a Women's International football match
Player Career
8 | 165
Dazzling Personality (30)
Develop a dominant personality trait of over 75%
Top of the Pyramid (30)
Reach Elite Division with your Club in a Clubs League Season
Winning in Style (30)
Win the UEFA Women's Champions League Final
Fashion Icon (15)
Equip a face guard and a tattoo from the avatar customization menu in Player Career Mode
First of Many (15)
Win your first Clubs League Match
Make the Grade (15)
Receive an A grade in a Clubs Skill Game
Precious Advice (15)
Follow your agent's team recommendation twice during the same Player Career
Walk the Walk (15)
Win your first Clubs Playoff Match
Ultimate Team
14 | 375
Record Breaker (100)
Reach 200 club appearances with a player in Football Ultimate Team
Campeones (30)
Finish as the Champion of your Clubs Playoff table
Defensive Masterclass (30)
Keep 10 clean sheets in UT Squad Battles
End of the Line (30)
Reach the last level of a Seasonal Objectives Progress during any Season of UT 24
Graduation Day (30)
Complete an Evolution and claim the upgrades in UT
Seasoned Veteran (30)
Reach Milestone 3 in a UT Division Rivals Season
Welcome to the Big Leagues! (30)
Earn enough UT Champions Qualification Points to qualify for UT Champions Play-Offs
Level Up! (15)
Complete an Evolution level in UT and claim the upgrades
One Moment Please! (15)
Complete 1 Moment in Football Ultimate Team
Squad Building Completionist (15)
Complete 10 Squad Building Challenges in Football Ultimate Team
The Alchemist (15)
Build a squad with 33 Chemistry Points in Football Ultimate Team. Excludes Concept Players and SBCs
Trust me, I'm a Manager (15)
Create your own custom tactic in Football Ultimate Team
We're Going Up (15)
Earn a Clubs League Promotion with your Club
We're in the Game! (15)
Play a match in UT with a squad that has players from both male and female leagues
Volta Football / Club
5 | 125
Full Wardrobe (50)
Unlock 50 different vanity items
On the Way Up (30)
Reach Level 7 in a Season in Volta Football or Clubs
Shop Till You Drop (15)
Purchase an item in the Volta Shop using Volta Coins
Teamwork Works (15)
Win a Volta Squads match with 3 friends
Volta's Best (15)
Reach 90 OVR with your Avatar in Volta Football
Frequently Asked Questions