A FC 24 Game Mode is a distinct setting/configuration that varies gameplay and affects how other game mechanics behave.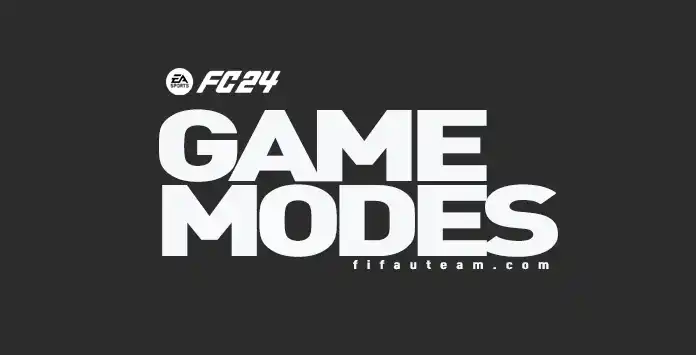 Best Game Modes
There are a lot of different FC 24 game modes for players to choose from. Depending on your profile, you may like more single-player or multiplayer, old or new modes. In addition, the best game modes for you may not be for other players.
From the Football Club main screen, you can access all available game modes. We will present them in the same order as they appear there.
All Game Modes Explained
Kick Off
Kick Off
is the most popular FC 24 game mode for casual players. It allows you to create quick matches to play against CPU or your friends, using any of the available teams. The first game mode of the FIFA franchise was designed for fun but you can add an extra layer of competition tracking your stats or changing to another match type.
Ultimate Team
The most profitable game mode of the FIFA franchise, lets you build your dream squad. You can add new players to your club by buying them on the global transfer market or opening packs which contain random items. By playing online and offline matches, completing objectives and challenges you can earn more coins and players.
Career Mode (Player Career and Manager Career)
The
Career Mode
in FC 24 is a game mode that offers you the chance to play through a lifelong football career. As a manager, you have to use the club's budget to balance your team and conquer the board's goals. If you choose the player career, your objective will be to improve your character the most possible, if possible with titles.
Clubs
Clubs
, formerly known as Pro Clubs, is an online mode that allows you to create an avatar, known as Virtual Pro player, and play your position on the pitch with other online users and your friends in a 11 vs 11 match and improve your Virtual Player by levelling up and gaining XP.
Volta Football
Volta brings back street football and futsal to the FIFA/FC franchise. This game mode allows you to create your football character and improve him/her by playing single and multiplayer matches, and skill games. Within Volta Football, you can play different game modes (Arcade, Squads or Battles) and stylish your players with new cosmetic items.
Skill Games
In
Skill Games
mode, you can test and improve your skills by completing challenges that test specific maneuvers such as chip shots, free kicks, and dribbling. Compare yourself to Friends and others on the leaderboards for extra motivation as you progress through the levels.
Practice Arena
If you love freedom, you need to go to the
Arena
. There you can select a player and a goalkeeper to train and improve your dribbling, shooting and goalkeeping skills, as well as practice free kicks and penalties.
Training Centre
The
Training Centre
is a feature you can find in the 'Learn to Play' section, that lets you improve your gameplay skills by playing matches with a chapter progression system.
Seasons
Seasons
is split into online or co-op. In Seasons online, you play with your favourite team against other online users within your division and earn points to climb to higher division and win the title. In Co-Op Seasons, you play with a friend online against two other friends anywhere in the world in 2v2 ranked online play.
Co-Op Seasons
Co-Op Seasons
is a game mode similar to Online Seasons, but that is played with a friend online against two other friends anywhere in the world in 2v2 ranked online play.
Tournaments
On
this game mode
, you can create a custom tournament, selecting your tournament type, rules and teams; or experience over 50 real football tournaments from around the world. You can also lead one of the UEFA Champions League or CONMEBOL Libertadores teams to the final or play in the Women's Internattional Cup.
Online Friendlies
Online Friendlies
mode allows you to invite a friend to play a game online, and keep track of your competition over five seasons to see who has the best talents on the field. The player with the highest points after five games wins the trophy. With a new season, keep the competition going as you fight to defend your championship or take it away from your friends.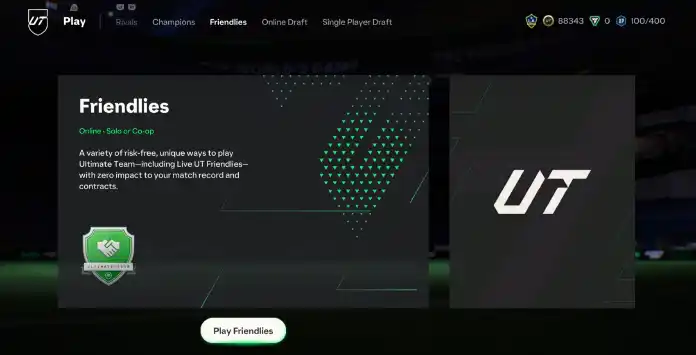 Ultimate Team Game Modes
Every year, Electronic Arts adds new game modes to Ultimate Team, creating new ways to progress and compete. In FC 24, players have in UT the widest playing options ever.
Be aware that Ultimate Team for
Nintendo Switch
features the most popular modes, like Champions and Rivals.
Squad Battles
Squad Battles is a single-player game mode where you take on other squads from the UT community to earn rewards and move up the leaderboards. A new campaign refreshes every week and includes up to 42 matches. If you love to play against the AI, this UT mode is perfect for you.
Division Rivals
Division Rivals is an online seasonal competition with a skill-driven rank system that you can play Solo or in Co-Op. Each season runs for the duration of a UT Season, which is approximately six weeks long. By winning matches, you climb the ladder, increasing your Rank and Division so you can challenge for better rewards. The qualification for the UT Champions is made through this game mode.
Champions
Champions brings you the best head-to-head competition in the Ultimate Team. It is the most popular UT game mode because it also has the best rewards. If you achieve the qualification for this competition, you can test your skills across the Play-Offs and the Finals, previously known as Weekend League.
Friendlies
UT Friendlies are a fun and relaxed way to play Football Club. Here you can choose from a variety of different House Rules to play against the CPU AI, your friends both locally or online, or random solo or co-op opponents online. There are ten Friendly types in FC 24:
Classic Match;
King of Hill;
Mystery Ball;
Swaps;
Max Chemistry;
Headers & Volley;
Survival;
Long Range;
No Rules;
Live UT Friendlies.
UT Draft
UT Draft is a game mode within UT that lets you test your team-building skills. In this mode, you can compete online or offline with football players you don't own. You draft a random selection of players available in UT, including In Forms, and use them to fill in each position to build your squad, and then compete in a four-round, single-player, or online multiplayer knockout competition. The higher you finish in the competition, the better your rewards.
Squad Building Challenges
In Squad Building Challenges, you are invited to test your building abilities by creating Squads that match specific requirements. Once met, you can exchange your squad for rewards.
Objectives
Season objectives allow you to progress towards rewards for your Ultimate Team. Completing management or in-game objectives and earning XP will move your level on the season rewards tab. A diverse mix of rewards is available, like packs, players, club customization content, or other items to help progress your club.
UT Moments
The brand new UT Moments game mode challenge you to recreate iconic football moments in exchange for packs, coins, special items and other rewards.
Frequently Asked Questions