The FC 24 Leaderboards allows you to compare yourself with other players in four strands: Match Earnings, Transfer Profit, Club Value and Top Squad.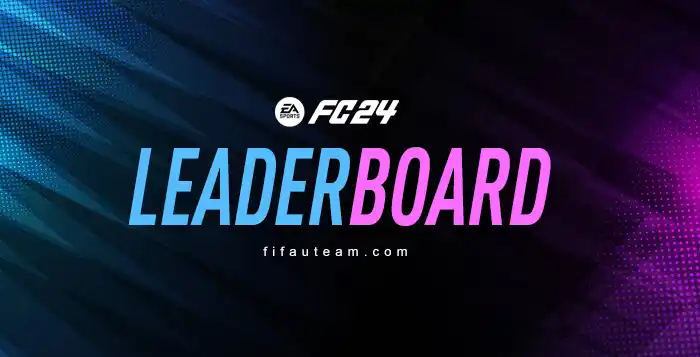 Ultimate Team Leaderboards
The purpose of leaderboards is to show people where they
rank
in a competitive event. In the case of Ultimate Team in FC 24, there are leaderboards for several game modes, like Squad Battles and Division Rivals, and also for the Ultimate Team game mode itself.
Ultimate Team Leaderboards are very useful to show who are the best players in a such complex game mode like Ultimate Team is. Instead of a single ranking, there are four leaderboards, evaluating how good a player and his team are in the field and in the transfer market:
Match Earnings;
Transfer Profit;
Club Value;
Top Squad.
You can access the FC 24 Leaderboard directly from the Ultimate Team main screen. First, you must navigate to the [Club] tab and select [Leaderboards]. From there, you can consult any of the four leaderboards and refine your search with the two filters available: one lets you select the Top 100 or just your friends; the other one gives you the chance to see all the records or only those that occurred in the last month or last week.
Match Earnings
Total coins earned from matches and game mode rewards.
It measures how good player you are.
Match Earnings show how much you've earned
playing
. That includes the value that pops up at the end of every match, considering bonuses. It's cumulative and never decreases. Even if you lose as many matches as possible, you'll always get at least a few coins.
Another detail that might be a little confusing: when you delete your club and then compare it to your friend's on the FC 24 leaderboard, you'll have your match history reset but not your match earnings. That's why sometimes you'll see people with match earnings higher than yours while they've played fewer matches.
How Match Earnings are calculated
All coins you win at the end of each match;
Includes extra coins awarded depending on the game mode: Ultimate Team Draft, Squad Battles, Division Rivals or Champions;
Includes the coin boost items.
Transfer Profit
Coin profits from purchases, sales and discards.
It measures how good trader you are.
Your purchase on the
transfer market
is deducted from your transfer profit. Any card you sell (at 100% of the sale price) is added to your transfer profit. For example, if you buy a card for 950 coins and then sell it for 1,000 coins, the Transfer Profit will increase by 50, even though you have essentially made no increase/decrease to your net wealth.
It's also important to understand what happens when you buy a pack. Let's suppose you have 2,000 of Transfer Profit. You buy a gold pack worth 1,000 coins and store everything in your club. How is your Transfer Profit now? 1,000. And it can even go negative if you keep buying many packs. It falls by the exact value of the pack.
How Transfer Profit is calculated
It doesn't take into account the EA tax (5%);
The transfer profit decreases every time you buy a pack (it will increase again if you sell the content);
The transfer profit increases every time you redeem a coins pack;
The transfer profit increases every time you quick sell a card with a discard price higher than 0.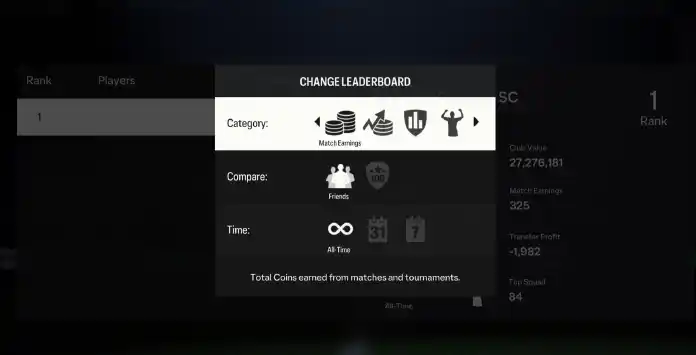 Club Value
The total value of all players in your club.
It measures how valuable are your players.
Your Club Value is the sum of the values of
all the players
you have in your club (not only the ones in your squads). Each item has one value, which we'll be calling from now on the "RV" (Reference Value). The RV rises little by little for each overall point. However, it is also affected by the type of card and if it is common or rare. In short, the value you see in Club Value is equal to the sum of all of your players' RVs.
This value isn't related to price ranges, with the number of coins you spent to buy the player or how much you'll sell him for. In other words, even those untradeable citems in your club will count.
How Club Value is calculated
The players in your transfer list do not count; only the ones you have in your club do.
It isn't affected by managers, consumables, stadium or club's items;
High rated cards and special items contribute more to the club value;
Rare items contribute more to the club value.
Top Squad
Combined chemistry and rating scores of your best squad.
It measures how good your best squad is.
The Top Squad is a number that goes, in theory, from 0 to 132. Basically, it is obtained by adding the total chemistry to the
team rating
. For example: if you have an 89 rated squad with full chemistry, your Top Squad will be 122, which is pretty good. It's very simple, right?
You can find Team Chemistry on the left side of your squad's screen.
The Top Squad considers your
best squad's
total rating. It doesn't matter how many squads you have or which one is active; just the best rating. If you have an inactive 89 rated squad and you're currently playing with a 70 rated one, your team rating used to the Top Squad will remain 89.
How Club Value is calculated
You get the Top Squad, adding the Total Chemistry to your highest Team Rating;
Top Squad is only affected by the starting eleven and substitutes – it doesn't depend on the reserves;
The starting eleven's ratings weigh more over the Team Rating;
The Top Squad will not vary if a player item is common or rare, regular or special, as long as they have the same rating.
Frequently Asked Questions