Stadium Items give you an additional layer of customization in Ultimate Team.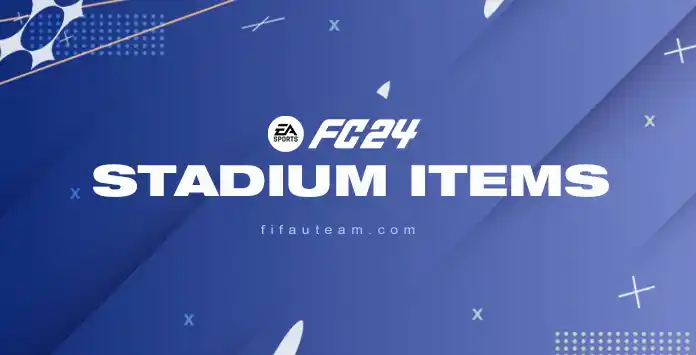 Stadium Cards
Stadium Items and Bundles are an additional
layer of customization
in Ultimate Team and do not replace other ways of getting other Stadium Items.
You can buy these items and bundles by using Coins or FC Points for a limited window of time indicated above the Item/Bundle. You can also preview what the Bundle contents look like or how the Stadium Items will appear in your Stadium before you decide to get them.
FC 24 Stadium Items include but are not limited to Kits, Trophies, and Stadium Themes. They are available in Gold, Silver, and Bronze qualities and are grouped into five categories:
Club
Badge;
Home Kit;
Away Kit;
Ball;
Player Celebration;
Club Anthem;
Crowd Chant;
Goal Song.
Structure
Stadium Template;
Stadium Theme;
Stadium Colour;
Seat Colour;
VIP Area.
Stands
Home End Center;
Home End Background;
Home End Top;
Home End Right Corner;
Home End Left Corner;
Main Stand Lower;
Main Stand VIP;
Main Stand Upper;
Broadcast Stand Lower;
Broadcast Stand Upper;
Away End Right Corner;
Away End Left Corner;
Top Stands.
Pitch
Goal Net Colour;
Goal Pyrotechnics;
Pitch Line Colour;
Pitch Mow Pattern.
Trophies
Home End Trophy;
Away End Trophy.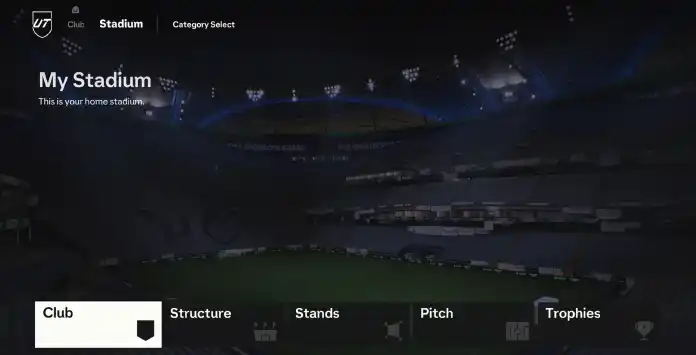 How to Customize
When you start playing Ultimate Team and create your club, you will receive your basic setup UT Stadium as your default stadium. In Ultimate Team, you can change your stadium to any other available stadiums in FC 24 and customize its theme and style using the UT Stadium feature.
You can use Stadium Items to customize your club and the visual appearance of your UT stadium. Note that there are stadiums which not support all customization features.
How to Customize your Club's Appearance
From the main Ultimate Team screen, use R1/RB to select [Club];
Use R1/RB again to select [Stadium];
Make the desired changes.
To change each item, make them active/inactive, or assign new items to them, select the items you would like to customize, then the system will show you the available cards in your club for that item. Next, you can select the listed items and make them active to take other actions. You can also do a manual search for each item.
How to Get Stadium Items
You can get Stadium Items in several ways, including:
Ultimate Team Store;
Transfer Market;
Squad Building Challenges;
Objectives;
Rewards.
Frequently Asked Questions