FIFA 22 will not allow you to carryover and maintain most of your FIFA 21 progress.
When you move to a new title, you can maintain part of your progress from the previous game.
FIFA Points
FIFA Points are an alternative to coins that are used to purchase FUT packs in the store or enter FUT Drafts.
If you don't intend to spend all your FIFA Points on FUT 21, you can transfer them to FUT 22 until December 31, 2021. You can even buy some by the end of FUT 21 so you can use it in the FUT 22 release date, since it won't be purchasable during the FIFA 22 Web App Webstart period, except if you have an
EA Play
membership. However, this is a one-time transfer, so you need to be careful when you start the game for the first time.
FIFA Points are FIFA 22 carryover items but can only be shared between same consoles. For PC, Point balances transferred to FIFA 22 can only be used in FIFA 22.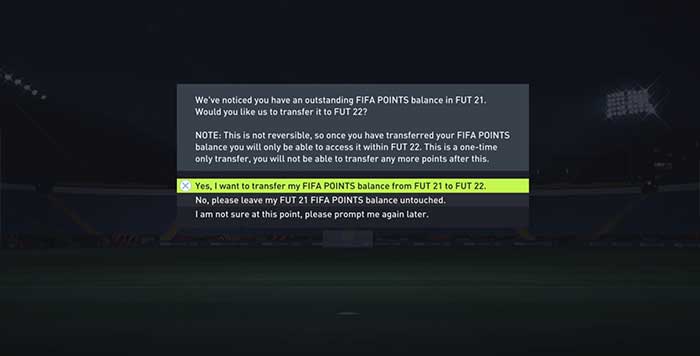 Established Date
When you move to a new title, you cannot maintain most of your progress from the previous game.
Coins
FUT Coins
FIFA Coins are gained by playing FUT game modes and as in-game rewards. By playing FIFA 22, your coins will be reset to zero.

If you didn't know that coins can't be transferred to FUT 22, then you must be very disappointed. We've all been there so don't worry, you eventually get over it. Plus buying items won't help since they can't be transferred as well. Don't know what to do with the coins you've been arduously collecting for a year? Give them to someone you know who will not play FIFA 22.
Items
Packs
FUT XP
History
Club Data
Division
Trophies