FIFA 22 FUT CHAMPIONS - FREQUENTLY ASKED QUESTIONS
We have created this FAQ to make it easier to understand how FUT Champions and Weekend League work.
WHAT HAS CHANGED THIS YEAR IN FUT CHAMPIONS?
This year, EA has made deep changes in the way how FUT Champions work. The most significant is the new two-tier structure. The Weekend League was replaced by the Champions finals and, in order to qualify for it, you need to play the Play-Offs first. The goal is to reduce the number of matches and spread them over the week. EA has also moved to a points based system this year, rather than wins, so you'll still make progress even if you lose.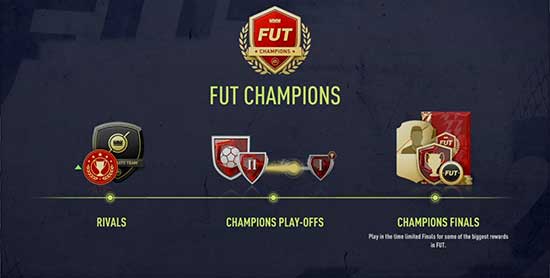 WHAT ARE THE CHAMPIONS PLAY-OFFS?
WHAT ARE THE CHAMPIONS FINALS?
WHEN CAN I PLAY FUT CHAMPIONS?
As soon as you reach the qualification, you will be ready to play the Champions Play-Offs at any time you want. If you earn enough points, you'll qualify for the FUT Champions Finals which are open from Friday to Monday. There are a limited number of Play-Off entries per FUT Season, which you can see in-game. This limit resets with the start of each new Season. A complete calendar is available
here
.
WHY DOES THE CALENDAR ONLY SHOWS ONE MORE ROUND?
The FIFA 22 FUT Champions takes place uninterruptedly from October 2021 to September 2022. The schedule is being published in-game as the competition goes on, and for that reason sometimes it shows one more round and at other times it shows two or three rounds.
HOW MANY MATCHES DO I HAVE TO PLAY?
Once qualified for the Play-Offs, you need to play as many matches as needed to reach the required points. However, the number of matches you can play in this stage is capped: 9.

In the Champions Finals (former Weekend League), you can play up to 20 matches in each weekend.
HOW DO I QUALIFY FOR THE CHAMPIONS PLAY-OFFS?
You can qualify for the Play-Offs exclusively via FUT Champions Qualification points. These points can be gained via FUT Division Rivals. The number of FUT Champions Points earned at the end of each match and at the end of each week are base on the division you are. The better you play, the more points you earn. Once you've accumulated 2,000 points, you'll be automatically entered into the Play-Offs. This value may change, so be sure to see how much CQP is required to qualify for Play-Offs by checking in-game or in our website.
Every time you play a Champions Finals campaign, you will also earn Champions Qualification Points. The number of FUT Champions Points earned depends on your tier at the end of your campaign. The better you rank, the closest you will be from coming back again.
For more details about the Champions qualification, please check
this page
.
WHERE CAN I SEE HOW MANY QUALIFICATION POINTS I HAVE?
You can easily find your FUT Champions Qualification Points balance in-game, going to FUT and selecting Play > FUT Champions. You can also enter the Rivals tile, then select the Champions tab to see your total there.
HOW DO I QUALIFY FOR THE CHAMPIONS FINALS?
Once you qualify for FUT Champions through Division Rivals, take your team into the FUT Champions Play-Offs when you choose. You qualify for the FUT Champions Finals by earning enough points in the FUT Champions Play-Offs to get a Finals Qualification Token. You will have 9 matches to play in order to sum at least 24 points. For each win, you get 4 points, while a loss only gives you one point. You'll then choose when you want to participate in the Finals by spending the Token.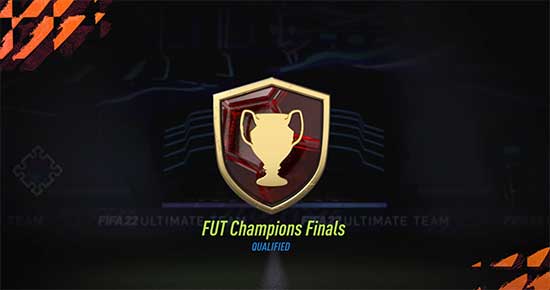 CAN I PLAY CHAMPIONS UNLIMITED TIMES?
No. Within each FUT Season, approximately 6 weeks long, you will have a limited number of attempts at the Champions Competition. The same entry is valid for both Play-Offs and Finals. It means that you can qualify for the Champions Finals more than once each season (but only once each weekend), depending on the entries available.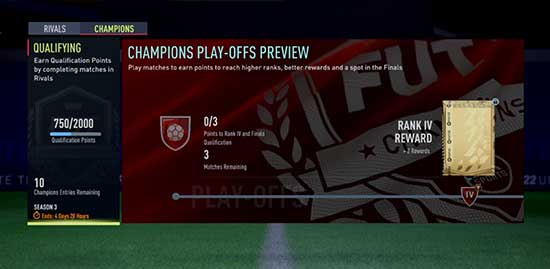 I FAILED THE QUALIFICATION. WHAT ABOUT NOW?
If you did not make it to the Finals and you still have entries available, you can always return to the Play-Offs after re-qualifying through Rivals.
IS AUTO-QUALIFICATION AVAILABLE?
Not exactly. The only way to qualify for Play-Offs is joining 2,000 FUT Champions points. You can do it via Rivals or Champions Finals. Reaching Rank II or higher on Finals will be enough to earn the required points to qualify for the Play-Offs. The only way to qualify for the Finals is earning enough points in Play-Offs. There is no other way.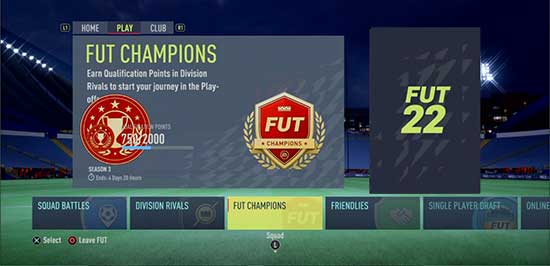 CAN I USE THE TOKEN ANY TIME I WANT?
Yes, the Finals Qualification Token gives you the flexibility to enter the competition on your schedule. If you make it to the Champions Finals, the tokens can be banked to be used on a later weekend. Didn't use your Finals Token by the end of a Season? Don't worry, it carries over to the next Season.

To redeem your Token, enter the FUT Champions Mode and follow the instructions on-screen.
WILL I LOSE MY PROGRESS AT THE END OF THE SEASON?
Depends. FUT Champions Qualification Points and Finals Token do carry over for the next Season. In the opposite direction, unused Entries and Play-off Progression do not carry over for the next Season.
HOW FC POINTS PROGRESS WORK WHEN A SEASON ENDS?
The unused FUT Champions Qualification Points will carry over to the new season. It means that you can, for example, bring with you your 1,500 points and play a few Rivals matches in the new season in order to earn the remaining 500 points needed, reaching this way the required 2,000 points.
WHAT IF I CANNOT FINISH THE PLAY-OFFS?
If you cannot complete the Play-Offs matches until the end of the season, you will lose your progress but not your qualification. In other words, current points and completed matches will be reseted and you will have free access to the competition in the new season.
IT IS POSSIBLE TO QUALIFY IN DIFFERENT PLATFORMS?
Yes, each Champions campaign is a different competition if played in a different platform.
DO I NEED TO REACH THE FINALS IN ORDER TO RECEIVE REWARDS?
No. When you start the Play-Offs, you are competing for the first set of rewards and a chance to qualify for the Finals, where you can further increase your rewards. In fact, one of the goals with the introduction of the Play-Offs and Finals was to rebalance the rewards across both competition stages while lowering the overall match requirements.
HOW DO I EARN PLAY-OFFS REWARDS?
You'll get rewards once you finish the available amount of matches (maximum of 9) in the competition. You can also choose to end your current Play-Offs event at any point, even before completing all your matches, allowing you to collect the available rewards immediately. If you don't finish all your Play-Off matches before a FUT Season ends, you'll automatically get whatever rewards you have earned from the matches that you did complete.

You can check your progression in-game, and see what the requirements and rewards are for each Rank.
WHAT ARE THE CHAMPIONS REWARDS?
Play-Off and Finals Champions Rewards are based on your total points in each stage of the competition (+4 for each win; +1 for each loss). The complete list of rewards can be checked on
this page
.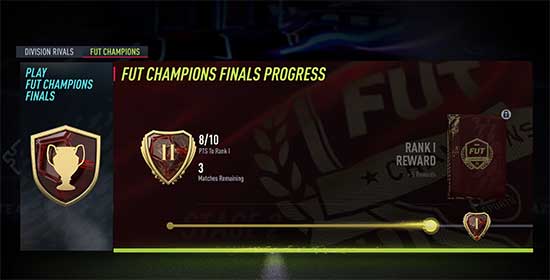 WHEN ARE REWARDS DELIVERED?
In the Play-Offs, the rewards are delivered as soon as you finish your campaign. You can also decide to skip ahead of your last matches in case you have already earned enough points to qualify for the Finals. In that case, you will be discarding the chance to reach better rewards.
In the Finals, where you finish will decide your additional rewards. If you finish all of your matches in the Finals, you can claim your rewards instantly. If you still have matches to be played, your rewards will be granted at the end of the competition (Monday morning), based on where you finished.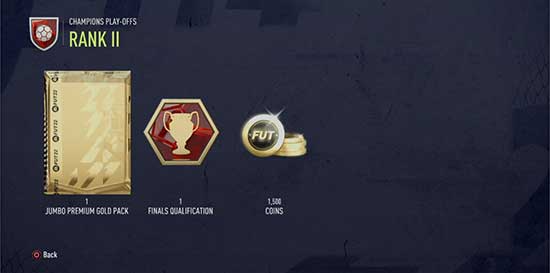 WHAT SHOULD I DO IF I HAVEN'T RECEIVED MY REWARDS?
Wait. The Champions Finals rewards are not delivered before the end of the round, unless you have finished all your matches.
CAN I OPEN MY REWARDS ON THE COMPANION/WEB APP?
Yes! It is possible to see and open your rewards through the Web and Companion Apps.
No. The packs you receive as Champions rewards can be opened at anytime. They don't expire. You don't have to claim your rewards before the next round starts. They will be waiting for you as soon as you open FUT on your console next time. If you want, you can save them to open when better items are in packs, as it is the case of the Team of the Year. However, keep in mind that Player Picks will always be from the week you have won them.
WHICH PLAYERS CAN I GET FROM PLAYER PICKS REWARDS?
Depending on your final Rank in the Champions Finals, the Players within the Player Pick will vary but they will always will be from the active TOTW.
For any of the two stages, Play-Offs and Finals, you need eight points to rank, which can be made in just two matches (if you win both) or a maximum of eight matches (if you loose them all). If you don't reach that score, you will not receive any reward for that week. It's like you haven't played at all.
WHY DO I PLAY ALWAYS IN THE SAME STADIUM?
All Champions Matches are played in the FUT Champions Stadium. Any customizations that you have applied to your Club will be visible to your opponent when you are the home team, with the exception of pitch line customization.
HOW DO I TURN ON THE TRAINER?
That is not possible. That feature is not available in this game mode.
WHY IS MY OPPONENT WEARING MY UNSELECTED KIT?
In order to avoid you to recognize your opponent, EA doesn't allow you to see which kit he is using. For the same reason, you will not see his real name either.
WHY DOES A MATCH CANNOT FINISH WITH A DRAW?
Basically, because this game mode is based on the number of wins and losses a player reaches in each round. Every match must have a winner and a loser, even if it is necessary to take penalties.
HOW DOES THE MATCHMAKING WORK ON FUT CHAMPIONS?
Matchmaking in FUT Champions Play-Offs and Finals is based on two things:

– Your location. This determines which dedicated FIFA Game Data Center location will be used for your match.
– Your current Form in Play-Offs or Finals. This means you'll be matched with players that have a similar Form as you. Form does not carry over between the two competitions. Your form is 0 whenever you are first starting a Play-Offs or Finals.

The result is that players that are better than average in the FUT Champions (which is already a very skilled group of players) will quickly boost their form. The higher their form gets, the more challenging the competition becomes. Only the best of the best can consistently beat players with high form. The second key piece to matchmaking is location. Players are matched based on their location and proximity to EA's dedicated game servers to ensure quality matches.
WHAT IS FORM? HOW IS IT GENERATED?
Your Form in FUT Champions Play-Offs and Finals (respectively) is a record of all the matches that you have played in the current competition. You start every competition with your Form at 0, and it changes based on your results.

Here's an example. Say the results of your first five games of a Play-Offs run were W/L/L/W/W. Your Form after those five matches would end up at +1. That's because you gain +1 for each win and lose -1 for each loss.

Before your first match, your Form is at 0. You won the first match, so you earn 1. Form now at +1. You lost the second match, so you lose 1. Form now at 0. You lost the third match, so you lose another 1. Form now at -1. You win the fourth match, so you earn 1. Form now at 0 again. You win the fifth match, so you earn 1 more. Form now at +1 again. That means going into your sixth match, your current Form would be +1.

In FUT Champions Play-Offs, your Form can be as low as -8 and as high as +8.
In FUT Champions Finals, your Form can be as low as -15 and as high as +15.
CAN I MATCHMAKE WITH PLAYERS FROM OTHER PLATFORMS?
You can only matchmake with players who are playing the same version of FIFA 22 as you, on the same console family. For example, if you are playing the PlayStation 4 version of FIFA 22, you could matchmake with someone playing the PlayStation 4 version of FIFA 22 on PlayStation 5. In this scenario, you can't matchmake with someone playing the PlayStation 5 version of FIFA 22. The same applies to Xbox One and Xbox Series X|S, while PC players can only matchmake with each other.

There is no cross-play across different platform families in FIFA 22, meaning that PlayStation, Xbox, and PC players can't matchmake with one another.