The FIFA 22 Shapeshifters event is known for its special items featuring position changes and huge boosts.
The Shapeshifters event was released for the first ever in FIFA 20.
Release dates for FIFA 22 are estimated.
All release times are indicated in the
UK time zone
.
Future Stars Offers from previous years.
Click or tap on the edition you would like to know the offers.
FIFA 20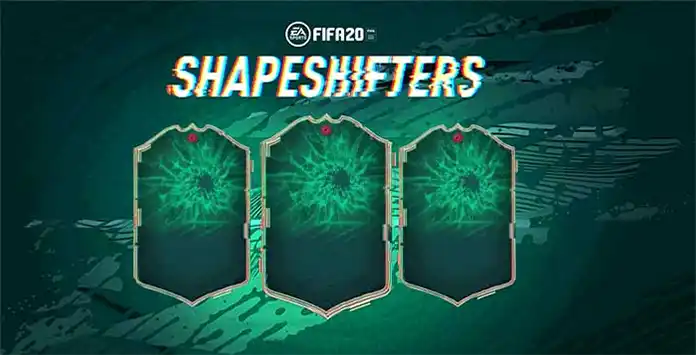 FUT Pack Offers
Daily promo packs and lightning rounds on selected times.
15k, 25k, 45k, 50k, 100k and 125k promo packs.
Squad Building Challenges
Six Challenge SBCs rewarding up to 45k packs.
Upgrade SBCs
Several SBCs: 80+, 81+ double, 82-88, 83+ and Shapeshifter player..
Other Special Items SBCs
Four Player Moments Untradeable Item (Trézéguet, Denis Zakaria, Kimmich and Sérgio Ramos), two Flashback Untradeable Item (Wayne Rooney and César Azpilicueta) and four Shapeshifters Untradeable Items (Kolarov, Gary Mackay-Steven, Lucas Olaza and Henrikh Mkhitaryan).
Dynamic Objectives
Two Shapeshifter Untradeable Items (Bartra and Acuña) and loan Shapeshifter loan item.
Themed Players Items
25 Shapeshifter players (2 teams), including Lionel Messi, Cristiano Ronaldo, Franck Ribéry, Richarlison and David Luiz, available in packs with upgraded ratings as unique items.
During the event, two teams of Shapeshifters player items are released.

Team 1
Available in Packs: June 17 – June 24

Team 2
Available in Packs: June 24 – July 01

Team 3
Available in Packs: July 01 – July 18

Team 4
Available in Packs: July 08 – July 15


FIFA 22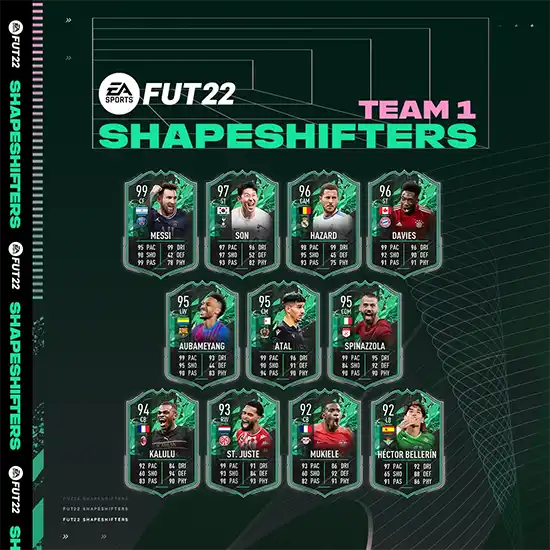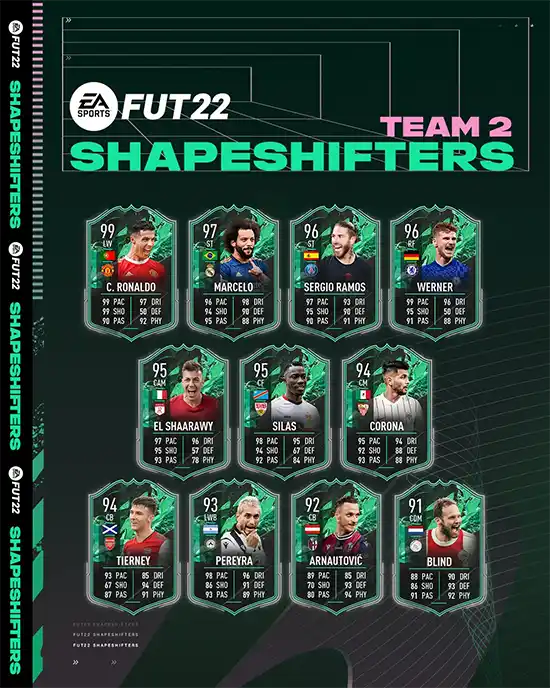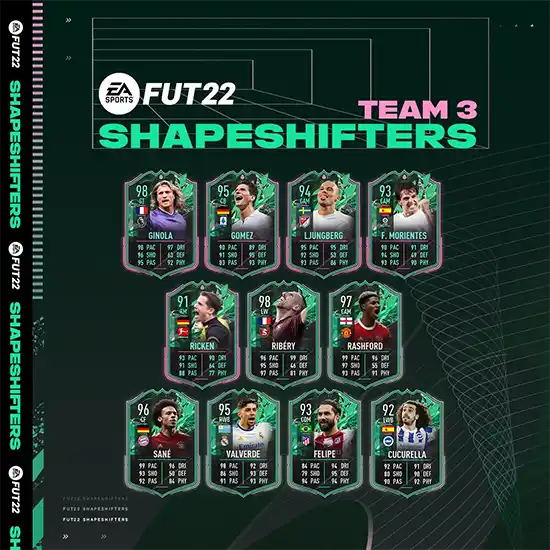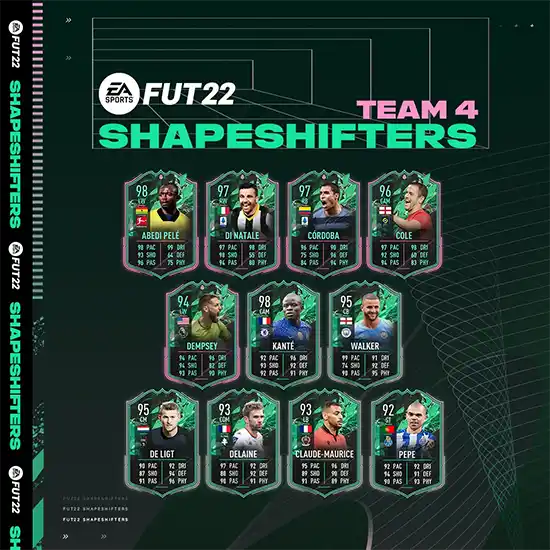 20
1
Q: What is a Shapeshifter item?
A: Shapeshifters cards are unique items assigned to a select group of players who have received unique position changes and boosts to create game-changing upgrades for your Ultimate Team.
2
3
4
5
6