Before start playing FUT, there are a few things you need to do first. Follow our simple Walkthrough Guide to know what should be your FIFA 22 Ultimate Team First Steps.
FIFA 22 Ultimate Team First Steps Walkthrough
Yes, we know you just want to start the new FIFA cycle as soon as possible. However, it will be easier for you if you decide to think twice before skipping every screen you see. We are here to help you in your FIFA 22 Ultimate Team First Steps, especially if this is one of your first FUT seasons. Take two minutes to read our Walkthrough Guide and you will be ready to build your dream team.
There are a few steps that allow you to customize your team a bit more before you start playing with it. Let's see which ones.
STEP 1
The first thing you will be asked is to choose your starter pack, which is a pack that includes 51 items with 21 players, 1 manager, 5 club items and 24 contracts. Basically, all you have to do is to select a nation from nine available: England, Brazil, France, Argentina, Germany, Italy, Spain, Portugal, and the Netherlands. The country you select will put more players from that nationality on your starting squad, including your best-rated player. If you already have a plan for the team you want to build, maybe you should take it into account when making your choice. As soon as you pick the desired nation, you will see an animation showing your most-rated player and, for the first time ever, your squad.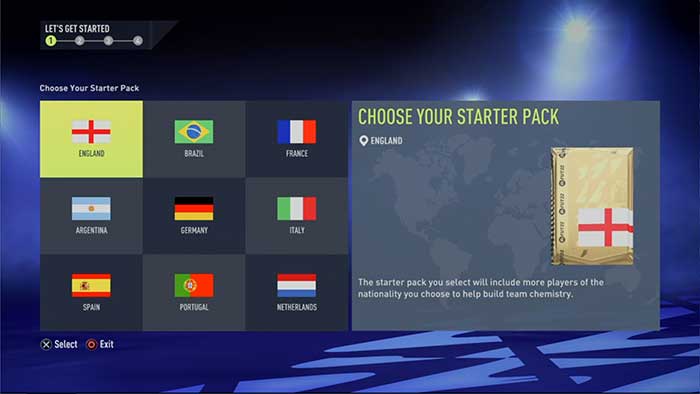 Don't expect a strong squad. The good news is that you've already hit rock bottom, so now you can only go up. The game will ask you to add a high-rated loan player to your squad, which will be the first chance to improve your squad. Remember that Loan Players are limited use items that can boost the overall performance of your team. You need to select which player you want to be replaced and one of the five loan players available. Depending on the position where the player you are discarding is (and not the position is stated in his card), the options available are the following ones:
GOALKEEPERS
Sommer
5 matches
Neuer
4 matches
Szczesny
4 matches
Courtois
4 matches
Stegen
3 matches
CENTRE-BACKS
Lenglet
5 matches
Marquinhos
5 matches
Hummels
5 matches
Koulibaly
4 matches
Laporte
4 matches
RIGHT-BACKS
Mbabu
10 matches
Cuadrado
8 matches
Roberto
6 matches
Carvajal
5 matches
Arnold
4 matches
LEFT-BACKS
Roussillon
9 matches
Mendy
6 matches
Digne
6 matches
Bernard
6 matches
A Sandro
5 matches
CENTRE MIDFIELDERS
Partey
6 matches
Goretzka
6 matches
Sabitzer
6 matches
Verratti
5 matches
Pogba
5 matches
RIGHT MIDFIELDERS
Gelson
9 matches
Politano
8 matches
Lucas
6 matches
Corona
6 matches
Gnabry
5 matches
LEFT MIDFIELDERS
Deulofeu
9 matches
Carrasco
7 matches
Rafa
6 matches
Coman
6 matches
Son
4 matches
STRIKERS
Morata
6 matches
Haaland
4 matches
Lukaku
4 matches
Icardi
6 matches
Griezmann
5 matches
STEP 2
Now that you have chosen your players, they will need something to dress. It's time to customize your club, selecting the home and away kits you want to use. You have nine random options for each one to choose from. You will be able to change this later on.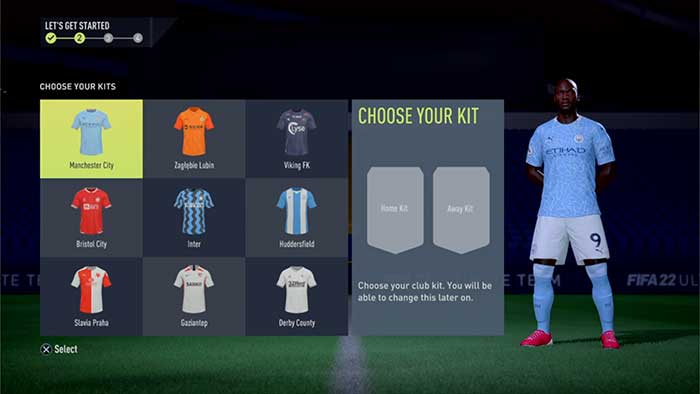 STEP
3
If you are creating your own club, then it will need to have its own badge. That's what you need to do here. Select the real-club badge you want to use, from the nine random options to choose from. Once again, you will be able to change this once your club is ready.
STEP
4
Now that you have chosen your players, kits and badge, you will see a club summary screen with your choices. It is not possible to go back to make any change but you can confirm and start playing. Your FUT Club is now ready!