FIFA 23 CONNECTION TROUBLESHOOTING
Most of the times, there are ways to improve your game connection and fix related issues.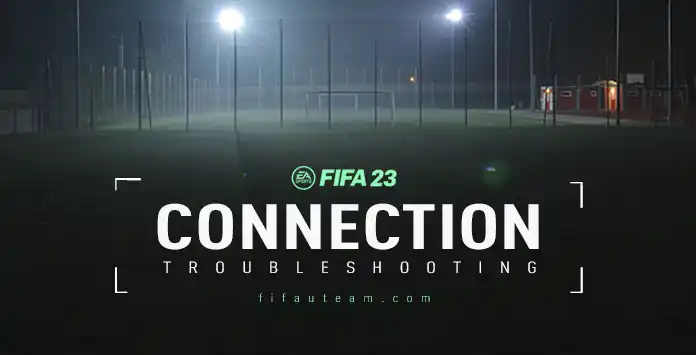 Improve your Connection
Have you ever seen a message saying you are unable to connect to EA servers or that connection has been lost? Well, you are not alone. Many thousands of players have problems connecting to the FIFA 23 servers.
The most common anomalies are connection drops too often (including at the end of each match), high lag, trouble finding opponents to play against and connecting to FUT 23 even when the EA servers are on.
We know EA servers are far from great, but they have been improving their network and are no longer as bad as they were in the past. Maybe it's time to do something on your side. Just because you have a high-quality connection or never have problems playing other games doesn't mean your connection to play FIFA is good or optimized.
A poor Internet service provider or a wrong configuration is usually the main reason for these problems, which you can fix without difficulty. It is not guaranteed that this guide will help you, but, in most cases, players who follow these tips improve their game experience.
Here are the steps you should follow if you want to fix or improve your connection:
Check the server status;
Log on with another account;
Simplify your setup;
Improve your wireless signal;
Connect by cable;
Restart your network equipment;
Change the matchmaking options;
Maximise your bandwidth;
Test your connection;
Turn on/off UPNP;
Try a direct modem connection;
Open the network ports;
Add an exception to your firewall;
Close programs running in background;
Clear the cache;
Avoid using IPV6;
Assign a static IP address;
Optimize your MTU;
Get open NAT type;
Change to another ISP.
Check the Servers Status
Difficulty Level: Easy | ETA: 1 minute
Before anything else, you should ensure that both EA and platform servers are working as expected. To check the status of the servers you just need to follow the step-by-step instructions described on our
dedicated guide
.
If they are both
green
, we can assume that the problem is on your side. In this case, you need to follow the other steps of this FIFA 23 connection troubleshooting guide.
Log on with Another Account
Difficulty Level: Easy | ETA: 3 minutes

Easy question: what is the first thing to do when something is not working? Close and open again, right? Well, that's almost what you will do here. Before spending a reasonable amount of time testing all the steps of this guide, you should be sure that the problem is in your connection and not in your account.

If you can not get into your Ultimate Team account or EAS account, create a new one and test it on the same console to see if your first account is corrupted/banned. If not, it is confirmed that the problem is indeed in your connection, and you can proceed to the next steps.
Simplify Your Setup
Difficulty Level: Easy | ETA: 5 minutes
Your router or gateway might be having problems sharing an Internet connection. To see whether this is true, try to do one of the following and, in the end, test your connection again.
Wired connection
Temporarily unplug everything from your router, except the cables to your modem, PC,Xbox or PlayStation consoles;
Wireless connection
Temporarily turn off everything that's connected to your wireless network except your Xbox console, PlayStation console or PC.
Improve your Wireless Signal
Difficulty Level: Easy | ETA: 3 minutes
A weak wireless signal can cause poor FIFA 23 performance. Check your wireless signal strength and improve it following these tips:
Move your console, router, or gateway off the floor and away from walls and metal objects. Remove them from an enclosed entertainment center, bookshelf or TV stand.
Minimise obstructions along a straight-line path between your console and your wireless router or gateway. Possible obstructions include TVs, cabinets, appliances, other electronics and furniture.
Shorten the distance between your console and your wireless router or gateway.
Turn off temporarily other wireless devices.
Try changing your wireless channel. Wireless routers and gateways can broadcast on different channels, and one channel might be clearer than another.
Add a wireless repeater to extend your wireless network range. You can boost your signal strength by placing a wireless repeater halfway between your router or gateway and your console.
Connect by Cable
Difficulty Level: Easy | ETA: 3 minutes

Most players use a wireless connection to get internet in the console. It is undoubtedly more practical, but wireless connections are usually slower. Moreover, wireless connections are also more likely to network conflicts and errors.

Try to connect your console to the router by a suitable ethernet cable and, if necessary, set up your Internet access on your console. If you are already using a wired connection, change your ethernet cable.
Change the Matchmaking Options
Difficulty Level: Easy | ETA: 1 minute
If your biggest problem is finding an opponent to play with, you should try changing the matchmaking options. Approximate location matchmaking uses your IP address to find an opponent
closer
to you for online play in Head to Head modes.
To enable this feature and force the game to find opponents near to you, follow these steps:
From the main FIFA 23 screen, select [Customise];
Select [Online Settings] and then [Matchmaking Options];
Choose 'Yes to the approximate location matchmaking.
Maximise your Bandwidth
Difficulty Level: Easy | ETA: 1 minute

Bandwidth is the amount of information transferred over your Internet connection. When someone in your home browses the Internet or uses a set-up box, it's using bandwidth that could be going to your console. If your bandwidth is limited or fluctuates dramatically, it can affect the performance of your FIFA 23 matches.

If you are having problems playing FIFA 23, make sure other computers and devices in your home are not downloading, streaming or transferring files while you are trying to play and the other devices are not connecting to the Internet.
Test your Connection
Difficulty Level: Medium | ETA: 15 minutes
Before trying more advanced fixes, it's essential to test your connection speed. That's precisely what EA Support will ask you if you contact them. You can use tools available on your computer or a powerful program called UOTrace, but the easiest option is the
official tool
explicitly created for this purpose.
This site generates a connection quality report, based on your FIFA Online Matches, that shows your
connection score
and your ISP's connection score, comparing it to other ISPs from your location.
A Connection Score is intended to provide an easy-to-understand summary of the Connection Quality metrics that can impact the stability and quality of an online connection. It ranges from 0 to 100, and 80 is the minimum required to play without problems.
Turn On/Off UPNP
Difficulty Level: Medium | ETA: 5 minutes
Universal Plug and Play (UPnP) is a standard that helps routers communicate effectively. Sometimes, when you have multiple devices simultaneously on the same network, there's a chance that one or more players will be disconnected from the server. This issue can usually be solved by activating UPnP on your router and ensuring that all devices on the network both have UPnP support and are set to active.
On the other hand, sometimes, players experience intermittent connectivity or lag in gameplay, and one of the workarounds is to turn off the UPnP.
If you are experiencing connection problems when playing FIFA 23, check if UPnP is active or not and test turning on/off:
Login to your router administration page;
Look for 'UPnP', usually found under advanced settings;
Turn on or off all UPnP functionality;
Reboot your console and restart FIFA 23.
Try a Direct Modem Connection
Difficulty Level: Easy | ETA: 5 minutes

If your console is connected to the Internet through a router or bridge, try connecting the console directly to the modem instead of through those devices.

To do that, plug one end of a network cable into the back of the console and the other directly into your modem. If performance improves, the problem is with your router or bridge. In that case, change it for new ones or study the chance to connect your console directly to your modem.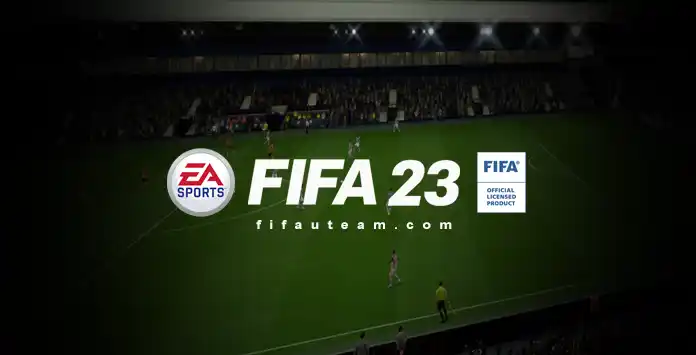 Open the Network Ports
Difficulty Level: Medium | ETA: 10 minutes
Ports are basically 'endpoints' between two connections. A 'Port number' is assigned to each end, like an address, to
direct
Internet traffic flow. If you are facing difficulties connecting to online play or other players, you may have to open the following ports:
PlayStation
UDP: 3074, 3478-3479, 3659, 6000
TCP: 1935, 3478-3480, 3659, 10000-10099, 42127.
Xbox
UDP: 88, 500, 3074, 3544, 3659, 4500
TCP: 3074, 3659
PC Origin
UDP: 3659, 9000-9999
TCP: 3569, 8080, 9946, 9988, 10000-20000, 42124
PC Steam
UDP: 3659, 9000-9999, 27015, 27031-27036
TCP: 3569, 8080, 9946, 9988, 10000-20000, 27015, 27036, 42124

Close Programs Running in Background
Difficulty Level: Easy | ETA: 3 minutes

This is another step exclusively for PC players. While having many applications running might slow your computer down a bit, certain applications can even lead to more serious issues, such as limited connectivity and game crashes.

If you are experiencing any issues, we recommend closing all background applications before even launching Origin/Steam to guarantee the best gameplay performance and stability possible. In the case of security applications, you can also add Origin/Steam and your games as exceptions – frequently referred to as 'safe' or 'allowed' – so that your program or programs overlook their processes.
Add an Exception to your Firewall
Difficulty Level: Easy | ETA: 3 minutes
This step is for
PC
players only. If you play FIFA 23 on a PC, add the game as an exception to your firewall or, if you're unworried about security, disable your firewall altogether. Follow the steps below to add FIFA 23 to the exceptions list of your Windows firewall:
Search for 'firewall' in the Windows start menu and select it;
Click on 'allow an app or feature through Windows firewall' in the Windows Firewall window;
Click 'Change settings' in the next window;
Click 'Allow another app…' in the bottom right corner;
Select FIFA 23 and then click 'Add' to add it to exceptions list.
Clear the Cache
Difficulty Level: Easy | ETA: 3 minutes

The cache is part of your console/PC that stores temporary files. These files are created while you are playing games, and they exist to reduce loading times. However, sometimes the files stored in the cache can become corrupted. You may face freezing, slow performance, or FIFA not loading properly in this situation.

When this happens, clearing the cache can help. It is deleting all of these temporary files and starting with a clean slate. When you relaunch the game, it removes whatever file was misbehaving and allows you to replace it with a file that is working correctly. If your cache was getting full, this could also help speed up performance as well.

If you don't know how to clean the cache, see it in the FAQ section of this page.
Avoid Using IPv6
Difficulty Level: Easy | ETA: 3 minutes

FIFA 23 uses a peer-to-peer connection, or a connection shared between you and one or more players, for online gameplay and matchmaking. Players with their routers set to use Internet Protocol version 6 (IPv6) for their connections tend to have compatibility issues with players using the more common IPv4. For instance, if one player is on an already-poor IPv6 connection, all players are usually disconnected.

If you don't know how to change your system's internet protocol, see it in the FAQ section of this page.
Assign a Static IP Address
Difficulty Level: Advanced | ETA: 20 minutes
Assigning a permanent IP address to your console ensures that it always has the same internal IP address even after rebooting. A static IP address will ensure that your router always knows where it can find your console.
Some routers allow you to manually assign an IP address, so you should check to see if that is an option in your router. If your router does not allow manual assignments, you can set up a static IP address in your
PlayStation
or
Xbox Series
.
After you assign a static IP address on your console, you need to set the console to
DMZ
. De-Militarized Zone is a place that is unprotected by any firewall/router from an attack. A computer on the DMZ is susceptible to any hacking attempt and will rely on a firewall and anti-virus to protect you. It is OK for consoles, but using this method for a computer is generally unwise. To do it, follow these steps:
Open your internet browser and type the default IP address for your router in the address bar;
Somewhere in your router's settings, there is an option to assign a 'DMZ'. Find it and put in the IP address the one you gave to your console earlier;
Save your settings and reboot both your router and the console before testing the connection again.
Optimize your MTU
Difficulty Level: Advanced | ETA: 10 minutes
The maximum transmission unit of a communications protocol of a layer is the size of the largest protocol data unit that the layer can pass onwards. An MTU limit that is set too high can cause fragmented packets and packet loss on your connection.
The first thing to do is to find your optimal MTU. Then, you need to set that value on your console's settings. Follow these instructions to do it:
Open thee Run dialogue on your PC, by holding down the Windows key and pressing R, type 'CMD' and press Enter;
Type 'ping www.google.com -f -l 1500'. You should see a message saying '100% packet loss';
Lower the last value by 10-15, until your packets are no longer fragmented and 100% are received;
Increase the last value, little by little, until your packets begin to fragment again;
Add 28 to your final value and take note of your optimum MTU value;
Go to the settings menu on your console and then setting up a new internet connection, or edit an existing one;
Change the option from automatic to custom, and then set the MTU to your Optimum MTU Value.
Get Open NAT Type
Difficulty Level: Advanced | ETA: 20 minutes
Maybe the most important and overlooked piece of a quality connection is your NAT type. It is either
Open, Moderate or Strict
and controls what other Nat Types you can connect. An Open NAT Type means you can connect to anyone but is the least common of the three to have. A Moderate NAT Type, the most common of the three, means you can only connect to others who are Open or also Moderate. A Strict NAT Type means you will only be able to connect to others who are Open.
If you got here without fixing your problem, don't worry: there are good chances to succeed with this tip if your router supports DMZ. We leave this tip to the end because it has a significant drawback: you will be unable to use the Internet at home while playing FIFA 23. But at least you will play perfectly.
To check your NAT type, follow these steps:
PlayStation
Go to [Settings] and then [Network Settings];
Run the Internet Connection Status`.
Your NAT type will be listed near the bottom of the screen.
Xbox
Go to [Settings] and then [All Settings];
Go to [Network].
Your NAT type will be under Current Network Status.
If you don't know how to configure NAT type 1 connection, see it in the FAQ section of this page.
Change to Another ISP
Difficulty Level: Easy

Please contact your Internet Service Provider if none of the tips of this FIFA 23 connection guide has helped you. Expose the problem and ask for help. Request a firmware update for your router or a switch to other equipment.

If the problem persists, consider changing to another ISP. Before you do, use the EA tool to see which ISP works better in your location, try to talk to other players and analyze the feedback they give you about other ISPs. It is not the perfect solution, but if playing FIFA 23 is important to you, it may be the only one.
Frequently Asked Questions