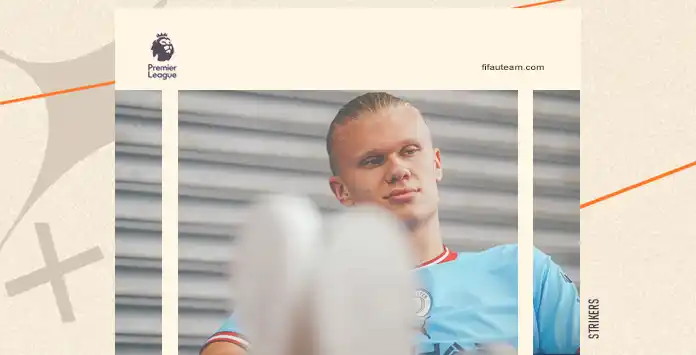 The Best Forwards
The Premier League forwards are the players who fall the most responsibility for scoring goals.
Most goals are scored with the foot, so good shooting is a must-have attribute for a forward. The physical attribute is also important. It's made of three stats: jump, to score with the head; strength, to dispute the ball with the opponents; and
stamina
, to sprint in the goal's direction.
Depending on the play and formation style, good shooting and heading may not be enough for a striker. However, the pace is essential, especially in games that privilege counter-attack.
Rating
| | |
| --- | --- |
| Cristiano Ronaldo | 90 |
| Harry Kane | 89 |
| Erling Haaland | 88 |
| Pierre-Emerick Aubameyang | 85 |
| Phil Foden | 85 |
| Diogo Jota | 85 |
| Jamie Vardy | 85 |
| Kai Havertz | 84 |
| Gabriel Jesus | 83 |
| Roberto Firmino | 83 |
| Lucas Paquetá | 82 |
| Darwin Núñez | 82 |
| Gonçalo Guedes | 82 |
| Wilfried Zaha | 82 |
| Raúl Jiménez | 82 |
| Dejan Kulusevski | 81 |
| Richarlison | 81 |
| Marcus Rashford | 81 |
| Alexander Isak | 80 |
| Anthony Martial | 80 |
| Gianluca Scamacca | 80 |
| Jarrod Bowen | 80 |
| Dominic Calvert-Lewin | 80 |
| Leandro Trossard | 79 |
| Callum Wilson | 79 |
Shooting
Physical
Pace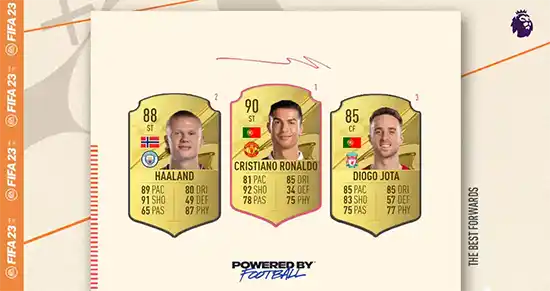 Global Overview (CF, ST)
Ronaldo is the best striker playing in England and naturally the most expensive. He is the player who shoots better in the game, but the list of his other qualities is endless.
You are lucky if you play with two on the front. Haaland is excellent and will score many goals for your team if you buy him. If you don't have enough coins to buy him, you can try the light version of him. Darwin Núñez has similar characteristics but a much worse shooting, which is vital in a striker. This explains why our third choice is Diogo Jota, especially if you need someone to assist your main striker.
Not counting these players, this is one of the positions where choices are more difficult. That's because they are very balanced and also because there are many different types of players and only you can choose the ones more suitable for your play style.
Rashford and Zaha are interesting choices, especially if you like fast players with 5-star skills. The Crystal Palace player looks better (including a challenging H/H work rate) but has the downside of not playing as a striker. Not as fast but also very popular, you can play with Gabriel Jesus in this position.
If you play with two men on the front, you probably won't need two pacey players like the ones we suggested. This is where Harry Kane can make all the difference. He has the best passing, one of the best dribblings among all EPL strikers, and only Haaland has a better combination of shooting and physicality. If it wasn't for his pace, he would have chances to be as good as Ronaldo.
For low-budget squads, we strongly recommend trying Gonçalo Guedes, an excellent player that many players will use this year.