Training Centre is a feature designed to teach players how to improve their gameplay and take their game to the next level.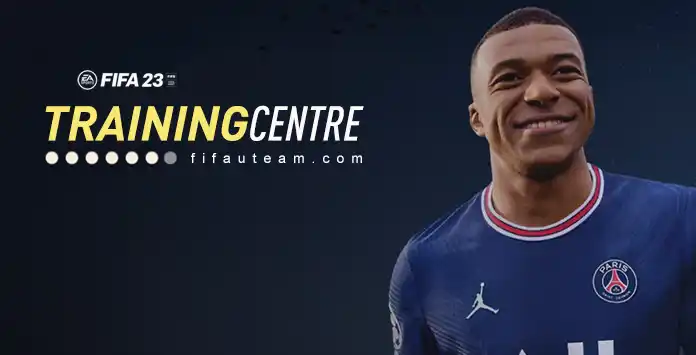 The Training Centre
Training Centre is a new feature in FIFA 23 which allows you to improve your gameplay skills by playing matches with a chapter progression system.
This academy is instrumental if you are not experienced in the game. You start by selecting who you want to be your coach:
Sam Kerr
or Kylian Mbappé. They are in charge of assisting you in honing your in-game abilities so that you can take your game to the next level.
As your coaches, they share many resources that will help you with your progression, including:
Personalized Suggestions;
In-Depth Skill Explanations;
Notes;
Tutorial Notes;
By playing the Training Centre, you are required to complete
progressive training excersies
by playing matches in each chapter.
How to Access and Controls
Training Center is available on the main game menu and game mode menus.
How to Access Training Centre
From the FUT main screen, navigate to [Training Centre];
Scroll down to select one of the resources available or play a game.
You can use your controller to navigate inside the Training Centre.
R1/RB: Move to the next chapter
L1/LB: Move to the previous chapter
Triangle/Y: Change Chapter Settings
Square/X: Change Trainer
Right Stick: Navigate through the available resources.
Frequently Asked Questions
Chapters List
Here is the list of chapters and challenges you can find on the FIFA 23 Training Centre:
Warm Up
Get started with a variety of training exercises or play your first match.
Play a Match, a training drill or watch a video.
1. Basics
Develop your skills with basic moves.
Use ground pass to move the ball from a player to another;
Shoot the ball with a good aim and with the right amount of power;
Use stand tackle to win the ball back.
2. Basic Plus
Transform opportunities into goals.
Shoot and score a goal;
Pass the ball to a player inside the opponent's box;
Switch Player I to control the best player for defending.
3. Sprinting
Better manage your speed for optimal performance on the pitch.
Sprint with the ball to attack;
Sprint to get into a good defensive position;
Complete several passes in a row without losing the ball.
4. Core
Improve your defence and team play.
Use through passes to lead a teammate into open space;
Use jockey to block your opponent from moving towards you;
Quickly pass the ball by using first time pass.
5. Core Plus
Improve your control of the ball.
Take a first time shot when closeto the opponent's goal;
Use through passes A to lead a teammate behind your opponent's last defenders;
Win the ball back from an opponent.
7. Advanced
Widen your options and create opportunities.
Cross the ball from the wings into the box;
Use stand tackle to win the ball back;
Take a shot using a header or volley.
7. Advanced Passing
Boost your defence abilities with advanced techniques.
Use long driven passes;
Use lobbed through passes to pass the ball over an opponent;
Win the ball back from your opponent on their side of the pitch.
8. Advanced Shooting
Improve your shots with advanced techniques.
When in possession of the ball, use shielding to protect the ball from your opponents;
Use finesse shot to bend the ball's trajectory, making it harder to save;
Use slide tackle © to win the ball back without committing a foul.
9. Open Training
You can continue using the Training Centre to receive personalised feedback, suggestions and in-match tips.