FIFA 23 Crossplay lets you play with friends regardless of what platform they play on.
Platforms and Game Modes
FIFA 23 crossplay is the ability to play the game with players from different platforms. It means you are no longer limited to playing with friends with the same console.
Cross-play is available for players on the same platform generation:
PlayStation 5, Xbox Series X|S, Stadia, and PC;
PlayStation 4 and Xbox One
This feature was first introduced in May 2022. Electronic Arts tested it in FIFA 22, but it had several limitations. Crossplay is now fully operational in the new title and available at launch in the following game modes (all co-op modes excluded):
Against Friends

Online Friendlies;
FUT Play a Friend.
Matchmaking

Online Seasons;
FUT Online Friendlies;
FUT Rivals;
FUT Champions;
FUT Online Draft.
FIFA 23 Crossplay Features
Highly requested by the fans, crossplay does not directly impact the gameplay of FIFA 23. That's why only players from the same console generation can play each other.
The ability to play with friends is not the only good thing about crossplay. A much bigger pool of players means faster matchmaking and also that you face opponents of your level more often.
Ultimate Team is the game mode more impacted by this new feature. With the addition of FUT crossplay, the FUT Transfer Market is the same for all platforms, with the exception of PC and Switch, which continue to have their own separate Transfer Markets.
A single
market
helps level the playing field in the availability of massive FUT 23 cards, address pricing differences and ensure that all players face the same competition. Additionally, crossplay is a game-changer feature for platforms where the transfer market doesn't have many items.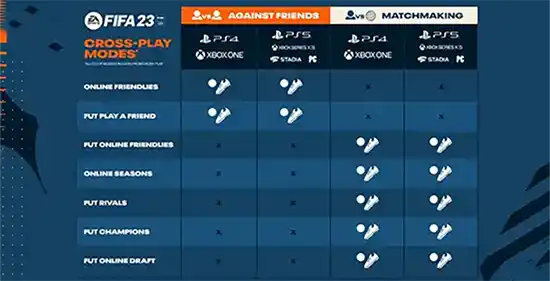 How to Crossplay
Cross-play allows people who play the same game on different systems to play together. If you opt into crossplay, you'll be playing online against players on PlayStation 5, Xbox Series X|S,
PC
, or Stadia; PlayStation 4 or Xbox One. If you decide not to opt-in, you'll only play against players on the same system as you.
If you opt-out of cross-play, it could potentially take longer to find an opponent when matchmaking, as it naturally reduces the amount of potential opponents that could be found. Opting into cross-play will ensure that matchmaking will look for the largest pool of potential opponents possible.
How to enable Crossplay
From the main FIFA screen, go to [Customise];
Select [Online Settings];
Select [Matchmaking Options];
Select [Online Settings];
Choose 'Yes' for 'Cross-Play Opt-in/Opt-out'. If you decide to disable crossplay, you just need to change it back to 'No'.
When cross-play is enabled, there is a widget in the bottom right-hand corner of the main FIFA 23 menu that can be opened with the corresponding button prompt. From this
EA Social widget
, you can enable/disable crossplay, search for friends regardless of their platform, and block and/or mute someone if desired.
Frequently Asked Questions