The FIFA 23 FUT Store is where you find your unopened packs and can buy promo packs, classic packs, bundles, vanity items and FIFA Points.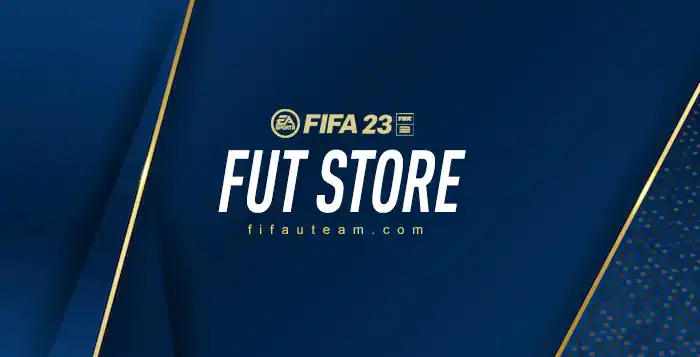 The Store
The FUT Store is a
virtual
store where you can find and buy a variety of packs, bundles, and individual items to customize your club. The store also keeps track of your prize bundles and player picks, let you buy FIFA Points and view the content of preview packs.
To access the FIFA 23 store, you just need to select [Store] from the main FUT screen. Inside the store, you can navigate through the four tabs using R1/RB and L1/LB.
My Packs
Designed to keep your unopened packs and player picks, including Rivals, Squad Battles and FUT Champions rewards, as long as FIFA 23 servers are up, unless they are rewarded or gifted under some time period conditions. This tab is only visible when you have unopened packs in your club.


Browse
This is where everything you can buy is. It is organized into several categories so you can find what you want quickly. When you select an item and press square/X, the game asks you how do you want to pay. You can use FUT coins if your balance allows, or you can use FIFA Points.


Previewed
If you opened a FUT Preview pack but haven't bought it, you will find it here until the time expires. This way you can open it again, analyze the content andeventually buy it. This tab is only visible when you have active previewd packs in your club.


FIFA Points
The store lets you buy FIFA Points but it redirects to your console platform's online store that will handle the transaction. Depending on your region, you may have different bundles but usually it is possible to but from 100 FIFA Points to 12,000 FIFA Points. If you are connected in a EA Play account, it will be applied automatically a 10% discount. For purchasing FIFA Points, you need to spend real money.
FUT Store Content
You can go to the FUT Store at anytime. As long as you have enough
FUT Coins
or
FIFA Points
, you can buy the items you want. From packs to bundles, there are plenty of choices there.
Featured It shows the new items added to the FUT store. It usually features the most wanted packs or premium bundles.


Promo Packs
Promotional packs are only available in the FUT store at specific times. Premium Gold Players Packs and Prime Gold Players Packs are released almost in a daily basis. However, you will also find here the most wanted packs and lightning rounds, especially when new events are out.


Gold Packs
Premium Gold Packs can be purchased here at anytime.


Classic Packs
Premium Bronze Packs and Premium Silver Packs can be purchased here at anytime.


Premium Bundles/Items
You can buy here bundles to customize your club with items of the same theme. Each bundle usually contains a badge, home kit, tifo, XL tifo and a stadium theme. If you just want a vanity item, you don't have to buy the full bundle. You have the option to pay with FUT coins or FIFA Points for each card available in the bundle.


Seasonal Bundles/Items
Each FUT Season has its own theme and you can buy the respective bundle or individual items.
Frequently Asked Questions
Where is the FUT Store in FIFA 23?
It's easy to find the FUT store in FIFA 23. Confirm from the main FUT screen if you are in the [Home] screen and go to [Store].
Why I can't access the FUT Store?
If you can't access the FUT store, that's because it is down. Sometimes it happens when many players try to get in, or Electronic Arts is running scheduled maintenance. We suggest you wait a few minutes and try again.
When will the FUT Store open?
The FIFA 23 FUT Store is available 24/7. In rare cases, promo packs may not be available. It is more common in the first weeks after the game goes out.
How do I buy packs in FIFA 23?
You can buy FUT packs in FUT store. Gold and classic packs are always available, but promo packs are only available at specific times.
What is a lightning round?
A lightning round is a round of a pack offer in the FUT store in which the duration of the offer is a pre-determined length of time. On Lightning Rounds, a limited global number of packs are to be sold. Therefore, the first to come are the first to be served. On the other hand, without a limit of packs for each user, you can buy how many promo packs you want as long as they are not sold out.
When does the FUT store refresh?
Promo Packs are usually refreshed once a day, at 6 pm UK time, except if it is a lightning round. Seasonal bundles and items are only refreshed when a new FUT season is out.
How can I pay in the FUT store?
To purchase packs, you need to use FIFA coins or FIFA points except for the packs in 'My Packs' storage tab, which is designated to keep packs gained as rewards.
No, the Store's purchased packs and points are not
refundable
.
Can I buy items from the store as a gift?
No. Unfortunately, purchases as a gift to send to a friend are not available in the FUT Store.
How long can I store packs in the FUT store?
Your reward packs stored under My Packs will be there as long as FIFA 23 servers are alive unless they are rewarded or gifted under some time conditions.