FUTTIES event celebrates the best of everything in FUT 22 by bringing back some of your favourite content.
The FUTTIES event was released for the first ever in FIFA 15.
Release dates for FIFA 22 are official.
All release times are indicated in the
UK time zone
.
FIFA 22
| | |
| --- | --- |
| Start | July 15, 2022 06:00 pm (Friday) |
| End | August 19, 2022 06:00 pm (Friday) |
21
19
18
17
16
15
FIFA fans will help decide which popular FUT Player Items will receive Special boosted FUTTIES Winner items.

For 24 hours on select days during the campaign, players will find a Player Pick pack available in their account upon login. Each Player Pick will showcase Loan versions of 3 FUTTIES Nominees. The player you select will receive your vote.

The two FUTTIES Nominees that receive the most weekly votes will be released via Squad Building Challenge as Premium FUTTIES Items, with a different themed upgrade each week alongside a stats boost.

Premium FUTTIES players will have the same Chemistry system as FUT Heroes, with a green link to any player in the same league as them to give you new squad-building opportunities. They have a different item rarity design compared to the Standard counterpart.
FIFA 22
Category 1: 5-star Weak Foot (13/07 to 15/07/2022)
RB
Wan-Bissaka

83

CAM
Kai Havertz

94

LM
Luis Diaz

95

Category 2: 5-star Skills (20/07 to 22/07/2022)
CM
Rafinha

94

ST
Alexandro Pato

94

ST
Arthur Cabral

76

Category 3: 5-star SM / WF (27/07 to 03/08/2022)
CM
Nicolò Barella

96

CAM
Luís Alberto

84

ST
Duván Zapata

95

Category 4: 5-star SM / WF (03/08 to 10/08/2022)
RB
Thomas Meunier

77

CDM
KP Boateng

96

ST
Alassane Plea

94

Category 5: 99 Overall (10/08 to 17/08/2022)
RW
Ousmane Dembèlé

99

LB
Theo Hernandez

84

CB
Raphael Varane

99
21
19
18
17
16
15
Some of the best Special Player Items from FUT 22 will be re-released during FUTTIES! Select players will be added to packs over 3 batches.
FUTTIES Offers from previous years.
Click or tap on the edition you would like to know the offers.
FIFA 21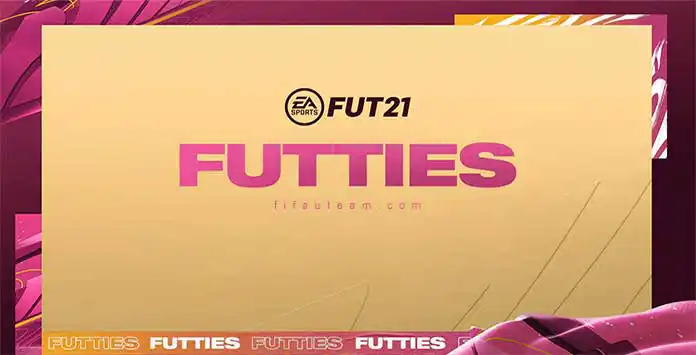 Pack Offers
25k regular packs.
12.5k, 25k, 35k, 45k, 50k, 55k, 60k, 70k, 95k, 100k, 125k preview packs.
Themed Objectives
Objectives rewarding several offers including untradeable FUTTIES items (13).
Themed Players Items available in Packs
Re-release of special items from select campaigns. 3 batches available in packs, 15 days each, featuring 100+ special items.
Themed Players Items available via SBCs
11 Upgraded FUTTIES winners from 11 different categories.
Themed Squad Building Challenges
Re-release of 100+ popular SBCs.
Loyalty Offers
Free Offers according to how many times you have logged in: from 15k to 125k packs.
19
18
17
16
15
1
Q: What is a FUTTIES item?
A: FUTTIES are special award in-form pink cards chosen by the FIFA community. They are a kind of FUT Oscars in which FUT fans get the chance to vote in a number of various categories for their favourite players.
2
3
4
5
6
7
8
9
10
11
12
13
14